Current pay data by
Age of beneficiary
Benefit level
Type of beneficiary
The graphs below shows the number of Social Security beneficiaries who are receiving Social Security benefits on the basis of their earnings. We call such people "primary" beneficiaries. The two types of primary beneficiaries are retired workers and disabled workers.
The graphs display the number of primary beneficiaries by age and sex. Clicking on a graph will reveal the data used to make the graph.
The graph at right shows the number of retired workers between the ages of 62 (the earliest retirement age) and age 98. Although there are retired workers who are older than age 98, we do not display that because the male and female lines gradually merge with the horizontal age axis after age 98.
Number of retired workers by age and sex
at the end of June 2012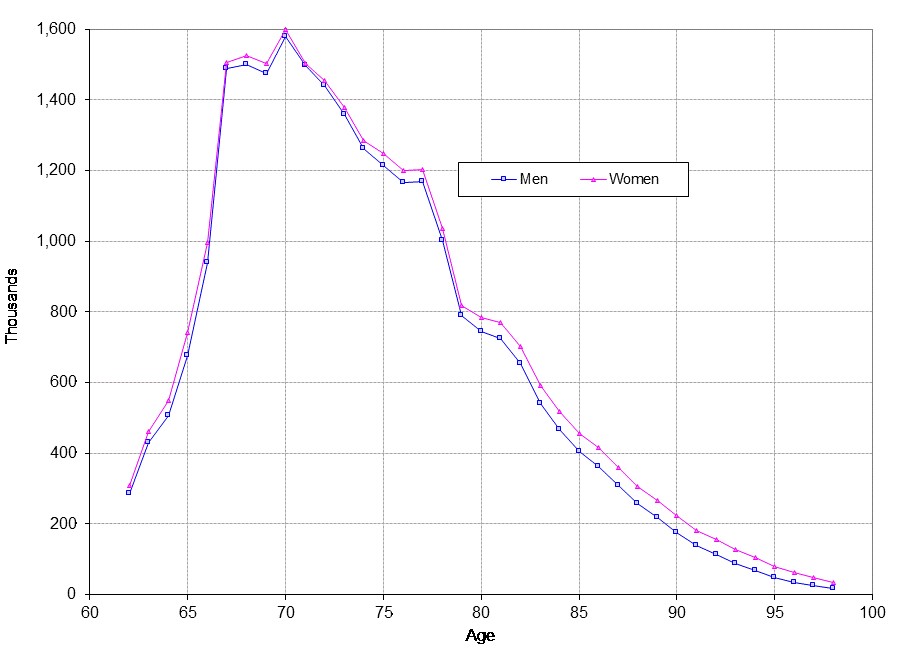 The graph at right shows the number of disabled workers between the ages of 21 and 65. Note that some disabled workers choose to receive retirement benefits after they reach age 62, and this fact accounts for the drop in disabled workers after age 62.
Number of disabled workers by age and sex
at the end of June 2012