Materials You Can Use to Help Spread the Word
The latest resource information is now available to help you communicate with the public, your members, and other organizations about Social Security's efforts preventing, investigating, and prosecuting fraud against the American taxpayer and the importance of reporting Social Security fraud. Use the information on this page to spread awareness about these vital support functions and the people who rely on them.
Partner with Social Security to promote our Anti-Fraud messages.
Need materials to promote Social Security's Anti-Fraud messages? We have everything you will need to spread the word. We encourage you to print and post these materials.
We've created this social media content that you can share on Facebook and Twitter to promote Social Security's anti-fraud efforts.
Our Anti-Fraud Campaign posters are available online only. Please feel free to print these posters and use them to help promote Social Security fraud prevention.
Use the following article in newsletters, emails, and blogs.
Two New Anti-Fraud Units Open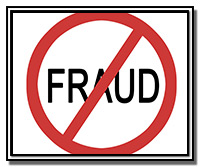 Social Security has zero tolerance for fraud and continues to take steps to prevent and combat it by establishing two new special fraud prevention units. The new units are located in the Kansas City region and the Western Program Service Center in the San Francisco region.
These two units follow March's opening of the centralized fraud prevention unit in New York City. All three anti-fraud units collaborate with Social Security systems' personnel to build data analytics to detect and prevent fraud at the earliest possible point in the disability decision-making process. The units work closely with the Office of the Inspector General to prevent, detect, and stop fraud.
Acting Commissioner Colvin's message to those who would defraud Social Security is clear, "We will find you; we will prosecute you; we will seek the maximum punishment allowable under the law; and we will fight to restore the money you've stolen to the American people."If a member of the public suspects fraud, they should contact Social Security's Office of the Inspector General at 1-800-269-0271, or visit http://oig.ssa.gov and select "Report Fraud, Waste, or Abuse."
Share these videos on your website, via Facebook and YouTube.
Use this web graphic on your website and Facebook to link to our Anti-Fraud website.
To download, right click on graphic,
select "Save picture as" and save in the
folder of your choosing.