Spotlight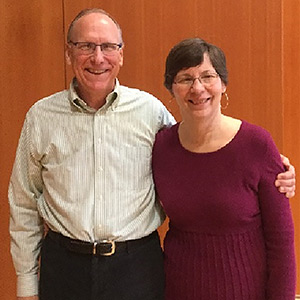 Julie
Julie is one of Social Security's 9 million disabled-worker beneficiaries. After paying into Social Security throughout her working life, she now receives guaranteed monthly benefits to replace part of her lost earnings due to Alzheimer's disease.
Even with Alzheimer's, Julie still takes part in many of the activities that brought her pleasure before she became impaired. She shares dinners with her husband, gets out for supervised excursions, and spends time with people she cares about.
At various points in her career, she worked as a nurse, organizational consultant, and stay-at-home mom. Now, she channels her talent for helping people by looking out for the other residents in the assisted living home where she lives. She puts out food, cleans the kitchen, and invites her friends to work jigsaw puzzles with her.
Although her husband doesn't have the same condition, he sings beside her in an Alzheimer's choir. They also go to church together, watch movies, and celebrate family occasions with their children and grandchildren.
Julie first began showing signs of dementia at around age 52. It started with forgetting appointments, misplacing her car keys, and struggling with routine tasks that had come easily to her before, like balancing her bank account. Eventually, her symptoms led to severe memory loss and frightening bouts of psychosis — which her caretakers now control with medication.
Today, Julie is in her early sixties, and she receives Social Security disability benefits based on her work record. Because she can no longer manage her finances, her husband serves as her representative payee for Social Security disability benefits. If it weren't for Social Security, he's certain they would never have been able to afford the care that she requires. Even with this earned benefit, they had to sell their home to avoid bankruptcy.
Julie's husband works two part-time jobs to supplement his retirement income. After 42 years of marriage, he's grateful that Social Security is there for them when they need it most.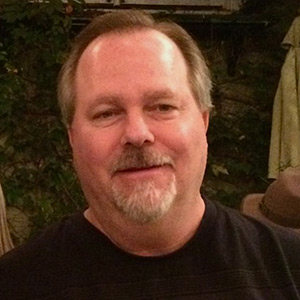 Jon
"I have never asked for help, but man did I need it now."
That's what Jon says today about the painful neurological condition — called complex regional pain syndrome — that redefined his life at age 51. Before his illness, he could sleep normally, easily digest food, and enjoy an active lifestyle that included working, nature walks with his wife, and a passion for golf.
When he tries to sleep now, it feels like something is twisting his bones. During the day, even the lightest touch of his clothes against his skin causes an acute burning and pins-and-needles sensation. Other people with the syndrome have described this feeling as a "red hot poker." A secondary condition prevents his stomach from emptying properly.
Worst of all are the severe headaches and facial pain he has come to expect as part of his new "normal." Leisurely strolls in the park and perfecting his golf swing are no longer a possibility for him, let alone working.
After paying into Social Security throughout his working life, he's grateful Social Security is there for him when he needs it, and will continue to be there during this challenging phase of his life.
Like many who live with this disease, Jon's symptoms began after routine surgery. He'll never forget the date in 2012 that an operation to correct popping in his shoulder altered his future irrevocably.
At first when he returned home following the procedure, everything seemed fine. Shortly into his convalescence, his right hand became swollen and purple. Most distressing, he had never experienced such intense pain.
Rather than going away as his doctor predicted, these symptoms quickly spread to his neck and face. Within a month, he received his neurological diagnosis. More than 4 years later, the condition now affects his whole body and shows no signs of retreating.
Jon is coping with the help of pain medications and physical therapy. Thanks to his monthly Social Security disability check, money is less of a worry. "I have to tell you it wasn't an easy road," he writes, "but once I got the letter saying I was approved for Social Security, all I could do was cry. I was really grateful, and I still am to this day."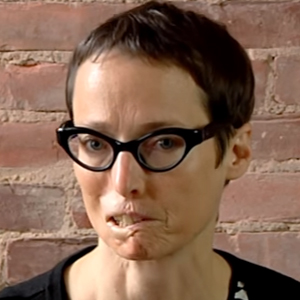 Lynne
Watch Video
I can remember parts of my early childhood: playing outside, riding horses, climbing trees — being teased by my older brother. Of course, I didn't know then that I would be living with cancer.
I have metastatic fibrosarcoma. I was 14 when I was diagnosed. That was 34 years ago. It started in my face and it's moved to my abdomen and leg. I also developed a second kind of tumor, called a desmoid tumor, in my shoulder and arm.
It seems that I'm always at the hospital having tests, having scans, seeing doctors. That has pretty much become my norm.
Because of the tumors, I have limited use of my left arm and weakness in my legs. I'm fatigued because my immune system has taken such a big hit from the cancer and the cancer treatments. I get sick all the time. A facial graft makes eating difficult for me.
I find it's helpful to get outside. I used to hike a lot, but I can't do that anymore. So recently I've taken up bird watching. When I concentrate on identifying a bird, it distracts me from my pain.
Despite my disability, I live a meaningful life. Through my artwork, I interact with my community and get a lot of response. Besides sharing beauty, I'm really teaching people about difference. I'm also serving as a role model and helping other people cope with their disabilities.
Without Social Security, my life would be a horror story. I would have to scramble for my basic needs and might be living on the streets. I would be a lot sicker. I honestly don't know how I would provide for myself.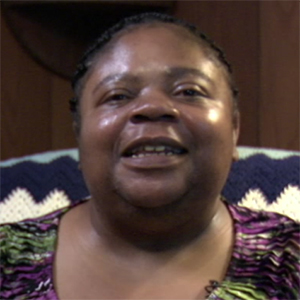 Charlotte
Watch Video
I had, in 2007, a right-sided stroke. I was at work. All of a sudden, I started to get disoriented, and my manager told me to go to the emergency room. I went down there, and they told me, "Charlotte, you're not going home."
I had the first stroke one day, and the next day I ended up having another stroke. I stayed in the hospital about a week.
Before the stroke, I was going to college, getting my B.A. in social work. I was working three jobs, and I was trying to take care of my mother also. She had breast cancer. All this contributed to stress. I was a busy person. I was too busy.
My condition limits me from walking long distances and climbing steps. Now I need to use grab bars to get in and out of the shower. My niece stops by sometimes and asks me if I need anything. She usually helps me hang curtains and stuff like that. I'll sew stuff.
My typical day is, getting up, getting on my knees praying. I go to the bathroom, take a bath. I cook me some breakfast.
Social Security helps me from being homeless. It helps me with paying my bills—my electric bill, food to eat on my table, and my medication. I have a lot of medication. I can't imagine my life without Social Security, because if I didn't get Social Security, I would be out on the streets.
I heard about Social Security when I was in the hospital and a social worker told me I would have to go there to apply. My Aunt helped me. She carried me to Social Security. The service that I got at Social Security—I was very happy. They explained everything to me.
I am so grateful for Social Security. If I didn't get Social Security, I don't know what I would do.
Angela
For Angela, applying to receive disability payments was a humbling experience. Sharing intimate details about her disability made her extremely uncomfortable. But she's glad she did—and that Social Security was there for her when she needed it.
Angela lives with multiple sclerosis, a serious disease of the central nervous system. This condition disrupts the flow of information within the brain, and between the brain and body. People with multiple sclerosis can experience a range of debilitating symptoms, including muscle spasms, difficulty moving and maintaining balance, trouble speaking or swallowing, and chronic pain. These problems tend to worsen over time.
It wasn't always this way. Before her disability became overwhelming, Angela worked as a full-time teacher. She loved her job and her daily contact with students. As her symptoms grew harder to manage, her employer adjusted her responsibilities and schedule so that she could continue doing what she loves.
Eventually, she could no longer maintain the pace that her position required. At that point, she had no choice but to stop working. She describes leaving her job as one of the hardest decisions she's ever had to make.
In addition to coping with her severe disability, Angela now had two other pressing concerns. Most urgently, she was afraid she would be unable to continue supporting herself and her family. Besides her financial worries, she also desperately missed interacting with her students. With her rewarding career on hold, she felt "lost and adrift," wondering about her purpose in life.
This crisis threatened not only her livelihood, but also her identity.
To address her troubled finances, she decided to file a Social Security disability insurance claim. Like most workers in the United States, Angela had earned this insurance coverage by paying Social Security taxes throughout her career. Now, circumstances required her to make use of it.
Social Security evaluated her application and necessary medical evidence. After determining that her condition meets our strict definition of disability, we gave her claim the green light. The approval letter came as a great relief. Her monthly Social Security payments help Angela keep up with her financial obligations, including paying for her daughter's college education.
About the time she filed her Social Security claim, she came upon an online teaching opportunity and decided to apply. She hoped this might be a way for her to resume teaching while dealing with her mounting health issues. As it turned out, the exciting new world of Internet education suited her needs perfectly. Today, she's an online faculty member at a major university.
She continues to receive Social Security payments in months when her earnings are not enough for us to consider substantial. Whether or not she is ever able to return to a full work schedule, she's happy to have discovered resources that are helping her make the most of a tremendously challenging situation—financially, professionally, and personally. Social Security is an essential part of this support system.
How Would YOU Have Paid Your Bills?
Imagine how you would continue earning a living if a condition like multiple sclerosis interfered with everyday activities that you usually take for granted, such as walking without assistance, moving your arms and hands normally, and speaking clearly. Suppose, on top of all this, you also had to cope with chronic pain.
If these symptoms prevented you from working, would you still be able to support yourself and your family?
Like Angela, you'd probably be glad you had paid into Social Security.
Workers and employers pay for Social Security disability insurance coverage through taxes on workers' earnings. Congress created this system nearly 60 years ago so that workers and their families would have something to fall back on in case a severe disability like advanced multiple sclerosis makes working impossible.
For Angela and the estimated 165 million workers covered under Social Security, this program provides a critical safety net.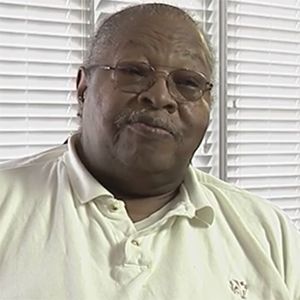 Ebie
Watch Video
When I was driving to work one day [at a hospital emergency room], I began to feel a little ill. By the time I got to work, I could hardly get out of my car. Luckily, a colleague came by, saw me sitting in my car and that I was not feeling well, and got somebody out of the emergency room to come down and take a look at me. That's how I ended up being a renal dialysis patient - they found out that my kidneys weren't working.
I was very active, extremely active. I was into a lot of different things. Very active with my grandkids, very active with my daughters, very active in the community. Part of my job was helping kids to make adjustments in the hospital, and that's what I did. I did that very well. And not only that, it's not only kids in the hospital but kids in the community.
During a typical day, I get up in the morning around 7:00, I get ready, I dress myself. I cook my own breakfast. I'm not such a great cook, but I do it. I wait for my bus to pick me up and take me to dialysis. The bus comes, I go to dialysis, and I stay there maybe about 30 minutes before they call me into the room. They hook me up, and then I'm there for five hours.
My life without Social Security would mean that I could not afford renal care. The health care that I am currently receiving, I couldn't afford it. That's very important. Social Security provides a lot of stuff that people don't know about. It's probably the best thing that ever happened in terms of providing services to people in need. And not only the best thing that ever happened, but it has saved so many lives because people who utilize it can live - and be able to provide for themselves better. And be able to live a high quality of life.
You're talking about quality of life here. Some people don't know what quality of life is. But quality of life is everything.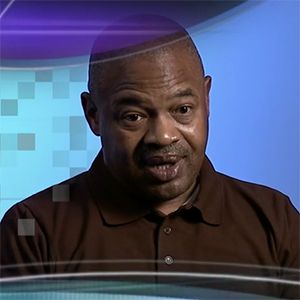 Larry
Watch Video
One day, I was going to the store and my heart fluttered a little bit. Then it went away. Then it fluttered again and kept fluttering. I thought I was having a heart attack, but then it stopped again. I went to re-certify my food stamps, and it happened again. The lady helping me asked what was wrong and told me I needed to go to the hospital. While I was in the hospital, I was diagnosed with congestive heart failure.
My condition limits me to lifting 35 pounds. I can't stay on my feet for a long period of time, and the doctor told me not to do anything stressful. I am a cashier, and I stock shelves and do general maintenance cleanup. I work part-time, about 25 hours a week.
Social Security has helped me not only financially but also medically, because I would not be able to pay for the medicine I receive, the treatments I've had, or my regular doctor visits. So it's helped me tremendously.
A friend introduced me to America Works (a private workforce development firm). They helped me get a job while still receiving benefits. My mind was always on getting back to work, but Social Security was a great vehicle to get me back to right living.
If my benefits were cut, it would hurt me drastically right now because I'm not financially stable. I'm getting there because I'm still working and I'm bringing something to the table. But it's not enough with today's cost of living.
Social Security is a great asset, but I don't want to use it as a crutch, because that will keep me at a level where I don't want to be. I want to rise up. I do see myself getting off Social Security one day, because I believe I will get a better paying job, and I'll be making as much or more than what Social Security is paying me right now.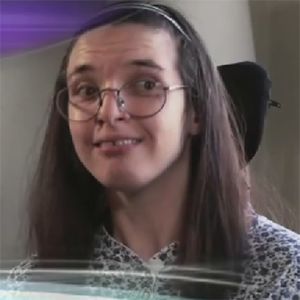 Kira
Watch Video
I'm 34 years old and I live in North Carolina. I use a power wheelchair because I live with Cerebral Palsy.
I love my life for the most part.
I earn $400 a month from my job but it is not enough cover all of my expenses. At the end of the month if I don't have a lot of extra money for food, I usually end up buying Oodles of Noodles. I eat that for the rest of the month. That doesn't just happen to me...It happens to a lot of people with disabilities.
I am uncertain about my financial future. My current job ends in May. I will no longer have the $400 that helps pay for my expenses. If I don't find other employment, I don't exactly know what I'm going to do after that. That is where Social Security comes in. Social Security Disability Insurance benefits allow me to have the quality of life afforded to every human being.
My parents taught me as a young child that I had the right to be independent and had the right to be employed as a person with a disability. I have the right to speak up for the rights of people with disabilities. I'm so proud of that.
In closing, I have a thought that I would like to leave you with. My life is full of love and happiness but it is also very difficult at times. When lawmakers think about cutting funding towards Social Security Disability Insurance benefits, I would like them to picture my face and think about me not being able to have a life outside of my apartment.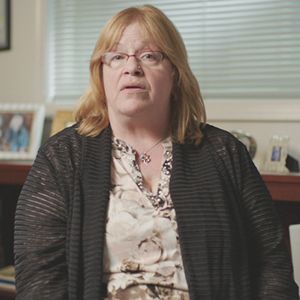 Jamey
Watch Video
I was born with progressive nerve damage. By the time I was 18 months old, my pediatrician told my mother that I had a problem, and that I might be deaf.
Every day I am confronted with attitudinal barriers from people who think I have limitations, and that sets barriers in front of me. Because of this, for many years it was very difficult for me to find employment. I can remember going to interviews and being told they couldn't hire me because I was deaf.
Having Social Security disability benefits took me through the difficult years between college and employment. The benefits I received from Social Security kept my head above water. Social Security kept me from being homeless, and it motivated me to keep fighting harder to live the life I wanted to live.
I didn't find a good job until I was 35, and I've been successfully employed for 19 years. I now work with people who have disabilities. I have the opportunity to help people who face the same difficulties I faced - by empowering them and offering them support and services to help them live independent, productive lives in a barrier-free community.
I want to say thank you to Social Security for being there for me. I don't know that I would be here today doing what I am doing without the support that Social Security provided to me when I needed it most. I can look back and say that Social Security is what got me through all those difficult and uncertain years.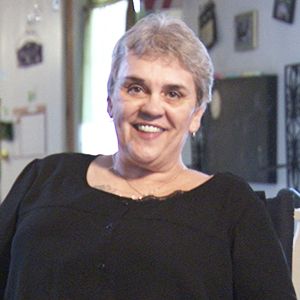 Christine
Watch Video
I live with a crippling disorder, Guillain-Barré syndrome. Although my condition limits movement and confines me to a wheelchair, receiving disability benefits remove a number of roadblocks from my life. I am beyond grateful to receive Social Security benefits because it literally helps me live.
I pay my bills, buy gas and groceries, and it is all with the disability assistance Social Security provides each month. One important thing is that, with this help, I am able to be independent and part of my community. Otherwise, in my condition, I would probably live in a nursing facility for the rest of my life. Now, I don't have to. Thank you, Social Security, for helping me to be a productive citizen.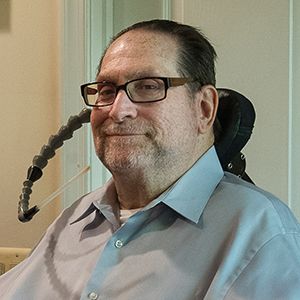 Tony
Watch Video
Before his accident, Tony was working as a lifeguard and pool manager, as he had done in previous summers. He had just finished high school. It was August, just weeks before he planned to start college.
Early one morning, he and another lifeguard took the day off and headed out to the beach for a day of body surfing. He explains, "You swim out, turn around, watch for a wave, and then swim towards the shore, and you put your body out flat on top of the wave, and you ride it in." The morning passed pleasantly, and soon it was nearly lunchtime.
One more ride before lunch, he thought.
He picked up a "really good wave," but as he climbed on top, it "broke funny, like a shear wall." The mass of water slammed him to the ocean floor, landing him on the crown of his head and compressing his spinal cord.
When Tony emerged from acute rehabilitation six months later, paralyzed from the neck down, his future was uncertain.  His father was working two jobs, and his mother worked full-time at a grocery store. His parents managed to keep working while caring for him, but the financial burden proved insurmountable.  Without Social Security disability benefits and Medicare, he believes the family might well have gone bankrupt.
Tony's disability payments allowed him to buy a computer and teach himself how to use it. He gradually leveraged his computer skills to rejoin the workforce and leave disability benefits. This experience inspired him to help other people with disabilities go to work as well.  Later, when a secondary illness once again prevented him from working - "the dark days when I wasn't quite sure what I was going to do" - Social Security offered a ray of hope.
Knowing that he could return to work when he was able, he went back on disability benefits until his health improved. Today, he remembers that Social Security was there for him - twice - when he needed it.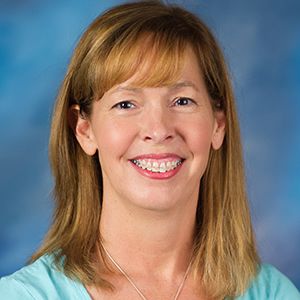 Carrie
I didn't want to be disabled, because I had been such a high functioning individual."
Like so many people who receive Social Security disability benefits, Carrie had mixed feelings about asking for help.  But the severity of her condition left her with few options.
Multiple sclerosis crept up on her gradually. At first, she dismissed odd symptoms that would come and go, such as loss of hearing in one ear only when she exercised.  Or the sudden lightning bolts of pain that would rip through her knee - infrequently in the early days - and drop her to the ground without warning.
Then came the long, unexplained periods of fatigue. And the forgetting. Sometimes she had to pull her car to the side of the road, straining to recall her destination.  At work, she found herself unable to listen. By the time a colleague had finished voicing a sentence, she had lost track of its beginning. The same thing happened even with her own thoughts.
At this point, she knew she had a serious problem.
After college, Carrie had climbed the corporate ladder in the insurance industry. She liked her job and had done well for herself. But now she could no longer function at the demanding pace her position required.  "It felt like my significance was dropping," she explains. Eventually, she could no longer work.  As her condition worsened and her doctors honed in on a diagnosis, she saw no alternative but to apply for Social Security.
Carrie's disability benefits allow her to rest. They also give her time to participate in clinical trials to help others grappling with multiple sclerosis.  Most importantly, they help her feed and clothe her children, pay for school supplies, and attend to the family's daily needs.  "The way the economy is now," she says, "we struggle."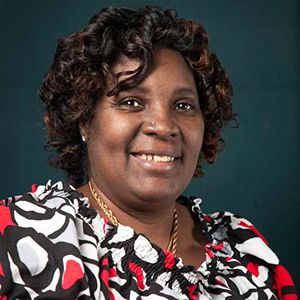 Melissa
When she received a letter in the mail telling her that she qualified for Social Security disability benefits, Melissa breathed a deep sigh of relief.
By that time, she had gone through three surgeries to ease pressure from tumors on her spinal cord. What began as a simple doctor visit for leg pain would lead to a diagnosis of central nervous system sarcoidosis and paralysis from the waist down. Sarcoidosis is an inflammatory disease that can affect many areas of the body.  For an unfortunate 5 to 15 percent of patients, like Melissa, it involves the central nervous system - making it a severe and sometimes lethal condition.
Melissa depended on the income from her federal job to raise her 2-year-old daughter. "I pushed myself to work because I had to take care of my daughter," she explains.  "I was a single mom." Yet she realized that driving herself too hard could hasten her decline and make matters even worse. Eventually, she had no choice but to stop working.
While in the hospital, she decided to apply for Social Security benefits. She and her daughter lived with her mother to save money. They received some public assistance, but it was not enough to make ends meet.  Melissa worried for her daughter and feared they would never be able to live on their own.
The letter from Social Security changed all that.
Her monthly Social Security check now makes it possible for Melissa to keep up with her basic needs, such as rent for an accessible apartment, while managing her health.  She reports that Social Security made "a big difference" by allowing her to feel more independent.  "It afforded me the ability to pay my rent, to take care of my child, to pay my car note, and to live a somewhat normal life."
Melissa was nervous about applying for benefits because her job had involved Social Security disability claims, and she had seen many people denied. At the same time, she understood that her condition meets our strict definition of disability, and she had run out of other options.
Today, she is glad she put aside her fears and decided to apply. For Melissa and her daughter, she believes Social Security is making a necessary difference.
Magdelina
Before her recurring kidney infections began, Magdelina had lost her job as a state employee during the 2008 global recession.  Adversity was nothing new to her.  At the age of 15, a spinal cord injury had left her with permanent paralysis in the lower half of her body. Despite hardships, her paraplegia didn't deter her from going to college and pursuing her professional goals.  Her government job represented not only the start of a promising career, but also a proud milestone in her life.
While she had been working, the health insurance she received through her employer helped her obtain catheters and other essential medical equipment. With no insurance to rely on, she began reusing catheters to save costs. This led to the infections that caused her health to deteriorate, eventually making it impossible for her to work.
After losing her job and going through her savings, she now depended entirely on her family for support.  The $300 a month her father gave her from his retirement check only went so far, and her medical bills piled up unpaid. Even expenses of a dollar or two, which had seemed trivial while she was working, now loomed large. "Only someone who has shared the experience of losing a job and their health benefits," she writes, "can understand the feeling."
She struggled financially, but her serious physical impairments made the situation much worse.  "The mental stress of being sick and unable to work left me feeling devastated," she recalls.
After two hospitalizations for life-threatening kidney infections, Magdelina finally decided to apply for Social Security disability benefits.  The day she learned her application had been successful, she cried. It seemed like a defeat, since she'd had so many professional goals and wanted to keep working.  On the other hand, her first Social Security payment made her feel as if she could breathe for the first time in months.  "I was able to find some balance and finally budget out a living.  I literally began to live again."
After about 6 months, her condition improved and she signed up for Ticket to Work - a Social Security program that helps people with disabilities join or re-enter the workforce.  Within a year, she'd landed a position with the federal government.
Today when she looks back on that difficult period in her life, Magdelina is forever grateful that Social Security was there for her "to provide a cushion when things went downhill" and to assist her with returning to work when her condition turned around.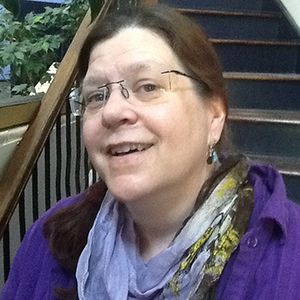 Carol
When she awoke from an induced coma following a traumatic brain injury, Carol began a long, arduous journey of rediscovery.
The day an incompetent driver hit her bicycle from behind, her life changed in ways she could never have imagined. "Many folks in the hospital thought I would die," she writes today. She survived, but swelling in her brain impaired her permanently and wiped out most of the memories she had formed before the accident.  She had to learn all over again how to walk, talk, and feed herself. In her words, she had become "an infant again at 43."
Eventually, she moved on to studying reading, writing, and math alongside her first-grade son. It was great, she said, that they happened to be at the same level.  As she gradually regained cognitive function, her hopes grew that she might someday return to her former profession as a well-respected paper and book conservator.  With her husband, who conserved paintings, she had been highly successful in this very specialized field.  More importantly, she had loved her work and believed it made a meaningful contribution to society.
As time went on, however, it became apparent that she would need to set more realistic goals for herself. Not only would she never again take up the tools of her old craft, her injury would prevent her from working in any capacity.  Besides being unable to retain long-term memories, she suffers from constant dizziness, frequent bouts of confusion, and a tendency to become easily exhausted.  Any sort of worry causes her to stop functioning. Consequently, she can manage only one simple task at a time, and even that requires her full concentration.
Carol's Social Security benefits make coping with her lifelong disability a little easier. "Having been awarded Social Security has been an enormous gift," she explains, "as it has allowed me to focus on healing."  As she takes back charge of her life in small ways, her husband can now go about his work without having to worry about her every minute.  Most importantly, she is able to devote more of her limited energy to their now-teenage son.
Carol expects the process of recovery to continue indefinitely. Although she is not able to work, she sees herself as belonging to a community of people taken off guard by disability - from battle survivors to victims of "simple accidents" like hers - who must redefine what it means to be productive.  For Carol, it's all about family.
Now tell us your story...
Have a story about how Social Security benefits have made a difference in your life? Send us an email telling us about yourself, your disability, and the reasons Social Security has helped. Everyone's story is different, and yours will put another real face to the people behind our disability programs.