Charlotte's Story
Published May 2015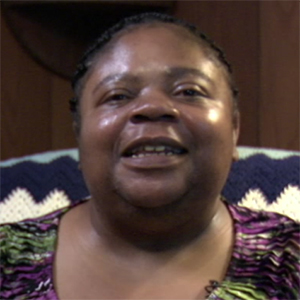 I had, in 2007, a right-sided stroke. I was at work. All of a sudden, I started to get disoriented, and my manager told me to go to the emergency room. I went down there, and they told me, "Charlotte, you're not going home."
I had the first stroke one day, and the next day I ended up having another stroke. I stayed in the hospital about a week.
Before the stroke, I was going to college, getting my B.A. in social work. I was working three jobs, and I was trying to take care of my mother also. She had breast cancer. All this contributed to stress. I was a busy person. I was too busy.
My condition limits me from walking long distances and climbing steps. Now I need to use grab bars to get in and out of the shower. My niece stops by sometimes and asks me if I need anything. She usually helps me hang curtains and stuff like that. I'll sew stuff.
My typical day is, getting up, getting on my knees praying. I go to the bathroom, take a bath. I cook me some breakfast.
Social Security helps me from being homeless. It helps me with paying my bills—my electric bill, food to eat on my table, and my medication. I have a lot of medication. I can't imagine my life without Social Security, because if I didn't get Social Security, I would be out on the streets.
I heard about Social Security when I was in the hospital and a social worker told me I would have to go there to apply. My Aunt helped me. She carried me to Social Security. The service that I got at Social Security—I was very happy. They explained everything to me.
I am so grateful for Social Security. If I didn't get Social Security, I don't know what I would do.