Julie's Story
Published December 2016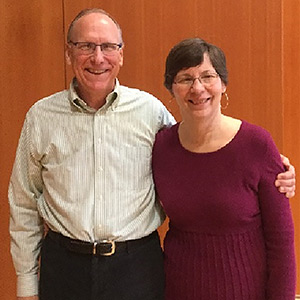 Julie is one of Social Security's 9 million disabled-worker beneficiaries. After paying into Social Security throughout her working life, she now receives guaranteed monthly benefits to replace part of her lost earnings due to Alzheimer's disease.
Even with Alzheimer's, Julie still takes part in many of the activities that brought her pleasure before she became impaired. She shares dinners with her husband, gets out for supervised excursions, and spends time with people she cares about.
At various points in her career, she worked as a nurse, organizational consultant, and stay-at-home mom. Now, she channels her talent for helping people by looking out for the other residents in the assisted living home where she lives. She puts out food, cleans the kitchen, and invites her friends to work jigsaw puzzles with her.
Although her husband doesn't have the same condition, he sings beside her in an Alzheimer's choir. They also go to church together, watch movies, and celebrate family occasions with their children and grandchildren.
Julie first began showing signs of dementia at around age 52. It started with forgetting appointments, misplacing her car keys, and struggling with routine tasks that had come easily to her before, like balancing her bank account. Eventually, her symptoms led to severe memory loss and frightening bouts of psychosis — which her caretakers now control with medication.
Today, Julie is in her early sixties, and she receives Social Security disability benefits based on her work record. Because she can no longer manage her finances, her husband serves as her representative payee for Social Security disability benefits. If it weren't for Social Security, he's certain they would never have been able to afford the care that she requires. Even with this earned benefit, they had to sell their home to avoid bankruptcy.
Julie's husband works two part-time jobs to supplement his retirement income. After 42 years of marriage, he's grateful that Social Security is there for them when they need it most.