Anna M. Rosenberg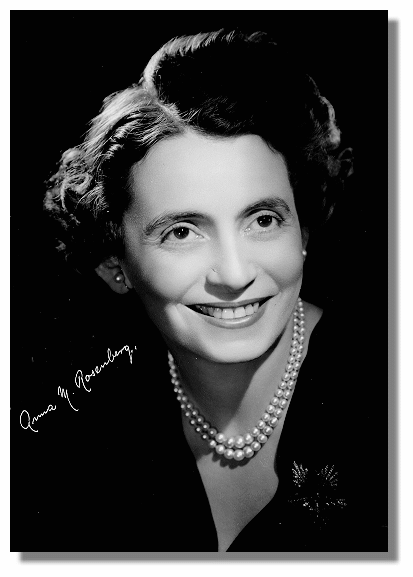 Anna Rosenberg was the first woman to serve as a Regional Manager (aka, Regional Representative and as Regional Commissioner) for Social Security. She served as Regional Manager for the Bureau of Old-Age Benefits for Region II (New York) from February 1936 until May 1936, when she was elevated to the position of Regional Director for the Social Security Board. In September 1942, Mrs. Rosenberg left the Social Security Board to join the War Manpower Commission as its Regional Director, a position she held until the end of the War.
(The Regional Director was over all of the various Bureaus that were part of the Social Security Board, whereas the Regional Manager for Old-Age Benefits was only responsible for the Social Security program. In the early years, the Board ran several other programs in addition to the Social Security program. The Regional Manager for Old-Age Benefits was the person whose role is the equivalent to today's Regional Commissioner.)

A native of Budapest, Anna came to the U.S. in 1912 and became a naturalized citizen in 1919. From January 1934 until she joined the Social Security Board Anna was an official with the National Recovery Administration, eventually serving as its New York state Director.

After leaving the Board Mrs. Rosenburg went on to eminence in other fields. During 1944-1945 she was President Roosevelt's, and then President Truman's, special envoy to Europe to oversee military personnel issues for these Presidents. From 1950-1953 she was an Assistant Secretary of Defense. In 1962 she divorced her first husband and married Paul G. Hoffman who had been the first administrator of the Marshall Plan and a top United Nations official. Mrs. Hoffman died in 1983 at the age of 81.