Guide to NARA Collection
Social Security Textual Records in NARA II
Part 2: The Federal Records Process and Research at NARA
The Federal Records Process
Every federal agency generates official records as part of its day-to-day business. These records, with some exceptions, must be preserved and disposed of according to rules promulgated by the National Archives and Records Administration (NARA). Generally, each agency holds its records for a period of time--sometimes several years--before sending them to NARA.

At a predefined point, the records are usually transferred from the physical custody of the agency to that of NARA, to one of NARA's Federal Records Centers (FRCs). The FRC for Washington-area agencies (including the Social Security Administration) is located in Suitland, Maryland. While the records are at the FRC they are still under the jurisdiction of the creating agency, even though they are in the physical possession of NARA. Thus, permission to view records in a FRC must be obtained from the originating agency. To view records in the FRC a researcher would need to get written permission from the Records Officer of the Agency. Generally speaking, these records are also obtainable from the agency via a Freedom of Information Act (FOIA) request and access to them is governed by the procedures each agency has established for dealing with FOIA requests.

After a pre-defined period of time, a determination is made whether a collection of records should become part of NARA's permanent records. If so, they are transferred to the NARA II facility in College Park, Maryland. If the records are determined not to merit permanent retention, they are destroyed. Once the records are transferred to NARA II they become the jurisdiction of NARA and are accessed under policies and permissions issued by NARA.

It can sometimes take 20-30 years for a group of records to make their way to NARA II. Thus, the records available at the NARA II facility are never current, but are many years old. At the present time, the newest records in RG-47 date from the late 1980s. Newer records are either still at the originating agency or at the FRCs.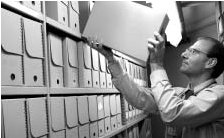 Reshelving Archives Boxes at NARA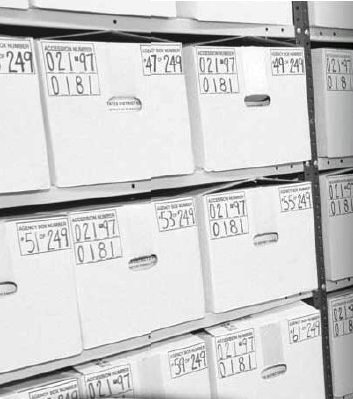 Records Center Boxes on the shelf at NARA
When agencies send records to an FRC, they put them in Records Boxes (also called FRC Cartons). These records boxes are a government-wide standard size and design. Records Boxes are 12" wide X 15" deep X 10" high. They are shipped to NARA in what are called Accessions. Each box is thus part of an Accession with a specific Accession Number. To retrieve a box from the FRC a would-be researcher would need to know the Accession Number and box number for that box. (There is no Finding Aid for Social Security records in the FRC. This present Guide serves as a finding aid only to the permanent records in NARA's custody at the College Park facility.)

When NARA II processes a set of records for inclusion in the permanent collections at College Park they sometimes break down the large Records Center Boxes into smaller Archives Boxes. The Archives Boxes are generally 12" wide X 5" deep X 10" high. Thus, Archives Boxes hold about 1/3 the volume of material of FRC Cartons. If NARA breaks-down a set of FRC Cartons into Archives Boxes, any referent to the the box numbers from the FRC stage of the process is lost. The boxes acquire a new unique set of identifying numbers.

The materials in RG-47 at NARA II are in fact a mix of Archives Boxes and Records Boxes. Of the 5,000 or so boxes in RG-47, about 3,000 are Archives Boxes and 2,000 are Records Boxes. So some references in this Guide are to Records Boxes and some to Archives Boxes.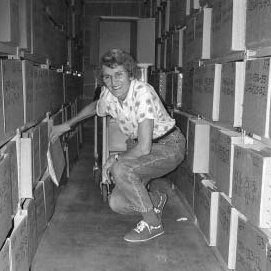 NARA also maintains regional Research Centers at 20 sites around the country--as in this photograph of a NARA staffer retrieving Social Security records in the Seattle regional Research Center. Holdings in the 20 regional Research Centers are not included in this Guide.