Guide to NARA Collection
Social Security Textual Records in NARA II
Part 2: The Federal Records Process and Research at NARA
Understanding the NARA Filing System and How to Request Records
The NARA II Filing System
The NARA II facility at College Park, Maryland was opened in 1994. It is a state-of-the-art archival research facility. The materials in NARA II are segregated by type of media, with textual materials available through the Research Room on the Second Floor. (See NARA's website for more information
All records at NARA are organized by Record Group (RG). With only a handful of exceptions, the Social Security records are in RG-47. The major exceptions are the records of the Bureau of Unemployment Compensation and the Bureau of Employment Security, which form Record Group 185, and those of the Children's Bureau, which form Record Group 102. At various times, these three organizations were part of the Social Security organization, at other times they were part of other organizations, which is why their records are separate from those in RG-47. (This Guide only encompasses NARA's holdings in RG-47.)
The Record Group is the highest-level in the NARA organizational scheme and it is helpful to keep this designator in mind. Each RG is usually the responsibility of a particular Archivist. As of this writing, the NARA Archivist for RG-47 is Mr. Tab Lewis. Mr. Lewis is the expert on RG-47 and can be consulted whenever a researcher has questions about materials in this RG.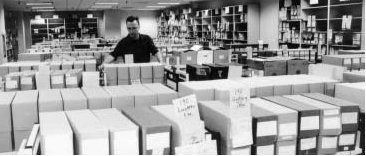 The Holding Area for retrieved records,which are brought to researchers on carts holding as many as 20 Archives Boxes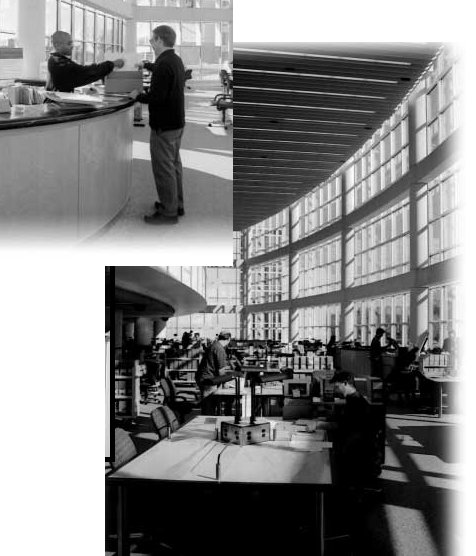 Scenes in the main Reading Room
The RG-47 textual records are all stored in two Stack Areas at NARA II. The vast majority (about 4,500 boxes) are in STACK AREA 130. There are also another 500 or so boxes in STACK AREA 170. Within each Stack, there are long rows of movable shelving. This shelving is organized by ROWS, designated by ROW NUMBERS. Within each Row, there are COMPARTMENTS which subdivide the Row. Each Compartment has a unique number, generally ranging from 1 to about 50. Each Compartment is then further divided into 7 SHELVES. Each Shelf typically holds 6 Archives Boxes or 2 Records Boxes.
To locate a particular box, you must know its Stack, its Row, its Compartment and its Shelf. It is also helpful to know the label on the particular box, where such an identifying label is present. This is not as difficult as it sounds, provided you have a detailed Finding Aid (such as this Guide) which specifies this information. (See our brief explanation of the existing NARA finding aids for RG-47.)
Let's look at an example. If we are interested in the records of the Committee on Economic Security, and in particular, the Report of the Advisory Council to this Committee, we will see from this Guide that the one box containing this Report is located in Record Group 47, Stack 130, Row 57, Compartment 5, Shelf 1. The label on this box is Committee on Economic Security. Providing this information to the NARA staff will allow them to quickly locate the precise box you are interested in and retrieve it for your use.


How to Request Records
To retrieve a text record from RG-47 you must go through a formal process in the Research Room at College Park.
After registering as a Researcher, you proceed to the main textual records Research Room, on the second floor of the NARA facility. The Research Room consists of a large open area with desks for researchers and a few photocopy machines. Inside this larger room is a small room containing all the finding aids to the various collections. To retrieve material a researcher must consult these finding aids to determine the location and description of the material and then fill out a request form for the documents. Five times a day (at 9 a.m., 10 a.m., 11:30 a.m., 1:30 p.m., and 3 p.m.) NARA staff collect these request forms and retrieve the requested materials (a process called "pulling"). If you miss a scheduled "pull" you are out of luck, you have to wait until the next one.
There are NARA staff in the small room to assist in filling out the request slips. This is often necessary since NARA's finding aids are sometimes, especially for RG-47, far from easy to use. (This Guide is a new finding aid for RG-47 which may prove easier for the non-expert to use than the existing NARA Finding Aids.)
Getting your request slip correctly completed and turned-in as quickly as possible is crucial in maximizing your research time at the NARA. As an aid to understanding how to do this, we are providing a facsimile of a NARA request form, completed to request the box described in the example above.
To successfully retrieve a box of material from the Stacks, you must be able to specify its precise location, as pinpointed within the physical storage scheme described above. When filling out the NA Form 14001 the information you need to enter is shown below in blue. The key information is the physical location of the box and its identifying label and box number. Using our same example from above, we would indicate the box with the Advisory Council Report as follows:
REFERENCE SERVICE SLIP
DATE
NO.
NAME OF REQUESTOR

Larry DeWitt
AGENCY OR ADDRESS

SSA
UNITS OF SERVICE
SOURCE OF REQUEST (Check)
INFORMATION
SERVICE
(Number of replies)
RECORDS
FURNISHED
(Number of
items)
TEXTUAL, STILL PICTURES, ETC.
(Number of pages)
MOTION
PICTURES
(Number of
feet)
SOUND
RECORDINGS
(Number of
feet)
NA Administrative Use
Agency of Origin
Other Government
Non-government
WRITTEN
ORAL
REQUESTED BY
RE NO.

47
STACK AREA

130
ROW

57
COMPARTMENT

5
SHELF

1
OUTCARD
NO.
RECORD IDENTIFICATION


Committee on Economic Security

Box 6
RECEIVED BY
DATE
RETURNED TO
DATE

NATIONAL ARCHIVES AND RECORDS ADMINISTRATION DO NOT REMOVE FROM RECORDS NA FORM 14001 (11-85)
You can generally request multiple boxes on a single request form. NARA generally allows a researcher to request up to 23 boxes on a single request, if they are all located in the same area. NARA also allows researchers to hold boxes checked-out within the Research Room over more than a single day (generally for 48 hours)
Using this Guide, you should be able to easily complete the NARA form-14001 and retrieve any material of interest from RG-47.