Social Security Board Members
Mary W. Dewson
Member 1937-1938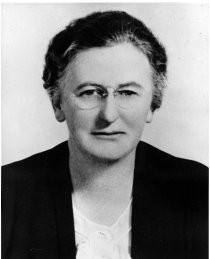 Mary W. "Molly" Dewson was working as an Industrial Economist in the Department of Labor in 1937 when President Roosevelt appointed her to the Social Security Board. A long-time Democratic Party activist and official, she was in charge of the Womens' Division of the Party and was generally credited with placing many of the high-ranking women in the Roosevelt Administration.
A graduate of Wellesley College, Miss Dewson worked initially as the Superintendent of the Girls' Parole Department for the State of Massachusetts. She was also a member of the State Commission in Massachusetts that helped enact the nation's first minimum-wage law. For five years she was President of the New York State Consumers' League. She also served as an official of the American Red Cross during World War I; as an economic expert for the Women's Educational and Industrial Union in Boston; and on the Advisory Board of the National Recovery Administration at the start of the New Deal.
A prominent figure in the suffrage movement, Molly Dewson played a major role in the 1932 Presidential campaign by attracting large numbers of female voters to the Roosevelt ticket. She said of her campaign effort: "We don't make the old-fashioned plea to the women that our nominee is charming, and all that. We appeal to the intelligence of the country's women. Ours were economic issues and we found the women ready to listen."
In 1934 FDR asked her to serve on the Advisory Council to his Committee on Economic Security--an experience that led to her interest in the Social Security program and her eventual appointment to the Social Security Board.
Molly Dewson resigned from the Board in 1938 due to health problems and she remained in semi-retirement for the rest of her life. She died at her home in Castine, Maine in October 1962.
For more information on the life and career of Mary Dewson, see
"Partner and I: Molly Dewson, Feminsim, and New Deal Politics," by Susan Ware. Yale University Press. 1987.