Letter to President Roosevelt Regarding Old-Age Pensions
After President Roosevelt came into office millions of hopeful Americans wrote letters to President, offering advise and requesting help. Appeals for old-age pensions were especially frequent, and often quite poignant. This is a fairly typical example of the letters sent to the White House during the Depression. It is a letter sent by Mrs. M. A. Zoller on behalf of her aged mother. In the letter she informs the President that her mother will be 82 in August and has no means of support, and she appeals for the President's help. Attached to the letter was an "adlet" from the 1932 election agitating for old-age pensions and implying that the election of President Roosevelt would help the cause of such pensions. Mrs. Zoller is attaching the flyer as a reminder to the President of his "promise" to the electorate. The use of these types of petitions was very common during this period, as many of the organizations promoting old-age pensions regularly printed such material and encouraged their supporters to send it to members of Congress and to officials of the Administration.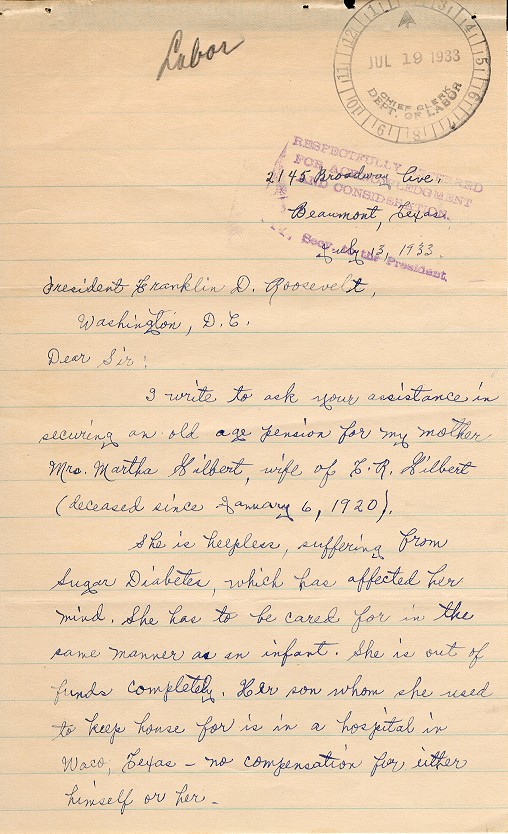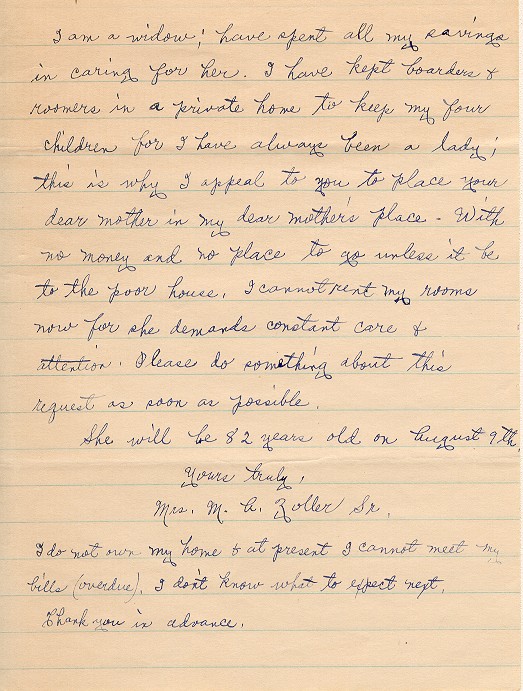 Letters to the President from the general public would be routinely referred to the Cabinet agency with jurisdiction of the subject matter. This letter was stamped by one of the President's Secretaries, who wrote in pencil "Labor" on the top and send it to the Department of Labor. The letter was received at Labor at 2 p.m. on July 19, 1933. The brief response from the Office of the Secretary, sent the following day, read:
July 20, 1933
Mrs. M.A. Zoller, Sr.,
2145 Broadway Avenue
Beaumont, Texas

My dear Mrs. Zoller:
Your petition, addressed to the President, on Old Age Pensions, and your letter, have been referred to me. We are in favor of Old Age Pensions and are glad to have your letter.
Very Truly Yours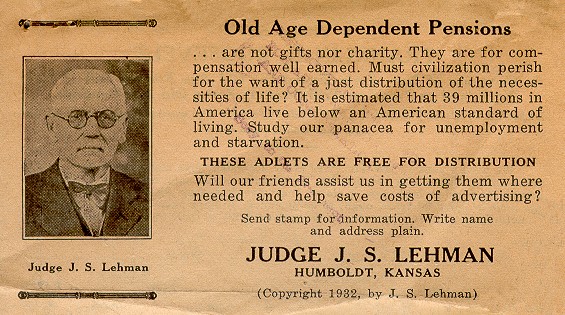 The front of this 3 x 5.5" clipping promotes the cause of "Old Age Dependent Pensions."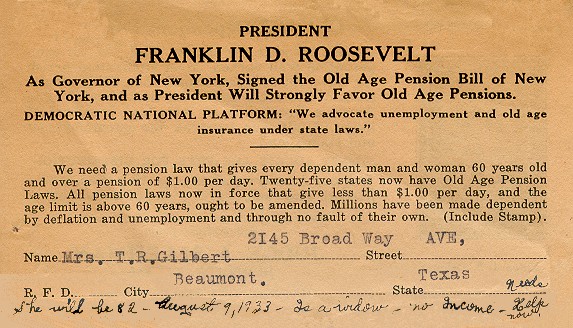 The design of this clipping was to be used as a form to lobby politicians. Mrs. Zoller provided
the petition on behalf of her mother and, to make the point clear, wrote in that "She will be 82--
August 9, 1933--Is a widow--no Income. Needs help now."