Section Title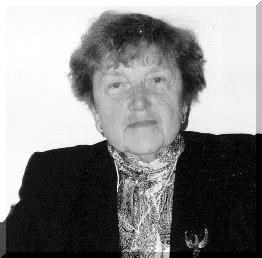 Mildred L. Tyssowski
SSA Career Highlights:
Budget analyst positions, Office of Administration, SSA, 1943-1947
Correspondence clerk positions in New York and San Francisco Payment Centers and Claims Representative position in San Francisco District Office, 1947-1948
Budget Analyst, Veterans Administration, 1948-1949
Statistical Analyst, Comptroller's Office, Headquarters Sixth Army, 1949-1955
Budget positions in Budget Management Branch, Division of Financial Management, Office of Administration, SSA, 1955-1957
SSA Budget Officer and Chief of Branch, 1957-1968
Director, Division of Financial Management, Office of Administration, SSA, 1968-1974
Deputy Bureau Director, for Program Operations, Bureau of Health Insurance, SSA, 1974-1978
Acting Director, Medicare Bureau, HCFA, 1978-1979
Director, Bureau of Program Operations, HCFA, 1979-1980
Tyssowski Oral History
This is an oral history interview in SSA's Oral History Series. It was with Mildred Tyssowski. It was conducted on February 6, 1996 at the Historian's Office at SSA's Headquarters in Baltimore. The interviewer is Larry DeWitt, SSA Historian.
---
Q: Okay Millie, what I'd like to do is just start at the beginning of your career with SSA. Tell me how it is that you came to work for SSA?
Tyssowski: Well, I'm a native Iowan brought up on a farm in Iowa, near a teacher's college. For my first couple of years out of college I was a high school teacher. Then in 1943, I was working on my master's degree and teaching at the university high school at the University of Iowa when the professor that I was doing my master's thesis with received a letter from one of his former students. The professor had formerly been in South Dakota University and that's where this former student, Cliff Gross, had gone to college. Cliff wrote to this professor and wanted to know if he could recommend someone to work at Social Security as a junior budget analyst.
My graduate work was in public administration and I really wanted to move out of teaching, so the professor recommended me and I came to Baltimore in November 1943. At that time I hadn't quite finished my thesis, but the rest of my work was done. And so I came into the organization; it was then called Fiscal Planning Section, but it was really the Budget Office of what is now the Social Security Administration.
When I arrived in Baltimore, I got a couple of impressions. First of all I was really surprised at what a southern city it still was. I remember going to the downtown library and seeing the rest room sign "whites only." That was a cultural shock. And I went to a New Year's eve party at the beginning of 1944 and at midnight they played Dixie. I thought, "What kind of a State am I in now?"
As far as housing is concerned, Social Security had an arrangement with the owner of a home on Eutaw Place that housed about 20 to 30 women coming into Social Security, and we had probably at least three women per room. It was one of those beautiful old homes that had been made into a dormitory. A lot of women at that time were from Pennsylvania and West Virginia, and my appointment to Social Security then was what was called a "war service appointment," which meant that it lasted the duration of the war. I think this was to protect the job rights of the fellows that went into the service. In order to stay with the organization at a later point of time you would have to become a permanent Civil Service appointee, which happened after the war as far as I was concerned.
Going back to this residence, the lady who was running the home let me use the library to finish my thesis. This was a beautiful room. It wasn't available to the other residents, so I was able to complete my graduate work.
Social Security, at the time of my wartime appointment was in a wartime operation. We worked for 44 hours a week. I came in at what would have been a grade 5 today, as a Junior Analyst. At that time, and for most of my career, the fiscal year ended June 30th for the Federal Government. Summers were very busy months, and no air-conditioning, of course. It was in the Equitable Building that our offices were located. There were many summer overtime evenings that we worked on the budget. Then, well, I might at a later point in this interview talk a little bit about the budget itself. I might just trace my career first and then go back if that's all right?
Q: Can I ask you something about the residence before you go on? I'm real curious about this. Of course, because it was during the war, a lot of the male employees of the Agency had gone off into service, so I take it that there were a lot of women working at SSA during that time. So in this housing arrangement that you're describing, I assume that was sort of a wartime housing arrangement? Did we do that as far as you know after the war?
Tyssowski: I don't think so. Housing was very difficult in Baltimore during the war because you had such an influx of shipyard workers, Bethlehem Steel workers, and in fact I only stayed in this home maybe about 3 or 4 months. And then four of us sort of peeled away to go to an apartment nearby. Two of them got homesick and went home, I remember, and the other woman and myself later got some other housing, but it was very difficult to get halfway decent housing. They just sort of chopped up some of these old homes and quickly put together an apartment.
Q: Now you came in, in a professional job?
Tyssowski: Yes.
Q: Were a lot of the women there that you knew at that time in professional jobs as well? Or were many of them in clerical jobs?
Tyssowski: Most all of them came in to work in the Candler Building in clerical jobs. The woman who roomed with me was in personnel work, but most of them were clericals.
Well, just to trace my own career, I came in, in November 1943, and I met in Social Security my husband Joseph Tyssowski. He was a pioneer Social Security person who opened the Atlantic City District Office in 1937 and opened another, I think it was Norristown, Pennsylvania. He was in the Philadelphia Regional Office when that closed and folded into New York and then he came into the Central Office in 1944. We were married in 1947 and briefly lived in New York and then moved to San Francisco, when Joe was appointed to an Assistant Regional Representative position in the SSA San Francisco Regional Office. This was a time when the women followed the husband's career; probably I would do the same thing today.
But anyway, I took a 4-grade reduction to become a Correspondence Clerk in the New York Payment Center. Then when we moved to San Francisco. I was briefly a Correspondence Clerk in the San Francisco Payment Center, and then got my permanent Civil Service appointment as a Claims Representative in the San Francisco District Office.
I might just add that this experience in the field both as a Correspondence Clerk and as a Claims Representative was really invaluable in my later experience as a Budget Officer and other SSA positions because I got the feeling of operations and understanding of the workings at the public level of the Social Security program.
I had to leave the San Francisco District Office because my husband was what was then called an Assistant Regional Representative and that District Office came under his supervision. I had a brief stint with the Veteran's Administration, but that office folded and then I went to the Headquarters Sixth Army, which was located in the Presidio in San Francisco. They were just establishing a comptroller's office and I came in their Statistical Analysis Office, which was engaged in developing management reports and to keep the command informed of what's going on in the Sixth Army area, which covered the west coast.
I was with the Headquarters Sixth Army for I guess about 5 years or so and had three children during that time. We were really in San Francisco from 1948 to 1955. The reason we came back to Baltimore was that after having three children, and the demanding travel that my husband had to do as an Assistant Regional Rep, he wanted a job with less travel. The disability program was just coming into being, and so he went with that program, at SSA headquarters in Baltimore. My old office wanted me back; so I came back to what was then the Budget Management Branch and then served as Budget Officer for several years.
I was the Budget Officer from 1957 to 1968. In 1968 I became the head of Financial Management and held that job until 1974. That office encompassed not only budget, but accounting and cost analysis, sort of what might be called comparable to a comptroller's function. And then in 1974 I received a promotion and an opportunity to become the head of the Office of Program Operations in the Medicare Bureau, the Bureau of Health Insurance at the time. I had only been there a couple of years when they decided to combine Medicare and Medicaid into Health Care Financing Administration. And in this transition period for about a year, 1978 to 1979, I was the Acting Director of the Medicare Bureau. And when HCFA finally got organized, the last position I held was as Director of the Bureau of Program Operations, which was the bureau that was in charge of both the Medicare and Medicaid operations, the operational side of those programs. So that's my career.
I retired in September 1980, largely because my husband had already retired and I realized it wasn't a necessity for me to be working, for financial reasons. I wanted to spend some time with him in retirement. Unfortunately, he passed away about 6 months after I retired, but I have had a very fruitful retirement as well.
Now to sort of go back a bit, my immediate supervisor was Wilson Jones and the head of the section when I came to Baltimore in 1943 was Chet Carpenter. He was only briefly in that position and then for a long time I worked for a fellow called Charlie Erisman who came to Financial Management from the Division of Accounting Operations. I remember Charlie Erisman was in charge of the Claims Certification Branch and then came to Financial Management. At that time Charlie's boss was Roy Touchet who was the head of what we called the Planning and Review Office, but it was basically the management function.
Touchet was the one that spearheaded the move to establish the headquarters out here in Woodlawn. I think that was one of his main drives and accomplishments as well. I remember when we came back from California in February 1955, it was unknown as to whether Social Security was going to be located in Baltimore or in Washington, so we didn't really know what was going to be our permanent home. The whole idea was that after the war Social Security would return to Washington. All that was in Washington originally was just a small office. However, a building had been built for SSA on 4th and Independence Ave. which SSA was to occupy after the war. By the time the war was over and many people, certainly by 1955, had invested in homes in the Baltimore area, SSA employees were successful in getting a rider to one of the appropriations bills which said that no money in this appropriation could be used for the movement of household goods or the travel of any employees to Washington. So that really settled for once and for all that the headquarters would be located in Baltimore rather than in Washington.
I remember coming out to this Woodlawn site and looking it over. This was just a farm. That was in February 1955. SSA moved out here about 5 years later, in 1960.
Back to tracing my bosses. Taking Roy Touchet's place was Jack Futterman. He was my boss for a long time. And of course, much of this time, Bob Ball was Commissioner of Social Security.
Part of the job of the budget organization is sort of a selling job. In other words your try to convince the Department and the Office of Management and Budget and the Congress of the need for the money. And on the other hand it's a job of trying to distribute this money equitably among the organizations of Social Security--many times having to say "no" to legitimate requests for funds.
There were many things that were fascinating about the job. One is that unlike some management positions in the organization, you are living within a time schedule; so you have to produce a project within definite time lines. Since the budget process is tied to the calendar, there's a momentum that keeps going. This momentum with its deadlines and outside pressures also entails a lot of overtime, but that's one aspect of the job.
I think perhaps the most gratifying part of the job is that a budget is really a reflection of the Agency's priorities, its management plans, and so forth. Particularly in budgeting for the entire national organization, you sort of become a part of the whole planning process and you become aware of a broad perspective of what's going on in the entire organization and I think that is very gratifying. In this process of selling the budget--with the people in the Department, the Office of Management and Budget and the Congress, and appropriations hearings--I as the Budget Officer was part of the team, you might say, with the Commissioner of Social Security to sell the budget and obtain appropriations. Those are some of the things that made the position very satisfying.
The budget at the Social Security Administration, the administrative budget, is basically for labor. Of course now--after disability came and Medicare came--we now have a rather large budget for contractual services of the State agencies, and in the case of Medicare, for the private contractors, the insurance companies and Blue Cross and Blue Shields. Basically, our budget was for manpower and it was developed on a workload basis.
Unlike many agencies, we were able say we are going to issue so many account numbers, handle so many claims, and have so many beneficiaries on the rolls, and there would be so many changes of address and so on and so forth. Much of the budget was possible to develop on a rather objective basis. The subjective part comes in of course as you have the volume of work to be done and a lot of that came from the basic estimates of the Actuaries and economists as far as the Trust Funds are concerned. This derived from the benefit estimates with the number of beneficiaries in the claims, etc. Anyway, the subjective part, of course, was the rate of production, the degree of productivity the Agency would achieve. I think this type of a budget certainly made it possible to perhaps be more successful than some agencies in obtaining the desired appropriations.
Of course, often we didn't achieve all that we were asking for, but I think that's typical. One of the problems that we faced was that we were always trying to cut down on the overtime, but that was a problem because the Federal Government's goals were always to cut down on personnel, even though it was more expensive to hire people than to work overtime. You always face the goals of various administrations. I think no matter who came in as President, they always came in with a plan. You know, you're going to cut x percent or this percent, and this is one of the recurring efforts of the budget staff was to point out the impacts of such reductions on the agency.
Q: As I hear you describe the way the budget works, I'm struck by how similar it sounds to the way we do budgets today. The impression I get is that for 50 years we've been doing more or less the same thing in the budget process. Is that a correct impression? Were there any significant changes in the way that we do budgeting while you worked for SSA?
Tyssowski: Well, first, it's a little hard to appreciate it, you might say, in the present technological age. But when I came in, our whole budget was on these long yellow columnar pads. You put all the numbers down by hand and so forth and gathered the budget in that way. And when I came back after my hiatus in California in 1955, we were still doing this, you know. So I organized a group to at least get the budget on the computer at SSA, and there was quite a rift in the organization; one was the old guard and the new that was trying to push this change. I suppose now today it is much more computerized than when I left. Certainly that's one basic change.
Another change that we evolved over time was how to measure productivity. Initially productivity was just about how much faster people work. But we evolved over time a way of measuring the end product and trying to evaluate not only that you would handle so many claims, but put a value on more timeliness to the extent possible, on qualitative factors like errors and so forth. That was a process that we evolved over time.
I think though that the basic structure of relating it to workloads is probably the only way to go, you might say. Of course, with the introduction of the State Agencies, we still constructed our budget pretty much on how many disability determinations being involved and so forth, and Medicare contractors, the number of bills that they would handle or hospital audits and so forth. I think that basically has stayed the same.
I think another change, of course, very significant, was that up until the time of President Johnson the Social Security Trust Funds were not in the President's budget. Our administrative budget was, but not the Trust Funds. It was somewhere in his administration in the 1960's that he had some reason to take advantage of the surplus in the Trust Funds to make a favorable budget picture of the Nation. A lot of economists argue that the budget is an economic document, and therefore, you should have the income and outgo of the Trust Funds in the budget. But this also caused a lot of volatility, and problems for SSA. The Trust Fund estimates had to reflect proposed program changes. Also, estimates on income to the Trust Funds had to reflect the President's economic assumptions. There is a deadline for the President to submit the budget to the Congress. And often up until almost the last minute before the budget was submitted, the Office of Management and Budget was playing around with the figures on interest to be earned by the Trust Fund, how much is coming in the way of Social Security taxes. Those things the economist could play around with, so that part of the budget was always a little iffy until the last minute.
But also, and I noticed this particularly in Medicare, there was pressure to come up with proposed legislative changes that could be reflected in the budget. Contrary to the tenor of today, sometimes these proposed legislative changes related to broadening the coverage of the program. I remember many discussions relating to coverage of prescription drugs into the Medicare program. Sometimes though, because the administration in power wanted to show a tighter budget, you were searching for ways to reduce the budget--like what we're doing right now in reining in the Medicare program.
Once the total program became a part of the budget--the administrative budget always had the same focus except it has a big manpower element to it--but also the president's budget then became much more focused on the income and outgo to the Trust Funds. That really sort of broadened the scope of the Budget Office and our responsibilities. We did not make the estimates, they were made by the economists in the organization and the actuaries, but we put together the whole picture and were the liaison with the Office of Management and Budget on putting together the President's budget.
Q: When this change was introduced, when President Johnson decided to do this, you alluded to the fact that there was some debate about whether this was the right way to treat the budget or not. Was there a debate internally within SSA? Were there people who thought this was a terrible thing to do?
Tyssowski: Well, I'd say that most of them did. Finally, legislation was enacted, I think in recent years, that was supposed to keep the SSA Trust Funds out of the budget. However, all of the figures on the deficit today include the Trust Fund because after all it reduces the deficit because we're still running at a surplus. I think just like there was a drive to make Social Security an independent agency, there was a drive to take the Trust Funds out of the President's budget. Including them in the budget was considered by many to be a bad move because the budgeteers, you might say, were getting into program planning legislation rather than the cost of administering the program. So that at our hearings before the Office of Management and Budget, much of it related to what program changes SSA was going to propose, and what's the impact on the Trust Funds. There was a change in the focus by including it in the President's budget, and a feeling that this was not the best move. But that's the way it happened.
Something else that I might bring out is I think that I was lucky to work in Social Security at the time that I did because it was such a growing dynamic program. When I arrived in 1943, it was still sort of a pioneer program because we had just recently covered dependents and survivors in addition to old age. And then we had sort of waves of changes of covering farmers, farm laborers, the self-employed, and then of course, the disability freeze, the disability program and Medicare, Supplemental Security Income. Each one of these legislative changes was certainly a challenge to the people in the Budget Office because we were having to develop estimates of our money and manpower requirements for new responsibilities.
We had a lot of supplemental budgets. We developed the idea of a contingency reserve which provided that in certain unforeseen circumstances you could tap into this reserve without going back to Congress for more money. I also think that this fairly rapid change in the program over time boosted morale in the entire organization because it opened up more opportunities for people to get promotions, more employment, and so you thought you were sort of a pioneer in many of these new programs as they were enacted.
Q: That reminds me of something I wanted to ask you about. You mentioned in the beginning that when you first came to SSA you had a war duration appointment and then after the war you had to, in effect, compete or get established in a permanent Civil Service job. How difficult was that for you to do that? I guess what I'm getting at, did many of the women who came to work at SSA during the war lose their jobs when the war was over, or did most of them get permanent jobs?
Tyssowski: I think that's probably a combination of many just perhaps leaving, sort of an attrition factor, and others getting a permanent job. I received my permanent appointment while I was a Claims Representative at the San Francisco District Office. As I recall, it was not very difficult. I don't know what all went into it, but it was not any real problem at the time. So I think that was basically a combination of those factors.
Q: Let me take you back for a minute to your time in California and then we'll come back again to some budget questions. Just so we touch base with all of the jobs that you had, let's talk about when you were a Correspondence Clerk in the Northeastern Payment Center. What was that like? What was it like working in the Payment Center in those days? Is there anything of interest that you want to tell about that job?
Tyssowski: Well, as a Correspondence Clerk, we had certain standard paragraphs that we tried to weave together; it's a personal type letter throwing in these paragraphs. I remember another woman sat right next to me and we had sort of a daily competition as to how many we could put out in a day.
But conditions weren't too bad in the Program Center there. The thing that impressed me was the sheer volume of all these folders that we were shuffling from place to place. At that time the Program Center was in Manhattan, but I was only there a short time. In the San Francisco Program Center also a short time, but that was good, too.
But, of course, I much preferred the District Office. At the time I worked in the District Office, that was in 1948, a big debate was going on as to whether the Claims Representatives should have typewriters on their desks. The whole idea was initially they had the title Claims Clerk. It was viewed as more of a clerical function and the administration was trying to move it into a more professional type of job. One of the ways they felt they could do that, and to improve the character of the interviews, was to take off the typewriter. I remember my husband as an ARR was very much in favor of removing the typewriter and making it a more professional type of job. I think they did finally do that. I would imagine by now they probably all have their computers. Of course, this idea of removing the typewriter and trying to make this shift from clerical to a more professional type also enhanced the grades of the people who were in that, and I think to improve the quality of the interviews that the Claims Rep had with people.
In San Francisco, one of the interesting parts of being a Claims Rep in those days we were always searching for proof of age. I remember so many saying, oh, they lost their birth certificate "in the big fire." It was a standard excuse.
I enjoyed that, but as I said, I had to leave and went to the Veteran's Administration. They were just organizing branch offices, but that idea didn't fly apparently. I hadn't been there more than about 6 months and they closed the office, and several of us moved right to Headquarters Sixth Army where they were organizing a new comptroller's office. I've heard other people say that had experience in other federal agencies, they always thought Social Security was far more satisfying. I fully agree with that.
Q: Okay, so in 1955 you got to come back to SSA. Were you still working in the Equitable Building or where were you by that time?
Tyssowski: Yes, we were still in the Equitable Building. We didn't come out here until late 1960.
Q: And you became a Supervisory Budget Examiner and then a Budget Officer, right?
Tyssowski: Right.
Q: Tell me just a little about life at the Equitable Building. So all of headquarters basically was in the Equitable Building at this time? The accounting operation was in the Candler Building, but most of the headquarters functions was in the Equitable Building and may be some other buildings, if I remember.
Tyssowski: Yes. Well, of course, the new disability organization, I think, went into the Paca-Pratt Building and they also had another building where the payment center type function of disability was performed. I think we took over more space in Equitable and the adjoining Calvert Building; they sort of joined each other there.
Q: Let me ask it this way, why did we move to Woodlawn? Why did we create this headquarters and move out here? Did we not have enough space? Was it that we wanted to get out of the city?
Tyssowski: Well, I think in 1955 we were in about six buildings downtown, and there was a need to consolidate our offices. I remember Roy Touchet saying that these students coming out of high school here would be good clerical workers and so forth. I don't know if that was a factor, maybe just in his mind. There was a need to build a new building, to consolidate headquarters because we were so scattered about, and have something of an institution, a building complex worthy of the Agency itself and the prestige of the Agency in the Nation. After all, they did build a Social Security building in Washington, D.C. for us. Actually, I understood that the floor of what is the South Building of the old HEW Building was built with the idea we would have a lot of IBM machines and so forth that could stand the weight.
I think another factor is that the Candler Building was becoming not too satisfactory a place, and we were beginning to expand our computer complex. As I remember, the first computer we got was in 1956. This was a big expenditure at the time. I think the needs of the Agency were such that we just sort of were outliving the area.
Now, why we didn't build a building downtown is something else. In fact, when I was with the Bureau of Health Insurance and Health Care Financing was being organized, I had several meetings with some of the officials in Baltimore City regarding maybe building downtown. Well actually, after I retired I still thought we should have built downtown. But, of course we ended up building the HCFA Building out here.
Q: Back in 1955, the big change that happened around that time was the disability program.
Tyssowski: Right.
Q: So how did that impact budgeting? You alluded to this a little bit earlier, but I assume we had to develop budgets on new kinds of workloads. Also, did the organization grow? Did we hire new people? How did we cope with the coming of disability as far as SSA was concerned?
Tyssowski: Well, I think certainly there are areas of new work that we had to budget for.
One of the difficult things was how different was a disability claim from a regular retirement and survivors claim that we had been budgeting for over the years. So that was a factor and also the inclusion of State Agencies was a new element in budgeting for the administrative costs of the organization. The whole idea of going out and getting consultative medical exams was also new. So I would say there was really a very significant increase in the amount of work to be done, but also a much more costly operation than we had been budgeting for in prior years, which I would say had a major impact on our budgeting at that time.
Q: I want to ask you the same question about Medicare. Of course, in 1965 the Medicare program came along and you were still a Budget Officer during that period.
Tyssowski: Right.
Q: I guess we faced similar challenges because there's another whole type of activity now managing the providers and reimbursements to providers. That's a type of budget activity that we hadn't done before, is that correct?
Tyssowski: Right, I would say that. Disability created a new Trust Fund, so that was another area of estimating and incorporating into the total Social Security budget. Medicare actually introduced two trust funds, the hospital insurance or the Part A program, and then the Part B which was quite different in the sense that the recipients paid a premium and then the government matched it. It was never really an exact 50 percent match. I guess today now it's more like 25 percent recipients and 75 percent government. This was a whole new appropriation that we did manage - the amount that the government would contribute to the trust fund.
Then of course, came estimating the cost of this program in terms of administration. One area that I think was a little more difficult to estimate was the handling of the hospital insurance side of the program, as hospitals were initially reimbursed on a cost basis. And you introduced a whole new element of the managers of the hospital insurance program were basically Blue Cross organizations and some insurance companies. Insurance companies though played a greater part in Part B, the physician side of the program, and there was such a volume of small bills that had to be handled by these private insurers--there again, Blue Shield and some private insurance companies.
When Medicare first started, people like Wilbur Cohen, Commissioner Ball and Art Hess and some of these leaders in implementing the program, initially tried to divide up the territory, you might say, between Blue Shield organizations and insurance companies like Prudential, Travelers, Equitable and several others. So these contracts were really non-negotiated contracts; they sort of divided up the territory. Over time when I was in charge of Medicare operations, we started an experiment with putting these contracts out for bids, and that was an innovation at the time. Overtime I think we've done more of that.
Working with the contractors was primarily the responsibility of the Bureau of Health Insurance, but we in the Budget Office maintained an oversight and we reviewed the estimates of the contractors which were put together by the Bureau of Health Insurance, at that time, into the national budget. As I say, these were new areas of responsibilities, two new trust funds to incorporate in our budget. There again, I think this periodic broadening of the work and the scope of our activities were very beneficial to the organization.
Q: You were Director of Medicare a little bit, but in 1974 you made an interesting transition and went into the Bureau of Health Insurance in Program Operations. How did that come about? Were you specializing in Medicare budget? Tell me the circumstances of how that happened.
Tyssowski: I was not specializing in health insurance. But since it was one of our relatively new programs, maybe more attention was given by the Budget Office just to be sure that it was properly incorporated into the national budget of the organization. I think my contacts gave Tom Tierney, Director of the Bureau of Health Insurance, an opportunity, to become acquainted with me and my role in the financial management of the program. He made this offer to me and it was a promotion from a grade 16 to a 17, so I decided to take it. Having been in a staff position all this time, I decided I'd try operations.
Q: What did you do? What were your duties in Program Operations at BHI?
Tyssowski: While we were BHI, perhaps the biggest job of Program Operations was managing our relationship to the contractors. We would hold a contracting session each year with the head of the Blue Cross organization, the national organization, and some of the major Blue Cross organizations to hammer out the terms of the contract with them. As I mentioned, these were not contracts out for bid except when we later experimented. We would have contracting sessions with Blue Cross separately and then Blue Shield and private insurance companies, the Part B contractors. The development of these contracts was an important part of our work, and then to evaluate performance of the contractors.
When I was there, we started to develop a system for trying to evaluate performance and also terminate the contracts of some. I don't think that had been done before, and just either the termination or the threat of termination, always involved the Congress people coming to their defense. I think the first termination was a small organization in Philadelphia, but we had to go before Senator Schweiker at the time and explain what we were doing and why we were doing it. Another time, I remember, we wanted to move on a Blue Shield organization in upstate New York, and this was a big deal because the Congressman at the time had a prominent position on the Ways and Means Committee which handled Social Security legislation. So we lost that one, because I think the administration felt the Secretary of HEW didn't want to rock the boat as far as program legislation was concerned.
So there was this contracting with the Blue Shield and Blue Cross and private insurance companies, developing ways to evaluate their performance, the budgeting for them, and in this process we even had problems with Ross Perot. He was a subcontractor to some of these organizations and we were suspicious of the amount of money he was making as a subcontractor doing data processing work.
So that's the kind of issues we got into; that was one phase of program operations. Another phase was the inter-relationship between the systems people in Program Operations and SSA's field organization regarding Medicare public relations, handling inquiries, setting up systems for getting people on the beneficiary rolls of the programs. We also worked on designing a system for processing bills to be a model for private contractors. Those were some of the main things.
Q: One thing I forgot to ask you --we'll come back to BHI in a bit. Of course, there was also another event while you were Budget Officer, and that was in 1972. The SSI program was enacted, and then it was implemented in 1974. Did you have to do any work related to introducing SSI in the budget estimating or in the preparation for that?
Tyssowski: Very definitely. We had to go before the Congress and the preliminary reviews before the Department and OMB, for additional funding. We tried to evaluate what was going to be the impact of this program on the District Offices. This was really rather difficult because in the organization there had not been sufficient experience with the clientele. Particularly when the program first started, there were long lines in the District Offices and there were sort of rough times.
Then there were questions about whether was the Federal operation was going to be more efficient than what the States had done. Presumably, the rationale for SSI was that a national organization would be more efficient than all of the several States. States could add on to the national program, and that became a discussion point in the whole processing of requests for appropriations. After the organization was getting Medicare under its wing, here comes a new program, the Supplemental Security Income program, and I was involved in the whole processing--getting funds and distributing funds and personnel ceilings to the organizations of Social Security.
Q: I've gotten the impression about the SSI program and SSA taking over, that in many parts of the organization that was a very hectic time. That was a very difficult transition. We felt pressured; we didn't have enough time to do the transition. Was that the atmosphere in the Budget Office as well?
Tyssowski: Oh yes, I think so. In all of these changes to the program and gradual expansion of responsibility, there has always been a question of how far do you go to keep people within the United States aware or inform them of their rights so that they can be exercising those rights. There was sort of a hesitation in the SSI program because we were already flooded with applicants. How far do you go out to really tell people who are entitled to be filing for benefits that they should be doing so because then you are creating work when already you're sort of bogged down. I think that was certainly an issue at the time.
Q: All right, now let's take you back to BHI again. When the Carter administration came into office in 1976, they decided to reorganize HEW and eventually separated what was BHI out of SSA and created the Health Care Financing Administration as a separate agency. You were right in the middle of that because you were in BHI.
Tyssowski: Right.
Q: Tell me about that. Tell me about that transition in the creation of HCFA and what was going on at that time and how SSA saw that and how that impacted on you.
Tyssowski: I remember very clearly that the Bureau Chief, who at that time was Tom Tierney, and some of us who were in his executive staff were called to Washington to this very important meeting. At that meeting Secretary Califano announced that this merger was going to take place. It came without any prior notice, I think, as far as Mr. Tierney and his staff were concerned. So it was a shock and there was really a question of how all this was going to fit together.
We had many discussions about this. I think some people sort of hoped that this was the forerunner of a National Health Insurance Program, and therefore, looked at it from a very positive point of view, that if we were going to move to national health insurance this should be an important first step. There were some in the administration who just sort of resented being separated from Social Security, so you certainly did have a difference of opinion and a difference in degree of cooperation with the people who were trying to bring this merger about.
I think for my own self I took the positive point of view that this was maybe an important first step towards national health insurance and that we should do everything we could to try to bring it about.
Some of the problems though were that the Medicare program has been nationally administered. The Medicaid program is really carried out by the States within certain federal guidelines and federal oversight. So there was somewhat of a difference in philosophy and outlook among the people being merged. I found that the people I did become co-workers with, in Medicaid, were very interesting and dedicated people to work with, and I became acquainted with the people in the States who were in the State Agencies administering Medicaid.
I think the States sort of looked on this merger as a favorable development, but I think their concern was that the organization would be dominated by Medicare. I was just looking through some old papers and I noticed on a speech that I had given which had the headline, "Tyssowski Puts Concern About Medicare Dominance To Rest."
I was responsible for the entire Medicare Bureau for about a year until they got all the reorganization in place. I was really in the thick of this whole development as the head of the Medicare Bureau and at the same time carrying on the basic program, both from an operational and a policy point of view. Our emphasis when I was there was to try to merge the management of the two programs, to the extent possible, both for policy and operations. I understand to a certain extent they have sort of shifted back to separate management of Medicare and Medicaid, and the integration isn't quite the same way as we originally contemplated it. But I suppose the demise of health insurance for now has maybe contributed to this more continuing the two programs somewhat separately, but under the same umbrella. But I'm not too familiar with the current organization.
Q: During the last couple of years of your career, you were the Acting Director of the Medicare Bureau and then director of the Operations Bureau. It sounds like one of those jobs had more policy responsibility and one more operational, or were they both at the same time?
Tyssowski: No, the Acting Head of Medicare was really both the operational and the policy. It was the total organization. Part of my job as Acting Head was participating in the planning that led to the dissolution of the Medicare and Medicaid Bureaus. The Bureau of Operations was created and my job, which was the Director of Bureau Operations, was essentially the operational job which I had with Medicare--dealing with the contractors, the system and so forth, but enlarged to include oversight of States on the Medicaid side. I reported directly to the HCFA Administrator.
Q: All right, that takes us almost to the end of your career. Anything else you want to talk about, any issues or observations you want to make about anything that we've covered?
Tyssowski: I don't know, particularly.
Q: Okay, then let me ask you this, I like to give people a chance to offer their overall assessment of their career, how satisfying it was to them and how they saw working at SSA, so let's close with that. I'll ask you to give me an overall impression of your career at SSA.
Tyssowski: Well, I would say that my career was very satisfying. I enjoyed my work because it was sort of dynamic. Something was happening all the time. Although it involved oftentimes some really hectic times in meeting deadlines, it was satisfying. I sort of felt that I was really an important part of the management of the organization, and I generally had very excellent supervisors. Most important, I was contributing to a program that met great social needs of the American people.
I probably should mention that as a woman in the organization at a time when I was one of the few higher level women, I think that for the most part, certainly as far as the supervisory level was concerned, I was not held back by being a woman. There may have been times when the peer group or some others might have had concern about the rise of a woman in the organization. I never had that feeling generally, even among the peers. I felt that the promotions that I received were on merit and not as sort of a token to the women's movement.
So I found my career satisfying. Of course, it was where I found my husband, and I was able to continue working and have a family of three children which also has made me more understanding of the working woman today. In my retirement, I have been active, I've headed up the Baltimore City Commission for Women for about five years. I am particularly interested in getting more women in political office and working towards those goals. Although I did not feel any discrimination, I understand some of the problems that women face in the workplace. I also understand that there's much to be said for a woman being able to work and have a family and a husband, for their own personal satisfaction. In sum, my career was very satisfying and I just feel lucky that I had a great career, a great husband and fine family.
Q: Wonderful.