Interview with Huldah Lieberman
HULDAH LIEBERMAN ORAL HISTORY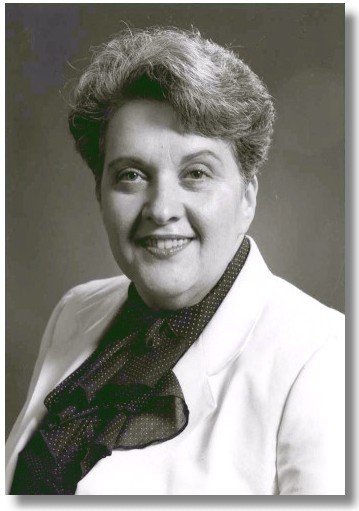 July 30, 1932 - March 6, 2009
Huldah Lieberman during her SSA career--official portrait, circa mid-1980s.
SSA History Archives.
Remembering Huldah
(The following recollections are from former SSA colleagues. These reflections appeared on the online Guest Book of the obituary site of the York Daily Record & York Dispatch on March 10-11, 2009.)
Huldah was one of those rare people who only need one name. Think Cher and Elvis. There was only one Huldah. Everyone had a Huldah story or quote. One of my favorites was her comment after reading a less than stellar product. "my cats can write better than that!" She was the only person that I can remember who requested that she be "roasted" as her retirement party. The whole staff of more than 100 people took part in skits and songs poking gentle fun. She loved it and remarked that it was one of the best days of her life. I am sure that she watched the video many times. She had a personality as big as her heart.
Donna Berneski
I worked for Huldah many years. It was a pleasure to travel and share experiences with her. She will be greatly missed.
Hilton W. Friend
Huldah was one of my career mentors and it was very gratifying and rewarding to work for her. She was also very gracious and kind to me the several times I saw her after she retired. She was an impressive personality, very dedicated to the Agency's mission, extremely intelligent and very generous.
David Clark
I worked closely with Huldah for a number of years and learned so much from her. She was a mentor to me in my career at SSA as well as a caring friend. In the years since she retired, I thought of her often and the lessons I learned from her. I will remember her kindness, quick wit and sense of humor. She was truly one of a kind! My sincere condolences.
Ann Corbett
I worked with Huldah on the automation of the California DDS in the early 90s. She was a dear person and very demanding at the same time. A person you don't easily forget. She gave much to SSA.
Larry Lipzen
I am shocked by Huldah's sudden death. She was respected and admired by many. I had the pleasure to work for her at SSA for several years and the gratification of becoming her friend after her retirement. I truly loved and appreciated her generous heart, sophistication and brilliant mind and wit. She will be missed. God Bless.
Kimber Wilson
I remember having an assignment in Baltimore as a Management Intern back in 1988. As an OS from Anchorage, Alaska I was very intimidated by the Senior Executives that I came into contact with, however, I recall Huldah and how nice she treated me. I came to admire and respect her for being a great leader and an even greater individual to know and spend time with.
Alan Heim
I worked with Huldah as well in the early 1990s - a definite task-master but a woman with the biggest heart. My friends and I were just talking about her last week and wondering how she was doing. She is and will be fondly remembered. Deepest condolences.
Maria Ray
I worked with Huldah for a number of years in several different capacities. She was a lady with high standards and a big heart. I had the highest respect for her she'll always be in my memories as a person I learned from. It's so uncanny, I was just talking about her with my staff yesterday. Please accept my most sincere condolences.
Dennis Davis
Remembering Huldah II
(The following reflections are by the SSA Historian, Larry DeWitt, on learning of Huldah's passing.)
I worked with Huldah Lieberman only briefly, near the end of her career at SSA, when she was the Associate Deputy Commissioner for Central Processing. But this brief exposure to her left a strong impression on me, and some sense of her style as a manager and a personality.
Huldah was a tough customer. She was generous and big-spirited, and never acted out of pettiness or narrow self-interest. But she was fearsome when she needed to be—and in large bureaucracies it is sometimes necessary to be tough to get the organization to move. Beneath her soft-spoken Southern manner was a bristly resolve—she was the sort of person who could shout at you without raising her voice. In fact, the madder she got, the softer and more modulated her voice became. If you had to strain to hear what she was saying to you, you knew you were in big trouble! If you think of the image of dealing with a very determined porcupine, that sort of captures Huldah for me. (As an ardent animal lover, she probably wouldn't mind the comparison at all.) One incident typified Huldah for me—an incident I have never forgotten.
In 1988 Commissioner Dorcas Hardy made the decision to reorganize her top executive staff by consolidating the jobs of Deputy Commissioner for Operations and Deputy Commissioner for Systems into a single position. This created a truly Herculean task for the new Deputy, who would be responsible for somewhere north of 90% of the Agency's operations. I cannot think of anyone who could have possibly managed the assignment other than Herb Doggette, who Dorcas wisely chose for the assignment. Herb in turn was smart enough to recognize the need for a cadre of equally strong Associate Deputies to help him with this massive organization. He selected three: Ruth Pierce, as Associate Deputy for Regional Operations; Dean Mesterharm, as Associate Deputy for Systems Support; and Huldah Lieberman, as Associate Deputy for Central Processing.
Among Huldah's portfolio was the operation of SSA's National Computer Center (NCC), and indeed the performance of all of SSA's centralized computing processes, including the telecommunication network. At the time, SSA was in the middle of trying to implement the first major release of our online Modernized Claims System, and we were having lots of problems with system performance. Part of the problems were software-related (and thus Mesterharm's responsibility) and part were the result of insufficient processing power in the NCC (and hence, Huldah's problem). There were lots of complaints from the field regarding systems performance and Doggette decided he needed to make a tour of the field and do a multi-media presentation (there was no such thing as the ubiquitous PowerPoint in those days!) to explain what was happening and what our plans were for fixing the problems. As Herb's speechwriter and presentation preparer, the task of putting together his presentation fell to me.
Herb was clever in many ways, and one thing he clearly understood was the need to market the problem before you could market the solution. Or to put it another way: the field was experiencing problems, and we had to start by acknowledging this truth—this was not to be an exercise in CYA or PR-blather. Herb wanted a candid, factual, honest report on both our shortcomings and our plans to fix them. He was very explicit in outlining what he wanted in his presentation. I dutifully prepared a 35mm slideshow with all Herb's points and lots of data and information about our systems and their shortcomings. I then printed a hardcopy of the 30 or so slides and circulated a draft to each of the three Associate Deputies, for their input before I finalized the speech.
Two days later I was sitting at my desk when the phone rang. It was Huldah, calling me directly—which was unusual and unexpected. This is how the conservation went:
Huldah: (In a soft, quiet voice) This is Huldah Lieberman . . . LONG PAUSE.
Me: Yes?
Huldah: I have been reading this presentation you sent around for review . . . LONG PAUSE.
Me: Yes?
Huldah: I have only one question . . . LONG PAUSE.
Me: Yes?
Huldah: Do you have a death wish?! CLICK.
Later that day I received in the interoffice mail Huldah's detailed comments on her marked-up copy of the draft presentation. Her comments and the changes she wanted were not all that dramatic—but she definitely got my attention, and I made darn sure all her comments were reflected in the final draft. And in truth, she was right on each and every point she wanted changed.
That was, in part, what it was like to work with Huldah. So although she scared me a little bit, I always respected and even admired her. She was a tough customer, but always a tough customer in the service of doing the right thing.
Larry DeWitt, SSA Historian, 3/12/09
Huldah Lieberman's SSA Career:

Assistant Deputy Commissioner for Operations
12/91 - 6/95
Associate Deputy Commissioner for Central Processing
10/88 -12/91
Director, Field Liaison & Support Staff
5/88 -10/88
Deputy Associate Commissioner for Disability
10/86 - 5/88
Director, Office of Disability Operations
1/82 - 10/86
Executive Administrator, Office of Commissioner
11/80 -1/82
Director Great Lakes Program Service Center
12/79 -11/80
Assistant Regional Commissioner Disability, Chicago
9/76 -12/79
Social Insurance Administrator
5/75 -9/76
Social Insurance Operations Officer
12/72 - 5/75
Chief, Field Coordination Staff
4/70 -12/72
Social Insurance Specialist (Disability), Baltimore
6/69 - 4/70
Senior Staff Officer
11/66 - 6/69
Disability Policy Specialist, Baltimore
4/63 -11/66
Claims Representative, Chicago
3/59-4/63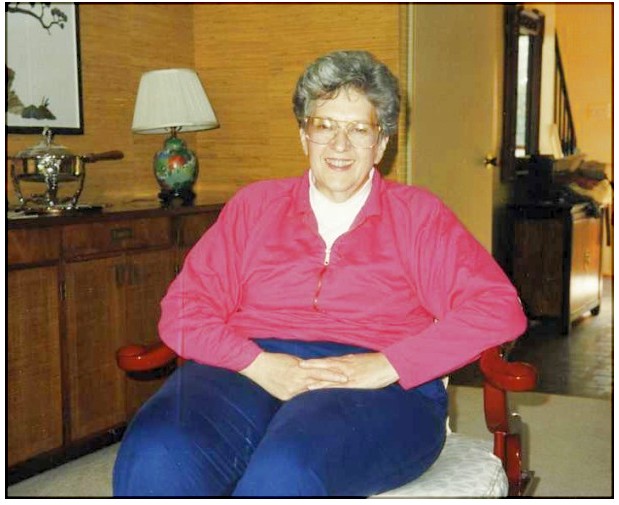 Huldah Lieberman at her home in suburban Baltimore, Maryland at the time of her oral history interview, 10/18/95.
SSA History Archives.
TEXT OF THE INTERVIEW
This is an interview with Huldah Lieberman. The interviewer is Larry DeWitt, SSA Historian. The interview took place on October 18, 1995 at Ms. Lieberman's residence in Baltimore , Maryland .
---
Interviewer: Huldah can we start by talking about how you came to SSA and how you started your career, what the circumstances were of your first job in SSA?

Lieberman: Sure. I was going to school at the University of Chicago as a professional student in the 1950s. And I decided that it was about time to stop living as a student, sort of hand to mouth, and go get a job for just a short while. I took, what was then, the Federal Entrance Exam, and had no idea, no preconceived notion, about where I wanted to work, what I wanted to do.

I was interviewed for a job by Paul Webb, who subsequently became a Regional Commissioner, he worked for a long time in the disability program, and at that time he was equal to an Area Director. He assigned me to an office the farthest distance from my home he could get within the city of Chicago . I went to that office as a Claims Rep. I most probably could have chosen to go to a Program Service Center at that time, and I have no idea why I decided to become a Claims Rep, except that it was a job with a fairly nice salary. Particularly when you have been going to school for years and years and years. It bore no relationship to what I was doing in school. I was a political science major, but I was more interested in international relationships, I guess. So it bore no relationship to what I was studying and at that time I had no idea that it would be a permanent job.

The office I was assigned to was a very, very large office, for that time. It still remains a large office. It had a very diverse clientele. Very much like we see in our inner-city offices today. We certainly didn't have the SSI workload, but we had a skid-row type workload and we had a very, very high income workload, people with very large incomes. And we had in between, and it was busy.

It reminds me of the fact that as I look at my career in SSA, I'm reminded of the fact of how much things change, but still remain the same. We were dedicated to providing good service. We worked very hard. The rules we had to adjudicate cases and to develop cases were pretty much the same rules that we have some thirty-odd years later. We had good training, very extensive training The one thing that was not there at the time was any kind of promotion plan or a standardized promotion plan that was based on equity. So it was pretty hard to determine what you were going to do next or where you were going to go.

I could also point out that I started working in the District Office not to long after the passage of the disability program I started in 1959, and they started, I think in '56, the real start of the program. And a lot of the activity that we got into in this large metropolitan office was disability. Not everybody was that happy about working on disability, we had a long background report, very similar to what we have now. And we had to develop medical evidence, which was mystifying because you could never determine how you were going to get it. And we also worked with the State Agencies, which none of us really understood and they didn't understand us. Again, how much things remain the same even though they do tend to change.

I was very much involved in training, because, as I mentioned before, we had a very large emphasis on having a well-trained staff. I was very much involved in documentation of cases, because I was willing to, most probably, try to see through some of the criteria and some of the standards that we had, to best develop cases.

But I was not happy about remaining a Claims Rep and most probably had gotten a little bit too accustomed to the salary by now, and I knew I wasn't going back to the University of Chicago, and I was certainly not going to teach in an academic setting, which somehow I most probably had lodged in my head at one time. And I did have this interest in disability and I understood disability, I was willing to learn to understand it more than most people. And disability was expanding extensively in Baltimore at that time. Baltimore did a hundred percent review of every case, no matter where it was filed in the country. Once the State Agency had made the decision, one hundred percent of the cases came in for substantive review. So they were recruiting. I couldn't see any kind of promotion in the Chicago Region because I could never tell how promotions were made and where they went, and one of the rules was you had to be a Field Rep, and I wasn't going to be a Field Rep and go into the slums on the Near Northside.

Interviewer: Let me ask you one question about that. On the issue of promotion, and comment on that if it's relevant, and if not, we'll just pass it by. Was there any issue early in your career or any time in your career, being a woman in the Agency, did you find that in any way hampered your promotion opportunity at this point in time, or that wasn't what this was about?

Lieberman: Well, in a way this was involved in this activity. The Chicago Region had a rule that you had to go from a Claims Rep to a Field Rep. And they did promote women. They certainly did not overlook women, but they didn't do it as much as they should have because they had a concern about women going into some of these areas as Field Reps. So if you wanted to take a promotion as a woman you might have to go some place else. And you also, and this is a very interesting thing, you also had to drive and I didn't know how to drive. I had never felt the need to drive a car when I was growing up in Louisiana and when I moved to Chicago public transportation was so available, why learn how to drive? So I didn't want to be a Field Rep. It wasn't clear I could even be one. And I guess, Larry, I'd like to comment a little bit more extensively later no about promotional activities as a woman. I think it was somewhat involved in this, but not greatly.

Anyway, I knew I wasn't going back to the University of Chicago , but I had some sort of a high-caliber education that I had managed to amass over the years and I thought, "why not go to Baltimore and get into policy." Oh how wonderful. And I would take this job in disability evaluating cases and it would not take long before I could get into something called "policy"--whatever

that was. I didn't have the foggiest idea, certainly, what it was in the Agency.

I knew what it was in an academic setting, but I didn't know what it was here. Anyway, I conspired with my supervisor to get a job in Baltimore and almost got killed because the manager was furious. I mean there was no set

promotion plan and it was almost like a personal affront to go behind the back

and get a job someplace else.

But, nevertheless, I was glad to be out of there and off I moved to Baltimore and got into this large operation that was nothing but sitting at a desk and reviewing disability cases. But it was expanding so rapidly, that before I even got out of what was, I think a thirteen week training course on disability, I was immediately promoted to the Reconsideration Branch, because reconsideration was expanding so much. Again, very much the same thing in disability, always denials and appeals. So by the time I got out of training class I skipped the basic job altogether and went to Reconsideration.

And I wasn't in Reconsideration long before someone came by and said Policy is expanding and they asked my Unit Chief to give recommendations, and I was recommended, because again there was no promotion plan There was no filing for jobs. I went into Policy and I thought the world had ended. I could not believe that there was such a dead-end, unresponsive place to work. I figured that nobody had the foggiest idea of what to do to provide service to the American people. And before long I didn't want to be part of it. Very much this reaction that most operating people have to a policy job.

Interviewer: This was the Office of Disability?

Lieberman: Well, the equivalent.

Policy in SSA has remained pretty constant over the years. There is a law and it is interpreted basically in a very, very strict fashion, and there is very little imagination or flexibility. And there is certainly a lack of attempts to change the law when it's really needed to get better policy. I think there are certain restrictions that you have to be under. When you have a law you have to interpret it, there's no two ways about it. And you have certain calls and you have certain realities in the organization that have to be satisfied. But when you see that you're doing that and it's not working, it seems to me that Policy has a responsibility to recommend changes And that's were I think we really breakdown in this Agency. We didn't do it thirty years ago and we really don't do it today, to the extent we really should. Now whether it's the responsibility of the Policy component, or it's the leadership that just doesn't support it and is unapproachable, you know on that, it could be that it is a combination of those things.

But I was willing to do anything to get out of Policy. And one of the interesting things about Policy, at that time, which I think is so funny, is we had from the beginning of time in the disability program, we developed the background report on something called the 401. And we must of tried a million different ways to get the operating folks in the District Office and in the State Agencies to live with that form. The District Office folk wouldn't get the complete interview and the State Agency folk would just take what they got on the form. And so the resolution, which is the thing that shows some of our ingenuity, was to change the number on the form to 3368. It remained out there identically the same in the kind of information we ask, but format has changed and the number of the form.

Interviewer: But the issue is still the same?

Lieberman: It's exactly the same. That's my point. As much as things change, they remain the same. And the lack of ability in a policy component to deal with this kind of situation, which is just mind-boggling.

Interviewer:And frustrating to you, obviously. <![if !RotText]>

Lieberman: It's very frustrating. Let me skip for a minute.

As I got up the chain in the ladder of responsibility in management in the organization, and you say to yourself, "can't you do something about this particular problem," the answer is always back to the operating folks. Move around where you get the information. It was always going to be solved by getting it with another person someplace else or with more training. It was never looked at the root of the problem, and what had to be done to solve the problem at its root. And that problem has been going on for over thirty years. And even today the way we're going solve it is by moving around where we take the information and what kind of training. The expense is unbelievable and we know--and we know.

But, it just so happened that while I was in Policy, absolutely appalled at being a part of this, SSA again went under some sort of an organizational change in which the Regional Offices expanded. And it was determined that up until that point the Program Bureaus had no representation in the Regions, and they should be represented, it shouldn't be just the operating organization. And so they opened a small Disability Regional Office. One opened in Chicago , were I had been working before I transferred to Baltimore , and I went out as a Staff Assistant.

Interviewer: In the Regional Office, as a function in the Regional Office?

Lieberman: As a function in the Regional Office. And this was the beginning of my, really I guess continuing, role for the rest of my career and relations.

Interviewer: Lets just recap the time frames here. You started as a claims rep around 1959,

and were a claims rep for approximately how long?

Lieberman: Two years.

Interviewer: And then you were a recon examiner in Baltimore for about a year?

Lieberman: A year.

Interviewer: And then how long were you in Policy?

Lieberman: Well, I was most probably in Policy--I was there until '66--so I most probably was there about two-and-a-half years.

Interviewer: In '66 is when you went to the Regional Office?

Lieberman: Right. I went to the Chicago Regional Office and there I worked in operating concerns and the disability program, primarily with the State Agencies that adjudicated cases for us, and to some extent with the District Offices. At that time the folks who ran the District Offices didn't let anybody in. You really had to work hard to be accepted and get into the office, much less do a review of your program in that office. And so it was an interesting time. We were not an Agency that worked well together. There were a lot of little political in­fighting in the management ranks.

And nobody liked the disability program, nobody. Mainly because traditional SSAer's couldn't understand it. It was different from everything else they did. The retirement and survivors benefit program was the prime program. It was a very positive program and very straightforward. You came in at a certain time, and we wanted to give you benefits. We did everything we could to give you benefits. It was very much a part of people's lives, they had a social security card, the applications asked things like "what is your age?: "are you married?: and very much things people could answer right off the bat.

And here came the disability program. First of all, it was a program out of the control of the traditional SSA hierarchy, the States had a big role and yet we didn't have any control over the States. You have all this medical evidence that was interpreted and misinterpreted, over-interpreted or not interpreted. Nobody agreed on how it was interpreted, I guess is the best way to put it. And there was a very, very high denial rate. There was this tremendous tension with the disability program. And the management on the District Office side didn't want to futz with this long hour-and-a-half interview. That was crazy. You didn't have to do that with any other program. They didn't want to have to get all this medical evidence. They just weren't going to take their time to do it. And then when people came in, they weren't going to tell them they were going to be denied. They were going to tell me that somebody else made this decision.

So it was a real tension-filled time. And everybody was looking for some way to try to overcome some of the problems. And so, again, the issue was, well maybe we can overcome some of the problems if we moved around where we did things. And so they came up with this idea of doing some activities, I guess some prototypes, called side-by-side and simultaneous development. And this is the same thing we're doing today. In side-by-side we would test two experiments. One would be State Agency people would sit in the District Office, and in the other District Office people would sit in the State Agency, and they both worked their part of the claim side-by-side. In simultaneous development what would happen would be that you would start the case in the District Office and split it right away, and send the medical portion to the State so they could start working on it while the DO continued to hold the non-medical. And then after the state did its medical part you hooked the two back up, and so the two sides would be developed simultaneously.

And so they asked the Chicago Region to have the lead in some of these

experiments. The New York Region had the lead in other experiments--that's

where I first met Janice Warden. And we started; and side-by-side was a catastrophe par excellence. You couldn't take State people and put them in a

District Office. They have different rules, different work times, different

personnel rules, different management approaches, and there was just tension and battles. And to put the District Office in the State was just the same problems, but carried out in the State environment. And so we struggled

through that and of course simultaneous development had a chance of working

and slowly but surely was accepted to expand.

And I had been working very closely with that, and Paul Webb, by that time, had gone into central office to head up the field portion of the Bureau of Disability Insurance.

Interviewer: May I ask, the simultaneous development, how did that differ from what we were doing before these two experiments?

Lieberman: What happened was, the individual would come into the District Office, file a case, and the District Office would start developing the medical evidence. They would hold the entire file until they at least got some medical evidence from the client, regardless of what it was. And their development was very routine, I mean it was just a form that was sent out with some general questions. Another part of the theory of simultaneous development was that the State Agency folks, with their medical training, which the District Office people didn't have, could tailor the medical evidence request. So that if someone came in with a back problem, the District Office, when they were doing the development, would just send out a general form and say "please give us all your information." Whereas the State could go to a specific doctor and say "please give us his x-rays, give us his range of motion studies," things like that.

So very much, again, these models that we started doing--it's again trying to futz with the same thing, what do you do with it? But Paul Webb asked me to come in and try to work with the Bureau of Disability Insurance to expand simultaneous development. And SSA being SSA, nobody wanted to expand simultaneous development across the board, but little by little over a period of a couple of years. I think it took about--I went in, in '69 and I left the end of '72--in two and a half years we did finally go nation-wide.

Interviewer: So you were back in Baltimore at this point?

Lieberman: Right. I went back to Baltimore in '69, and I stayed in Baltimore and I worked in the field operations organization of disability. Which worked primarily with the District Offices and the States Agencies, implementing simultaneous development, doing budget work and things like that.

In December of '72 I went to the Boston Regional Office, and worked in the disability section there. Primarily on the operations side, working with the State Agencies, advising them on SSA procedures and working with them on budget issues too. It was very much the same as Regional Offices do today. In '75 I went back to Chicago , in the Regional Office there, to head the Disability Regional Office.

I found Chicago to be one of the most exciting, challenging regions I think we have. The State Agencies are all, for the most part, very large. The problems, the issues they deal with are very diverse, such a variety. The State governments are very strong, very difficult entities to deal with. For the most part, very conservative, extremely conservative.

It was a time of great challenge. I mean we had very high workloads, extremely high workloads right after the SSI program was passed. The State Agencies had more than doubled in size, they were huge. Little agencies became huge agencies, three and four hundred examiners. And the States had a hard time coping with that, because the States were very conservative and they didn't believe in hiring a lot of people, and didn't believe in working overtime. Their other agencies that didn't have federal funds couldn't have the same equipment we gave the State Agencies. There was a lot of contention.

Interviewer: This expansion happened because of SSI, or the gradual growth of the program?

Lieberman: It was primarily SSI.

There was another interesting feature that happened right around the mid '70s that was very important to the disability program. GAO had done one of their famous studies in the mid '70s and came up with the idea that the program was allowing too many people. And that really started with SSI, really it's all involved with SSI, because in SSI there are so many concurrent cases, and so we began to get many, many more cases, many more allowances. There was a push to move cases. There still is this issue, when you press your people to move disability cases fast, there is a tendency, there has always been this historical trend, of allowances increasing. And that review by GAO had been a very, very tough review and had generated a great deal of argument and animosity within the Agency. The result of that review really came with the 1980 Amendments. The big issue that was debated for several years was what to do with the States. It was the States that were the ones that were at fault in all this.

Interviewer: According to SSA or according to GAO?

Lieberman: That wasn't the only one. And the bottom line was that the DDS Administrator, the State Agency Administrator, reported up through the welfare chain, and if the welfare chain said "we want more welfare people allowed" there was a tendency for that to happen.

The end result was that the Agency--HHS, Health and Human Services, and the Agency--began to look for legislative ways to deal with some of the problems. Also they had to deal with the quality assurance aspect. It had already become too cumbersome several years before to do a hundred percent review of all the State Agency decisions, and they had gone to sample reviews. And there was a feeling on the part of GAO that that was unsatisfactory. That when there was a hundred percent review, things had been much better.

So they began to talk about legislation, and the result was the '80 Amendments. And the '80 Amendments, of course made some changes to the way we related to the States, there were significant changes. Before the '80 Amendments we had a contract with the States. After the '80 Amendments we had regulations with standards for quality in processing, which was a way supposedly to control the situation. We also had a pre-effectuation review, which was a mandated percentage review of allowances. And whether that's good or bad, will always be debated.

That was going on during the period that I was in the Chicago Regional office, from '75 to about '79. It was a very exciting time, a very challenging time. I think it was during that period, that was a real big watershed in the disability program. It was during that time the Regional Commissioners were given more authority to work with the disability program. As I had mentioned earlier, when they first opened the disability office in the region they were little separate entities, the disability office reported back to Baltimore And there was all this friction between the service organization and the program bureaus. As I said, they wouldn't even let the Program Bureaus in the District Office. So in the late '70s the Regional Commissioners took over the program bureaus in the regional office. They all came under their head, and that forced the Regional Commissioner to begin to bring together the various components. That was the beginning of the time which you had more of a unified position in the District Office and a message to the service organization about their responsibility for the various cases. Because up until that time the District Office would say, "look, we don't want any part of the disability side", pretty much they did what they wanted to do, it was you had to convince them. So it was a good management change at that time.

And then, as far as my career was concerned, in '79 the biggest thing that ever happened to me, I guess, happened, and that is someone asked me, while I was in Chicago , if I would become a Director of a Program Service Center . And I would say, I thought they were crazy. First of all I couldn't imagine personally managing someplace with three thousand people. I had no knowledge of Unions, I mean. And this had been a Program Service Center that had been through a very hard period. It had huge workloads, huge numbers of problems. Julius Berman had been the manger there, and he retired after bringing it through it difficult period. And Jane Presley had been there for just a few months, and then had gone to Baltimore .

I was never so scared in my entire days, but it was such a wonderful opportunity nobody could ever turn down. It was so different from anything I had ever done. And of course I just absolutely loved it. I really loved the mechanics of working with a large operation. It is so different then doing something rather small. I was impressed with the people. Up until this time I had always worked with a staff of SSA folks, but they were analysts and they were known for their knowledge of a particular analytical feature that they worked with. I worked with the States, who did some operating things. And I never worked with people who had responsibility for bringing together all these folks and making them understand all these small parts of an organization put together. It was very clear as the Director, sitting up on the top floor in one corner of an office with three thousand people, and literally hundreds of thousands of cases a week coming through, that you didn't do the work. I mean, somebody else did the work and you have to find out how those people did it and what made them run, and how you could bring them together as a team, so that they all did their particular responsibility and it all came out right at the very end. And they of course expected you to be consistent, clear and fair And to do the things that were necessary, to make sure you did the things that were necessary so they could get their job done.

I came to have such great respect for the people in SSA, beginning right then, because they did do such a wonderful job. They understood the work they had to do. They brought to it a personal commitment. They brought to it originality and ingenuity and just such respect and such a willingness to give to the people they served.

Unfortunately, I was only in the PSC for about a year, a little over a year. And then they asked me to come into Baltimore to head a special task force that

would implement the 1980 Disability Amendments, and work in the

Commissioner's office, and I did do that. A number of things happened. We set up the quality assurance program as we know it today. They did put its standards into the regs. I think the same standards we put in, in 1981, are still there today, they never had the leadership ability to change them. And while I was working on that, the leadership in SSA went through a dramatic change, because there was a change in the Washington scene, from a Democrat to a Republican, after a large number of years. And there was great confusion, and I sort of ambled around after that with not very much to do, which is very symptomatic of being on the ninth floor.

And then Nelson Sabitini came in and said "I want you to go to the Office of Disability Operations." And I thought, oh my God, he wants to fire me, because ODO had the reputation, for ten years, of being the worst thing in the world they had. They had task force after task force after task force trying to get the workload under control and trying to get the people satisfied, to be happy. And every task force had failed. He said "no, you know you have a disability background, you understand disability, where as a lot of people don't." And Nelson did understand disability, he was a product of disability too. And he said "and you've been in a PSC, and ODO is just a big PSC, it's just bigger." It had like about seven thousand people in it at that time. And they didn't even have a place to put them and they were trying to break it up, and that was another thing, they were trying to physically break it up within the city of Baltimore . So, I didn't have any choice, I needed a job.

And I went there, and I would tell you that it was the most rewarding job I had ever had in my entire career. It was an operation where the people were so tired of being called dumb and inefficient and ineffectual. They would have done anything to get themselves straightened out. And they did. We worked overtime four hours a night and eight hours on Saturday, and sometimes on Sunday, when the pending was frequently up. And in those days five and six hundred thousand cases down to like a hundred and twenty-five thousand cases. And they cut out overtime completely, reduced the pending and became an organization that really had a lot of confidence in itself, and a lot of respect for itself and provided a very high level of service.

And again, it really had to do with all the things I saw in Great Lakes , a staff that understood their job, were committed to make changes, willing to do the things necessary to get the job done. And what they expected of me was to provide them with the wherewithal and the support. And the leadership in those kinds of areas where they needed tools, regardless of what kind tools that may be. I really felt so proud of that organization. It provides such a good service to the American people. And no matter what has happened to disability it has always been there to do what it needs to do. And I think it also provided a wonderful, wonderful place for people to start their career in SSA, in central office. Its provided a large number of analysts and mangers, who have gone up the ranks, on the so-called "other side of the street," the Altmeyer Building and Operations Building , West High Rise, and I think it has been just a wonderful, wonderful place.

I don't think anyone has really understood the kinds of problems they have. The complexities of the work that they have to do, and the pressures many times under which they do it. Nor has anyone ever understood how, regardless of what is thrown at them, they can find a way to get it done. They don't just sit there by rote over and over again. They really make changes. And I don't think anyone in SSA really realizes what a horribly, nasty thing it is to be in an operating component, right next door to a major staff component, and the hell you take, and the sort of looking down your nose thing, and the pressure you get. I mean people out in the regions, in San Francisco , or in Chicago , or in Kansas City are not under the scrutiny the Office of Disability Operations is under for everything they do. And they don't have staff that run to Barbara Mikulski and Senator Sarbanes, and then Senator Sarbanes and Barbara Mikulski call the Commissioner and then it all reverberates back down. Or Kweisi Mfume (former Congressman, D-MD). So it really is the managers over there just have a huge amount of responsibility and they handle it with great skill and purpose. I think they are just wonderful, wonderful people and they do a good job.

Interviewer: Another thing that happened around this same time, as a result of the 1980 Amendments, was the Continuing Disability Reviews that were accelerated and became a big issue and a big public policy issue. Did you have any involvement in that or any observations about that part of the 1980 Amendments and what happened around that?

Lieberman: You see, that was a distinct part of the GAO findings. It was that we had put many people on the rolls that should not be there. And that there were rules that had not been followed correctly. And it was costing the Trust Fund huge amounts of money. It was draining the Trust Fund, because once a person got on the disability rolls they stayed on, and for the most part had a family, and so they had very high benefits paid out for a long period of time. During the late '70s we put on a lot of people on the rolls who did not have severe impairments that were supposed to be permanent.

So I think there was a feeling within the new administration that this was part of the thing that had to be corrected. And when you started correcting it, then the politicians didn't like it. And the issue was to change the law, because under the law that existed when we started doing the Continuing Disability Reviews, if you took up a case for review and the individual was not impaired when we reviewed the case, that was a bases for ceasing.

And so we started to do just exactly what we were supposed to do, and what the powers that be really looked like they wanted. What really happened is that it didn't take the States long to figure out, particularly the DDS' that were part of welfare, that the welfare rolls in the State were going to explode, because all these people coming off the disability rolls would go on State welfare And it became a State issue of pressure on the federal government. What it looked like though was that the bureaucrats were doing something wrong, and they were not. What had to be changed was the law to put in a provision that said, when you pick up a case to do a Continuing Disability Review don't deny them unless there's medical improvement. And so they finally did pass that law.

Now, by the way, the ironic thing is that, that had been in the law back in the '50s, that you couldn't deny unless there was improvement. That had been the rule, and there had been a Supreme Court case or some court case that had reached a decision and had said, "no, you don't need medical improvement to cease." And so the Agency had not been using medical improvement for a number of years. Maybe for about ten or fifteen years, I forget the exact number of years, and so when this period came along it became more apparent because we had so many more cases. We had not been using medical improvement as a standard, but we did have that many cases we were reviewing and so it looked like the bureaucrats were doing something. I think the more complicated assessment would be that the States themselves saw what was happening, they pulled the "states rights" thing, refusing to process cases. And we never stepped in, we as an agency didn't show any kind of balls, any kind of strength or backbone to go in and say to the States, "you wanted to process the cases, now either you follow our rules or you get out of the program." You know they weren't going to get out of the program, they never have. But we didn't have the kind of leadership that wanted to do that, and so the bureaucrats took a fall and they finally changed the law.

A lot of other things happened during that period that I think have been bad for the disability program and we're paying for it now, again. One was that the States started closing down the mental institutions and having people live outside of the mental institutions, even though they still had problems. When people came out of the mental institutions, our criteria--not the medical improvement, but just the criteria we used to evaluate mental impairments-- indicated that these people were not disabled. They could function to some extent and we would deny them. So they changed the standards for evaluating mental impairments. And the standards that, you know, anybody can qualify for disability with a minimal impairment.

And if you pursue a case, with the criteria we have and with the developmental things we have, it's very hard to deny a case. I think the issue here is that now they're looking at criteria. The States have used the disability benefit to support people's lives outside the institution. They don't have to provide any kind of support and so it's a very tough political issue of, "how are you going to bring this cost back under control?" And it's very much the issue that's involved with so many AU J (Administrative Law Judge) reversals, it's very much involved in that. If someone appears at a hearing they can sound like they're disabled from some medical impairment, mental impairment, in particular. It's very hard to deny them.

And of course the issue of how we wrote those regulations for evaluating

mental impairments was what I consider the very best example of confusion in

leadership, that has really hampered the disability program over a number of years. I mean, every time a problem comes up from some advocacy group or

some political group we try to find a way to placate them, regardless. And we

are very short-sighted and we just look at the very tip of our nose and if we

can get them off our back tomorrow we don't try to see what's happening to

the program down the pike. That has been very apparent with SSI children. We were very willing to do just about everything we could to get them off our

backs, to allow as many kids as possible. To write criteria, to write

development sheets, to do development in such a way that we could find ways

to get our critics off our back and let the other problems be settled five, ten

and fifteen years down the road. It's been very chaotic for the people who run

the program, very chaotic and it makes it look like it's their fault and it really isn't. I think it has been a huge number of very conflicting type signals that

are given. You continue to have a program of great severity and you have

administrators or leadership that's coming under that program, trying to find little ways to placate the various groups.

Anyway, I went from the Office of Disability Operations in '86 to the Office of Disability. Dorcas Hardy had come in as Commissioner, and for the very first time we had a political appointee as the Associate Commissioner for Disability.

Interviewer: So you were back in Policy again?

Lieberman: So now I'm back in Policy. And so that Policy person was looking for somebody with great strength in the program to help them out while they took care of the political side of the thing. This is the first time there had been a political Associate Commissioner and so I became the Deputy Associate Commissioner for Disability.

I would say the interesting thing about that, was that we came in and Dorcas Hardy's main emphasis was to improve management of the program. This was in '86. In the early and mid '80s we had gone through the devastating Continuing Disability Review crisis. The States had pulled out of the program and wouldn't do cases. And to get them back in, they had pumped money into the States like crazy. And there was all this money out there and all this staff, and no work to do because we were not going to do the Continuing Disability Reviews. So the question was, how do you bring that under control? \

Interviewer: At this point, we were not doing the disability reviews because there was a moratorium placed on them at one point prior to the '84 Amendments, and we, for whatever reasons, didn't get back in the business. Is that right?

Lieberman: Well we got back into the business, but because of the change in the medical improvement standard we were going to do many fewer cases. And we were going to pull up cases by some sort of profile when we thought there was going to be a greater chance of medical improvement. So there was going to be many fewer cases.

Anyhow, we were not having any great growth of work in the initial disability claims. And I think the major thrust, for the year-and-a-half or so I was in Disability, was, again, from an operating standpoint, trying to get the States to begin to economize and to take out some of the money, the budgets had grown extremely large, and to institute some efficiencies. And so there were rowdy times.

I appreciated working for Dorcas and David Rust. They were not afraid of the States. Their aim was, if we have something we need to do in Social Security, we should find a way to do it and convince the State to come along with us. When the States scream, find a way to work with them so that they adjust and they accept, because the States will scream a lot and say they're going to pull out. And they never did, but just in case she said, if anyone ever gets the idea that they might want to pull out, we really need a federal presence to adjudicate cases in case the States won't do it, or in case the States had such a big workload they can't do it. And so, Dorcas had the idea of setting up something called the "Federal DDS, in Baltimore . And it became my job to develop that from scratch and to put it into place.

Now, the States didn't have a problem with that, but there was an awful lot of internal SSA people who had a problem with it. And that was a year-and-a­half of battling and scrounging and carrying on, but finally it came to be, and it operates. It was not only a DDS to adjudicate cases in case a State pulled out, or to help with big workloads, which it does, but it was also to be a test bed where they would test procedures, or equipment, or what have you, before it went out to the States. And I understand that's what it is now, a test bed to test some of the Modernized Disability System. So I consider that an achievement in my career and a contribution to SSA. The big argument in SSA was where it was going to be placed, and should it continue to be part of the Office of Disability. And of course everybody wanted it. I don't think anybody knew why they wanted it. And of course its remained where it is, and it has functioned well.

Interviewer: So that was the resistance that you referred to earlier within SSA, was the issue of who was going to own it organizationally?

Lieberman: That's right, who was going to own it. And it was nasty. I mean there were times when components that really needed to work with us refused to do so-- just like when the States wanted to pull out of the continuing disability program--SSA components. You know that's part of life and it's what makes life interesting in a bureaucracy.

So I consider that was another milestone in the disability program that I had been part of, like simultaneous development. Bringing ODO into some sort of control.

And then I got into another significant change in my career. Someone said to me, we're going to have another reorganization and the Deputy Commissioner for Operations is going to have three components under him. One is going to be the field component, the other component is going to be systems, and the third component is going to be those operating components that are just pure operating components and don't belong to staff. That's like the Office of Disability Operations, the Office of Central Records Operations and the Office of Systems Operation, and would you come handle that component that has those three entities in it? Well I certainly knew ODO, and I knew a little bit about the Office of Central Records Operation, and of course it's a big processing center so while it's not exactly like an RSI Processing Center or Disability Processing Center it was easy to go into that, but I knew nothing about Systems and I knew nothing about mainframe systems of the Office of Systems Operations.

Interviewer: This was for Herb Doggette?

Lieberman: That was for Herb Doggette. And that was a very exciting time and one where I really learned a lot.

And the Office of Systems Operations went from a computing center that had something like two or three small processors in it to one of the largest operating centers in the world. That was not without a great deal of contention, because GAO didn't want us to buy any of the equipment and Herb Doggette was busy trying to get them to stop blocking us within Congress to get the money to buy some of the very big processors we needed--the state-of- the-art. We operated with whatever we had, I mean it was really held together with rubber bands and chewing gum--cast-off equipment.

So it's very interesting, he was very successful in getting GAO to back off. We got the fiscal support we needed from Congress and worked through the internal problems and began to buy the state-of-the-art equipment that allowed that center to support the District Offices and the Processing Centers as they expanded into a greater automated environment.

<![if !RotText]> <![endif]> Interviewer: There are two questions I want to ask you about this period, and they have to do with your relationship first, with the people in the Office of Systems Operations who were, in some sense, different type of personnel, technicians of a different type then you had ever worked with before. In fact, I remember you calling them "technology Cowboys" in those days. So I want you to tell me a little bit about how your relationship as a manger was with that organization. And the second question is, can you tell us about the relation of your organization to the rest of Systems, because now you have taken one piece of Systems and separated it out, but clearly connected in some way to the rest of Systems. So could you talk about those two issues?

Lieberman: Well, I think I would have to come back to a point I made when I said I went to the Chicago Program Service Center and was impressed with the people and their knowledge of their jobs and their commitment to their jobs. And their commitment to serving the American people, and doing what was needed to make Social Security run. That was very much the cornerstone and the heart of what I found in Systems.

What I found in the Office of Systems Operation was a component that had been sort of isolated out from the mainstream of management and personnel policies and operations. It just sort of did its thing, and was very inbred and very much looked at just technology, the day-to day-technology. It didn't look at the bigger picture, it didn't really try to get itself involved in the bigger picture, even in some of the machinations that were going on within SSA as to the future of Systems. It was just sort of isolated And I think, if anything, that's what I did to bring it out, and that is why I called them "technology Cowboys." I mean, if they had a problem it was the technological solution, and that was all that mattered to them. Never did they really look at anything else.

For instance, let's say that they had something new, that they were going to get a new product that they were going to install over a weekend. They were so excited about this new product and the effect it would have on the service they could eventually provide, faster service, larger capacity, could handle more programs. Well, it was immaterial to them that they hadn't tested it, and that maybe that would bring the system down a whole week and the District Offices wouldn't be able to use their terminals. That never dawned on them, you know. It was just that they were in a hurry to get in this new thing and it was going to be better in the long run. So if anything else, we got a risk assessment. And that was the "technology cowboy." I still have them come up to me and say, they still remember that. And they got a big joke out of it, and they took it well, you know.

There was a lot of inbreeding in promotions and selections of people, and things like that. And not a lot of, you know, trying to reach out and to be balanced in what they did. And I think I worked with them, but they were really very receptive people, and very dedicated, very willing to try to learn, to do what you wanted them to do. And they wanted it to be right, no matter what. If you could point out to them, look if you did it another way, if you tried some other things, they were more than willing to listen And they were very, very understanding of the District Offices and the Processing Centers and that the people out there depended on them. They just had to view that in a slightly different light.

And there were a lot of very interesting things going on when I came. They were in the process of installing the last of the TAP (Terminal Acquisition Project) terminals, the very first effort to get terminals into the District Offices, and that was very disruptive and we were expanding the very first applications of claims taking, the famous Modernized Claims System 2.5. I'm almost forgetting those acronyms, Larry, after three months and they're all gone. There were things that just didn't work, you know. And when they didn't work it was very disruptive to services in the District Offices. And so there a lot of coordination needed, a lot of making them pull back.

This was not just in OSO, but primarily in the other part of Systems. I think that's where the issue comes in, in the relationship. It was a tough relationship because I think that the folks in the Office of Systems Operations were so desirous of doing anything you asked them, that it was hard for them to refuse the another parts of Systems when they came to them and asked them to do something. And yet, you have to sort of make both sides see that there was this need, from a service perspective, out in the field, to either not do something at a certain time, or do it a little differently, do it slower, or something like that. So there was that kind of contention, but I think, just as always, we all finally came together to work.

There was always good communications. It was just that we all had our own view of things that we sort of had to coordinate I like to believe that OSO came out as a much stronger organization because of this period where they were off separate from the rest of Systems. They had always been thought of like the stepchild in the Systems organization, because they weren't as glamorous as software development. They didn't give the field office a new version of the Modernized Claims System or something like that. They were much more transparent to the field, except on those days when the system came down. The operating components saw them as, those people over there that caused us hell for one, two, three, four, five days and we couldn't do our work. So the one thing that I did was say we have to stand on our own two feet, and I think they became more and more able to put forth their own message and stand own their feet, and refuse to do things just because the software people wanted them to do it. Like for instance, put up something that was not fully tested.

There was the famous situation in which the head of the software component, who then became the Deputy Commissioner for Systems, had a very important piece of software that had to be out at a certain time, and he wanted it up, and I refused, because we just weren't ready. We didn't have the capacity, and to put it up without the capacity meant that he would make his deadline, but we would be not providing good service. I think that's always been a joke and a laugh about some of the problems that went on with that kind of thing. After OSO won that battle, and it was very important that they could see that things could be adjusted, I think that their relationship became much better, I mean a much more even one-on-one type situation.

Interviewer: What's your assessment of that organizational structure as a way to deal with those workloads, because we changed that organizational structure shortly after this and went back to the old structure where Systems had all the components in one organization?

Lieberman: I think it should be in one organization. I think it could work the way it was, I mean we could make it work, but I just think it's better to be in one organization. I think that for the time period that it was out, and what I accomplished, it was fine. I think I accomplished everything that needed to be accomplished to make it a stronger, viable place within the Systems organization. You know someone could argue that it didn't have to be taken out to achieve those things, and that's true, I would agree to that, but in the meantime it was taken out and it did achieve and it did make it a stronger organization. I think it went faster, because it was out. I have no way of proving that, but it was a very interesting time for me and a very exciting time. I learned a lot about what SSA needed and what was needed for the future of SSA. And I think that when I went to my next job, which was the Deputy to the Deputy Commissioner for Operations, I understood more about what went on in Systems and could bring that to bear on working with the field.

Interviewer: Let me just get the time frame down. You went into the job in 1988, this job where you were talking about when you had the Systems organization?

Lieberman: '88, right. Then in '90, I think it was like in the summer of '90, back in July of '90, then for the next almost five years, four-and-half years I worked with the field organization. And that would be all the Processing Centers, the Teleservice Centers, District Offices, and primarily through the Regional Offices.

That job is mainly providing service, and I think under Janice Warden's leadership we were able to do a lot of good things. One of the things that I'm proudest of is that many of the divisions that existed between the various components, within Operations, were broken down. One of things I've talked about through my career was that there was always this sort of infighting within SSA. And the biggest infighter of all was the field organization, I mean they are the prime organization, they always have been. They have never wanted to acknowledge anybody else to get near them, and they have always been very critical of other components. Sometimes rightfully so, but many times not, not justifiably so. And I think more then anything else Janice made it clear and did the kinds of things that stopped all of that.

For instance, at one time there was great infighting between the District Offices against the Teleservice Centers. I mean the District Office mangers and the field organization did nothing but complain about the Teleservice Centers , day in and day out. There was nothing they could do right. Well, now you know they work together. And the same is true with the Processing Centers and the District Offices. And with ODO and the District Offices. And she made sure that that began to stop and that people worked as a team, and there was more cooperation within workloads, moving workloads around. No one component owns a workload, it's all something to serve the individual.

And I also think budget-wise we did a lot to make sure resources are shared. And I think a lot stems from that, I mean if you can share resources and work together on that, a lot flows from that. A lot of training, a lot of moving of people, promotions between components opened up. And just much more of one organization dedicated to service And to use all the resources you have, wherever they may be. I mean even in the field it used to be that one District Office would never give up its workload to let another District Office help. That stopped. Workload moved into the PSCs and out of the PSCs. The same is true in the Teleservice Centers, and of course that's even designed to stand even more as more and more of the phone calls are picked up in other places. And there is more of a hand-off of telephone calls.

Operations definitely started in the last few years to provide a variety of service any way people wanted it. They make sure people are serviced the way they wanted it, however they wanted it, and that whatever resources we had, we would find a way to devote to that. We just wouldn't say to people, you have to take service this way, this is the way we're doing it, because the American people change and they demand how they want to be served.

Certainly, the effort to improve the metropolitan office was outstanding. That's our biggest service component, size-wise, complexity-wise, it's very diverse.

If there is ever one issue I feel is tough there--and I don't know what the answer is--is that policy-wise we continue to run a program that's based on Anglo-Saxon traditions and characteristics. And that's just not the public we're serving. We write our development procedures that way, we write our adjudication procedures that way. People who come into the office don't understand what we're asking, and we don't have a way of explaining it. It's just that our manual says we need xyz piece of evidence, and most probably that piece of evidence doesn't exist. We just have not made an effort to write our policy in such a way that's responsive to the diverse population--with serving our metropolitan offices. There have been some efforts to try to expose the policy people to those kinds of issues and to bring to their attention the kinds of concerns we have about it. I don't know where that is, we were just starting that.

But in the metropolitan offices other things have been done--we have improved the facilities, making both the staff and the public more comfortable so that they have the same high level service that someone gets in any office, regardless.

Interviewer: Let me just make sure I understand the point you were making about the change in the policy. Is part of that about service to the non-English speaking or are you talking about something different? Are you talking about adjudicative policy, as such, in terms of proofs that we us and the procedures we go through? I'm not sure I entirely grasp what your point is.

Lieberman: Well, it's everything. I don't think it's just the non-english speaking that's an issue for us, but that's a big part of it. And I think it's hard to separate that from the proofs and adjudicative issues, because we continue to ask for certain things that just don't exist, or people just don't understand. The public being what they are, they'll do a lot a things to satisfy you, and then we find out later on that that's not the right kind of thing, that we shouldn't have gotten what we did. It's a fraud case, or it wasn't done right. It's a very confusing area, we have not adapted what we are doing to the changing population.

Interviewer: Let me ask you a couple other general questions for your overall assessment. You talked a lot about the disability program, and the difficulties and the tensions and the problems that are present there. I would like your assessment of how much of that is inherent in the nature of the disability benefit and the nature of the evaluation that has to be done, or how much of that is failed management, or opportunities for better management, or better policy, or better ways to deal with it, even given its complexities. How do you assess that? Where do you see that? So people say, for example, that the problems in disability are insoluble because they're inherent in the nature of the work. Is that your view, or do you think there are dramatic or noticeable improvements we could make if we managed it better?

Lieberman: Some of the problems are inherent in the disability program. And I mentioned earlier that we have had a lack of leadership in the area of willingness to go forth and ask for legislative changes. Or if not legislative changes, regulatory changes. There is no doubt about it. And I put a lot of that down to leadership. Unwillingness on the part of leadership to do what is necessary to try to get this program straightened out. Through the years they have gerrymandered the standards of adjudication so that they are no longer responsive to the definition of disability that we have. The definition of disability that we have determines how much money we have in the Trust Fund, and how many allowances we show. And someone on the leadership side has to take care of that tension. They either have to go to Congress and say, you're going to have to change the definition of disability, okay. And if Congress says no--which is clear they most probably will and the leadership might be getting vibes to that underneath--then the leadership has to do something to change the standards, which is what "disability reengineering" was about. But, leadership is obviously vacant here. They're not doing anything.

Interviewer: You mentioned the "disability reengineering", what is your assessment of that and its prospects for addressing some of these issues?

Lieberman: I thought it had some hope. I guess, as I left SSA, I saw that hope dim.

By the way, I didn't fully answer the first part of the question. I think that there are some things inherent in the disability program that we need leadership to work them out. I also think that there are some management possibilities. I definitely think there are some management possibilities, only we don't have anybody with guts that will deal with them. I mean, as far as I could see the States are doing a bang-up job. You couldn't ask more of your own federal employees, in terms of responsiveness. But I do believe, that the situation with appeals is terrible. Now, whether it has gone on so long, that it's too late to do anything about it, from a management perspective, that might be so. But there were certainly some management possibilities, it takes a great deal of guts to do that. The last time they had somebody with guts who tried to deal with it, Bob Trachtenberg, he got thrown out. He went on to have a great career in other places, but nobody in the leadership wanted to stand by him. And so that's a real on-going problem, but it might be too late to do anything about it. But, that would take a political solution, and the leadership would have to get in there and do the kind of political work underneath that's necessary to pave the way to deal with the sensitive situation that it is. So I think it's a combined thing. I think we have a tremendous absence of leadership in the disability program. I think when push comes to shove, the leadership becomes more concerned about their own political position, then they do about the program.

Interviewer: Now the disability redesign that you touched on, you said you had hope in the beginning and you have less hope now. Is it because of the passage of time or do you have any unhappiness with the basic design or the basic approach that was planned originally?

Lieberman: Well, I believe that the basic plan that was put out had a lot of good things in it that could be of value to the program. I don't know that I endorse everything, but I think it's good for the most part. I think that this idea of taking five years is ludicrous, and once they started that it was dead in the water, because it showed they didn't have the political desire to stand up, as everyone said in reengineering, you got to make that first cut. Make it hard and then stand by it. So the good things that are in it, and there are a number of good things, are going to fall by the wayside.

You see, again, what they are trying to do, and when I left--and I have to say I don't know what happened since I left four months ago--but when I left they were still doing what everybody had done since the beginning of time and that

is to try to resolve the problems in disability by moving the work around. I described what we went through in the '70s with simultaneous development.

And they are going back to some of the those same old things from twenty-five

years ago.

So it just seems to me that they haven't gone to those things in disability reengineering, which are the change in the standards, which have the meat in them. Because it's a given, and I don't know why I have to even say this, I mean it's the most fundamental thing that all the policy, procedures, operating techniques we have come from the standards. I mean if you have a certain rule that you have to implement that's where everything comes from. So if you find that you are really at the end of your road, and you can't find other ways to implement it you got to change that standard. And again, its been gerrymandered so that it doesn't have any meaning. It's been so convoluted. What started out as a pure standard, as a way to evaluate disability, has become completely incompetent.

So I have very little hope for it, because the good things that were in it, I just didn't see them doing anything with it. And again, the powers that be wanted so hard to resolve the pending horror in appeals, that's what they are focusing on. I think you have to get those workloads down, but you just see them saying, "if I get the workloads down, my ass is out of the crack, and I don't have to do anything else." I mean its just like I can see them saying it right now.

Interviewer: Let me turn you to a different subject. The roll of the Program Service Centers. You were a Director of two of the large Processing Centers and you've seen how the role of those Processing Centers has changed over the years. I wonder how you see the role of the Processing Centers in the future and do you see it changing significantly?

Lieberman: I have to disagree with you, I don't think the role of Processing Centers has changed over the years. I think it has primarily the same role with an added responsibility of answering the phone more then it used to. The issue with the Processing Centers is that its workloads have significantly decreased, and they will decrease more, hopefully. And that was a given, because the Processing Centers were set up for one thing and one thing only, and that was as a back door office to do the fallout that the computer could not do. And as we get more and more computerized, as we have more and more software that can handle our workload, that's less and less work for the Processing Centers. Now, will we reach the point when the computer takes over the entire workload of the Processing Center ? And I guess my feeling is no. There will always be some fallout. There will always be a need for centralized location, that for economy of size, can do the workload better. I mean, you have a few cases with esoteric rules. You can't farm those out to 1,300 District Offices, people just can't do them, and they can't keep up with the rules sufficiently do to them correctly. So I think there will always be room for the Processing Centers, to do this kind of work they have always done.

Is there other kind of work we can put in the Processing Centers? Well, maybe. I don't know. There might be some that lends itself to economy and size. What I honestly think is you will always need Processing Centers. Now will you need as many as we have now? I think you would have to answer no.

We already saw that when Western (PSC) got the "legionnaires" scare. That workload was done every place else. Again, helped in large extent by the automation that we have. The workload can be moved any place you want it. And more and more, our work is going to be interchangeable. Now, you might also say, the Processing Center could take up some of the work that's now done in the District Office, and I think that's true. And you might not need the same kind of configuration in the District Office. When I was leaving I think we were beginning to get into that kind of thing. And much more has to be done along that avenue.

Now, can you ever get rid of a Processing Center? And the answer in my book is no, because if we couldn't get rid of two Data Operating Centers, that were legitimately ones that should been closed down firmly and not continued, I don't know how you would ever get the Congressional delegation to get rid of a Processing Center. But they have to continue to shrink. There just will not be the workload there was, and eventually I think someone has to make a call about whether you need as many as you have.

Interviewer: Let me take you back to a question I asked you at the very beginning about your opportunities as a woman manager and an executive in SSA. Could you comment on that and how that has played over the years?

Lieberman: I would honestly say that I never once in my entire career, until the very last years, was even aware that there was any kind of a question about a woman in top management. I always did my job. I had a certain personality that people wanted to use for certain jobs. It just seemed like somebody always asked me to do something. And it never even dawned on me that there was a question about whether it was because I was a woman, and I don't think it was because I was a woman. I think it just so happened that I was at a certain place at a certain time, there was somebody who needed a job to be done and there was a feeling on the part of management above me that I could do the job. They were not selecting me because I was a woman. I'm absolutely certain of that. And I was there because my personality is such that I don't think that if you were looking for a woman, you know, to take a job, I don't think you'd pick me.

Interviewer: How about the opposite. Did you feel any lack of opportunity because you are a woman, did you feel discriminated against anywhere in SSA?

Lieberman: Never. Never.

I think that what you have heard in my voice and the way I've described my jobs is that I really loved my career at SSA. I really felt I was given tremendous opportunity. I had wonderful jobs. I had very good managers above me. And I think they let me do what I needed to do, regardless of my personality, even though sometimes maybe they had to do a little extra work because of my personality.

I can't imagine more capable people, more dedicated people. I was given many, many opportunities to broaden my horizons in whatever course I wanted to attend, whatever I wanted to do. So I just feel that the operation as a whole recruited just top notch people. I always have just wonderful staff, you know to work for me. And I had good staff above me. I mean, there might have been one or two people that I might rather not have worked for, but even those people--and I won't name them, I really had some tremendous conflict with-- were very good managers. I would say that absolutely each and everyone of them were very good managers.

I feel that SSA really, years and years ago, maybe back in the '60s, started building pools of people that needed to move along. Maybe not as many as they should have, but they had the right attitude toward education and selection. And when I look at the Agency in the late sixties as compared to what I saw in '59 and '60 when I was in the DO and there was no promotion plan--and even when I first came into Baltimore and worked in the Bureau of Disability Insurance in the Evaluation Section, it wasn't clear how somebody selected you to go to Policy--just such significant changes that they did thirty years ago, it just seems to me that they've done pretty much the right thing. Maybe not as much of the right thing as they should have done, at all times, but they were on the right path and they have a really good, solid foundation.

I never felt the least bit of discrimination at any time. And I feel the Agency for the most part has done a great job, through the years, of avoiding any kind of discrimination. Now you know the workforce is primarily women, so they would have been dumb not to. I mean there should be a huge number of women coming through the pipeline at any one time that could be selected and pushed up. I think when I was coming up that was not true, I think it was mostly men, but nevertheless I never found any discrimination, just exactly the opposite. Now I can't speak for other people. But, I just, again want to repeat that I think there were many opportunities in SSA. I'm such a strong personality and had such a way of doing things my own way, and of being so outspoken, it seems to me if anybody wanted to kill me at any one time, I mean if there was that kind of mentality in SSA it would have been so easy. But, I think just the opposite, that there was a need for whatever talent I had and I think the managers above me said, something very courageous, to the effect, "it's my job to put up with her, you know, so I can have the benefit of what she can do." And so I really do appreciate that. And I think that goes on, I really think it goes on all the time.

Interviewer: You want to add anything?

Lieberman: Well, I can't say that I could add anything that I haven't said already. I found SSA a wonderful place to work, and I think it remains that. I think the program is outstanding. The tradition that has been established in the program is service, is all encompassing, and provides the avenue through which anything goes, and I think gives it a good flavor and a good taste, that it makes it a good place to work. I think it's unfortunate that it's so buffeted by the whims of politics. It would really be good if it had a really stable leadership, that could at this point take care of the problems that have to be taken care of. It's much easier to deal with the problems of financing, where it is much more straightforward, then to deal with something like disability, which is, you know, not quite so straightforward. Although financing has its political problems too, but it really is a shame they can't find leadership to deal with that issue. And I feel very proud to have been part of everything that's going on, and to have worked with so many wonderful people.

Thank you for the opportunity Larry.

Interviewer: Thank you very much.