Trust Fund Reports
Each year the Trustees of the Social Security and Medicare Trust Funds issue an Annual Report on the financial status of the Trust Funds, including projections of future revenue and expenditures. (See detailed explanation of Trust Funds from SSA's Office of the Actuary.) These Annual Reports are key documents in the management of the Social Security and Medicare programs.
(List of Trustees for the Annual Reports)
Starting with the 1995 Annual Report, the Reports have been available in electronic form via the SSA Web site. However, the legacy paper reports issued prior to 1995 have previously been available only in a few libraries and archives around the country, including the History Archives at SSA Headquarters in Baltimore, MD. We have now converted the remaining reports into electronic form and the complete collection of Trustees Reports, from 1941-1999, is now available for historical research and review.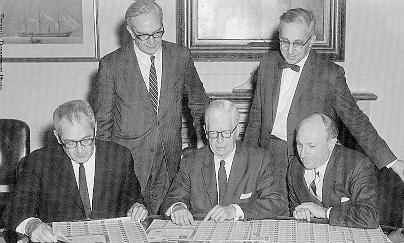 Treasury Department and Social Security officials examining some of the Treasury bonds purchased by the Social Security Trust Funds in 1968. Treasury Dept. photo.
Complete Trust Fund Reports
1941 Trust Fund Report (in HTML format)
1942-1994 Trust Fund Reports (in PDF format)
1995-1996 Trust Fund Reports (in HTML format)
1997-2004 Trustees Reports (Available in PDF format from Office of the Actuary)
Summary Trust Fund Reports
Since 1983 the Trustees have published, in addition to the regular full report, a summary document which contains a brief and easier-to-understand summary of the highlights of the full report. During the 1980s and in 1990, the summary was included as part of the larger report. Since 1991 the summaries have been published as separate documents.
Each year, the Office of the Actuary publishes the current summary document on its website along with the longer, full report. We are making available here those legacy documents prior to the current report. (All documents are in PDF format).