Social Security Online Replacement Cards and Real ID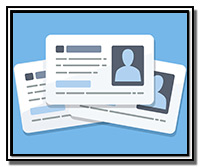 The REAL ID Act of 2005 established enhanced security standards for state-issued driver's licenses and identification cards, as recommended by the 9/11 Commission. More than two dozen states have complied with the new licensing and ID standards so far. The remaining states will be converting to the REAL ID standards between now and 2020. Some states may require a Social Security card or an alternative method of Social Security number verification to get a driver's license. Requirements vary by state, so check with your state's department of motor vehicles for the list of necessary documents.
It is easier than ever for your clients to get a replacement Social Security card. Twenty-four states and the District of Columbia currently use the Social Security Replacement Cards online service. People in these states may be able to apply for a replacement Social Security card online using their my Social Security account. Your clients can use the service whenever it is convenient for them. Check if your state is on the list, and see if your clients can join the more than 750,000 people who have already used this convenient service.
If your clients don't already have a my Social Security account, they can sign up for one at www.socialsecurity.gov/myaccount.