Social Security Protects Children with Disabilities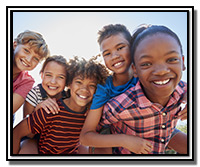 For families with limited income and resources, the Supplemental Security Income (SSI) program helps support children with qualifying disabilities. To qualify:
A child must have a medical condition, or a combination of conditions, which results in marked and severe functional limitations. This requirement means that the condition(s) must very seriously limit the child's activities.
A child's condition(s) must be disabling, or expected to be disabling, for at least 12 months; or the condition(s) must be expected to result in death.
A child, who is not blind, must not be working or earning more than $1,260 a month in 2020. A child who is blind must not be working or earning more than $2,110. (This amount usually changes every year.)
We consider family income and resources. If the parents of the child or children have more income and resources than are allowed, then the child or children will not qualify for SSI. Your clients can read more about children's benefits at www.socialsecurity.gov/pubs/EN-05-10026.pdf.
Your clients can also visit www.socialsecurity.gov/people/parents to learn more about all we do for children.