In Office, by Phone, Online and Now on Video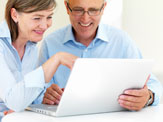 There are a number of ways people can do business with Social Security. Today clients can visit a local office, call by phone and even complete many business transactions online. For the future, we're testing a way for people to do business with us by video.
The new real-time video service is being tested, for example, in Minot, N.D., where it's already a huge success. Social Security representatives are able to conduct interviews face to face even when they're miles away. This makes it possible for representatives to verify needed documents using high-resolution video screens even when they don't actually have it in hand.
Video service delivery was honored as a finalist in Harvard University's John F. Kennedy School of Government 2009 Innovations in American Government Awards competition.

Video service delivery is only available in the test area at this time. But another way Social Security brings the office closer to clients is with our online services — available everywhere. See a list of online services available at www.socialsecurity.gov/onlineservices.