Get Mom 'Extra Help' this Mother's Day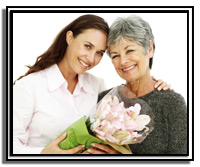 Mother's Day is right around the corner. It's always nice to give Mom a card, flowers, and candy. But this year people all over the country can help their moms save nearly $4,000 a year on the cost of prescription drugs. You can tell your clients to help their moms too — and it won't cost them a dime.
The high cost of prescription medication can be a burden on mothers (or anyone) who have limited income and resources. But there is Extra Help available through Social Security that could pay part of her monthly premiums, annual deductibles, and prescription co-payments.
Social Security has an easy-to-use online application that anyone can complete at www.socialsecurity.gov. Just select the link on the left of the page that says, "Get extra help with Medicare prescription drug costs." To apply by phone or have an application mailed, call Social Security at 1-800-772-1213 (TTY 1-800-325-0778) and ask for the Application for Extra Help with Medicare Prescription Drug Plan Costs (SSA-1020). Or go to the nearest Social Security office.
To learn more about the Medicare prescription drug plans and special enrollment periods, visit www.medicare.gov.