Facebook and Twitter Keep Us In Touch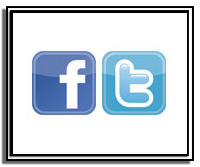 You already get this newsletter to keep you in the know about important Social Security news and reminders. Perhaps you also subscribe to email updates, which you can do on many pages of www.socialsecurity.gov by simply clicking "Get email updates" next to the red envelope. But how would you like to get quick tidbits of news more often? There are two ways you can.
One is to "like" us on Facebook. Simply click the Facebook icon at the top right corner of our website and then select "like." More than 18,000 people already get these regular updates.
If you like your information snippets even shorter, you can select the Twitter icon at the top right corner of our page and click the "follow" button. Nearly 5,000 people currently follow our tweets.
Whether you prefer posts, tweets, or good old fashioned email alerts, you can find them all at www.socialsecurity.gov.