Compassionate Allowances Hearing on Autoimmune Diseases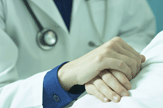 On March 16, 2011, Michael J. Astrue, Commissioner of Social Security, hosted the agency's latest Compassionate Allowances Outreach Hearing.
Commissioner Astrue was joined by Robert H. Carter, Deputy Director, National Institute of Arthritis and Musculoskeletal and Skin Diseases, National Institutes of Health, and other Social Security officials in hearing testimony from some of the nation's leading experts on autoimmune diseases about the possible methods of identifying and implementing Compassionate Allowances for adults and children with autoimmune diseases.
Compassionate Allowances enable Social Security to expedite the processing of disability claims for applicants with medical conditions so severe that their conditions by definition meet Social Security's standards. We can then quickly target the most obviously disabled individuals for allowances based on objective medical information that we can obtain quickly.
To learn more, to read the testimony, or to view any portion of the March 16 hearing, visit Social Security's Compassionate Allowances page at www.socialsecurity.gov/compassionateallowances/hearings031611.htm