Social Security Budget Reduced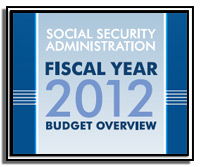 Congress provided us with $11.4 billion for our Fiscal Year (FY) 2011 administrative expenses—$23 million below the enacted FY 2010 level and nearly $1 billion below the FY 2011 President's budget request.
Given the tight budget situation, we are continuing our SSA-wide hiring freeze with the exception of our hearings operation. We have had to cut most of the overtime, except for critical activities like helping people who come into our offices for service at the end of the day. Our field office and hearing office employees will no longer visit remote service sites; and we will not open the new teleservice center or eight new hearing offices as we had planned. We also have suspended issuing Social Security Statements. By making these very tough choices, we will be able to avoid furloughing our employees and will keep our doors open to the public in FY 2011.
Even though our budget has been cut, we remain focused on eliminating our hearings backlog by FY 2013. Our hearing receipts have been increasing, but we are hiring new judges and support staff over the next few months and, with adequate funding in FY 2012, expect to continue to make progress improving this important workload.
The number of employees we have determines the amount of work we can complete. We expect to lose about 3,500 employees this year and 4,400 in the next fiscal year if we continue to operate at an approximately level budget. We will do our best to serve the American people, and encourage everyone to use our online services at www.socialsecurity.gov
To learn more about Social Security's budget, visit www.socialsecurity.gov/budget.