One of the Best 10 Places to Work: Social Security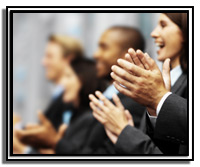 Social Security once again ranks as one of the top ten "Best Places to Work in the Federal Government," according to The Partnership for Public Service and American University's Institute for the Study of Public Policy Implementation. The number six ranking not only identifies Social Security as one of the "Best Places to Work," but also proves that the agency's commitment to treat its employees as its most valuable asset has been successful.
"In a tough economy, President Obama is trying to make it easier for Americans to work for the Federal government," said Michael J. Astrue, Commissioner of Social Security. "Our ranking affirms that a career at Social Security is a great choice."
To learn more, read the recent press release at www.socialsecurity.gov/pressoffice/pr/bestplacetowork-1111-pr.htm
Find out about careers with Social Security at www.socialsecurity.gov/careers.