Free Online Webinars Offer Something for Everyone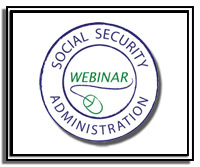 Social Security offers a number of free webinars to help advocates, representatives, and individuals better understand Social Security's programs and services.
The most recent webinar is Ticket To Work: Support Services For People Who Have a Disability And Are Ready to Work. This webinar teaches people about Ticket to Work, other work incentives, and where to find more information on related subjects.
Other webinar topics include Filing a Disability Appeal Online, Business Services Online, Representative Payees: Roles and Responsibilities of Payees Who Serve Multiple Beneficiaries, Social Security for Wounded Warriors, and, among others, Social Security 101: What's in it for me?
You can always find the most recent or upcoming webinar at www.socialsecurity.gov/webinars. Select the "Past" tab to see a list of available webinars you can watch at your convenience. They're all free, and class is in session whenever you have a spare moment.