Social Security and Death Information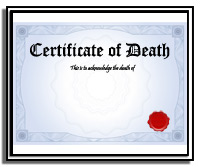 In early February, Commissioner Astrue testified before Congress about the collection and use of the agency's Death Master File (DMF). Each year, Social Security receives about 2.5 million reports of death.
Since deceased individuals generally have no privacy rights, death information contained in the DMF is available to requestors under the Freedom of Information Act. A variety of entities, including federal and state agencies, banks, hospitals, insurance companies, and genealogical services use this information to prevent fraud.
"Identity theft is a spreading plague on our nation," Commissioner Astrue said. "The federal government must do all it can to curtail this problem, and we certainly should not make it worse. Unfortunately, public access to the DMF has created opportunities for criminals."
In an effort to strike the right balance between preventing fraud and protecting individuals from identity theft, Social Security is submitted a legislative proposal to Congress that would require entities to demonstrate a legitimate need to immediately access the public DMF. In addition, the proposal would expand the federal government's ability to use the DMF for such purposes as law enforcement, tax administration, and curbing improper payments.
Learn more about the DMF by reading some of the related Frequently Asked Questions on the subject at https://faq.ssa.gov/ics/support/kbanswer.asp?QuestionID=3849.