Social Security Statement Available Online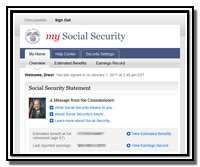 The popular Social Security Statement is now available online at www.socialsecurity.gov/mystatement.
"Our new online Social Security Statement is simple, easy-to-use, and provides people with estimates they can use to plan for their retirement," said Michael J. Astrue, Commissioner of Social Security. "The online Statement also provides estimates for disability and survivors benefits, making the Statement an important financial planning tool. People should get in the habit of checking their online Statement each year, around their birthday, for example."
So far, more than 500,000 individuals have successfully used the service. According to the American Customer Satisfaction Index, users are giving the online Statement a score of 88, making it competitive with our other top-rated, best-in-government online services, such as the Retirement Estimator and online retirement application.
Read our press release about the launch of our new online Social Security Statement at www.socialsecurity.gov/pressoffice/pr/ss-online-statement-pr.html. Better yet, visit www.socialsecurity.gov/mystatement/ to get yours today and please encourage others to do likewise.