August 2013
Same-Sex Couples Eligible for Social Security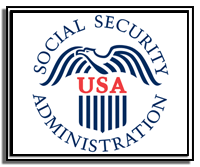 Social Security now is processing some retirement spouse claims for same-sex couples and paying benefits where they are due. We continue to work closely with the Department of Justice. In the coming weeks and months, we will develop and implement additional policy and processing instructions.
"The recent Supreme Court decision on Section 3 of the Defense of Marriage Act helps to ensure that all Americans are treated fairly and equally, with the dignity and respect they deserve," said Carolyn W. Colvin, Acting Commissioner of Social Security. "I encourage individuals who believe they may be eligible for Social Security benefits to apply now, to protect against the loss of any potential benefits."
You and your clients can read the latest on this important topic at www.socialsecurity.gov/doma.
---
Direct Deposit is the Way to Go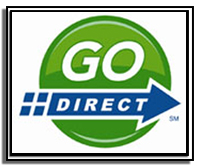 As you probably know, by law, most federal benefit payments must now be paid electronically, with some exceptions. Each year, more and more people who receive a paper check make the intelligent decision and switch to electronic payment. Last year, for example, we issued more than three million paper checks each month. This year, we can report that the number of paper Social Security payments each month is less than one million!
If you have clients who still receive paper checks, encourage them to switch to the safest, most convenient way to receive payments. Anyone can "go direct" at www.socialsecurity.gov/deposit.
---
Check Out Our New Homepage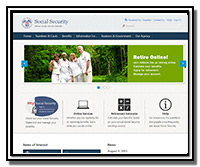 Have you been to www.socialsecurity.gov lately? Pay a visit to our redesigned homepage, and you will find more than just an updated modern look. The homepage features popular "main menus" to help users quickly and easily find the information they seek. Included in the new design are a new top banner and footer, an updated color scheme, and a simplified layout.
Did we mention that our website is tablet- and mobile-friendly? Now, you can access all the same content from your computer, tablet, and smartphone devices. Please encourage your clients to visit www.socialsecurity.gov from their favorite devices so they maximize their experience.
---
Millions Retire Online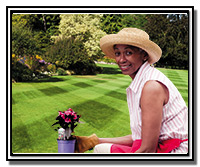 The most popular way for people to apply for retirement benefits these days is online! In fact, more than 50 percent of all retirement applications now are taken online. That's because it's easy, convenient, and can take as little as 15 minutes from start to finish.
Social Security wants to spread the word about the most popular way to apply for benefits. So we've kicked off a new online services marketing campaign that encourages baby boomers to take advantage of our online application for retirement. The theme: "I just joined the millions retiring online." The campaign stresses that people can visit www.socialsecurity.gov to estimate their benefits, apply for retirement, and manage their accounts.
Whether your clients are ready to retire now, or looking for information to help them make an informed decision regarding when to retire, tell your clients to visit www.socialsecurity.gov/pgm/retirement.htm. They will be grateful you told them about our online retirement application, and proudly tell their friends, "I just joined the millions retiring online."
---
Help Us Fight Fraud and Identity Theft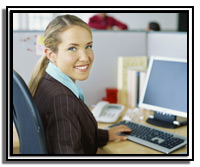 Social Security takes fraud and abuse seriously. Our Office of the Inspector General (OIG) is always on the lookout for criminals who want to take advantage of the system and steal from beneficiaries. At the same time, identity theft remains the number one type of consumer fraud in the United States, according to the Federal Trade Commission. Millions of people have their identity stolen each year. But there are things you can advise your clients to do for protection from fraud and identity theft.
For starters, tell your clients to keep their Social Security card hidden away with their other important papers—never leave home with it! People should safeguard their Social Security numbers and be careful to whom they provide their numbers. The same goes for date of birth and other identifying information.
Stress to your clients the importance of being wary of suspicious correspondence and safeguarding their personal information. People should be careful when they provide their information and only share it when necessary. They should only go to trusted websites and never click on links that appear suspicious. Criminals have many ways to trick people into sharing personal information or downloading viruses or spyware.
People who think they are the victims of Social Security payment fraud should contact OIG's fraud hotline at 1-800-269-0271 (TTY 1-866-501-2101) or visit http://oig.ssa.gov/report-fraud-waste-or-abuse. People who believe they are victims of identity theft should contact the Federal Trade Commission at 1-877-IDTHEFT (438-4338) (TTY 1-866-653-4261) or visit www.idtheft.gov.
---
Reflecting on 78 Years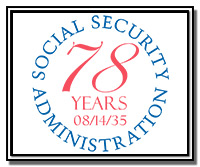 When Social Security was created in 1935, you could buy a car for $625 and fill her up for 10 cents a gallon. You could buy a house for $3,450, a loaf of bread for eight cents, and a gallon of milk for less than 50 cents. The average yearly salary was about $1,500.
Before Social Security, older Americans had a difficult time with finances as they aged. But since August 14, 1935, when President Roosevelt signed the Social Security Act into law, Social Security has provided a safety net for nearly every older American.
"It is such an honor to lead this agency as we fulfill President Franklin Roosevelt's vision of providing a measure of economic security to more than 60 million Americans," said Acting Commissioner Carolyn W. Colvin. "There is nothing more rewarding than making a difference in the lives of others."
Join us in reflecting on 78 years of Social Security by visiting our anniversary page at www.socialsecurity.gov/78thanniversary.