December 2013
Some Delivery of Services to Change As Technology Offers More Efficient Means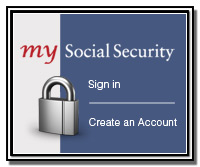 To leverage our technology investments and meet the increasing demands for our service, we're making changes to how we provide some services to our customers. Later in 2014, Social Security will stop providing benefit verification letters in our local offices. You still will be able to get an instant letter online by creating a personal my Social Security account or you may call our toll-free telephone number to request one by mail. Also, to help prevent identity theft, we will discontinue providing Social Security number printouts since they have no security features and are easily misused or counterfeited. If you need proof of your Social Security number and you do not have your Social Security card, you will need to request a replacement card by completing the Application for a Social Security Card and providing the required documentation. Learn more by reading the new fact sheet at www.ssa.gov/thirdparty/factsheets_posters/Numithirdparties(2014).pdf.
We continue to work directly with advocates, social service agencies, and other third parties to make sure they have access to available data exchanges to obtain Social Security number information without needlessly requiring their clients to undertake the task.
You may want to participate in our upcoming webcast on January 9. "Benefit Verification Letters Online, Easy as 1-2-3" is designed to encourage advocates, social service agencies and other third parties to promote the use of our online service option. The webinar will include steps to establishing an account on my Social Security, how to get a benefit verification letter and other services offered at our website. Join the webinar at www.socialsecurity.gov/webinars.
---
Payments to Same-Sex Married Couples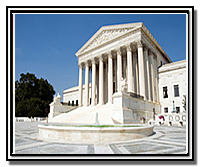 This month, Carolyn W. Colvin, Acting Commissioner of Social Security, announced that Social Security is processing some widow's and widower's applications by surviving members of same-sex marriages and paying benefits where they are due. The agency is also paying some one-time lump sum death benefit claims to surviving same-sex spouses.
"As I stated shortly after the Supreme Court decision on Section 3 of the Defense of Marriage Act, our goal is to treat all Americans with dignity and respect," said Colvin. "We ask for continued patience from the public as we work closely with the Department of Justice to develop policies that are legally sound so we can process claims."
If you or someone you know may be eligible for Social Security, apply now to protect against the loss of any potential benefits. We will process claims as soon as additional instructions become finalized.
To learn more, visit www.socialsecurity.gov/same-sexcouples.
---
Nearly Two Million Americans Have Used Health Care Website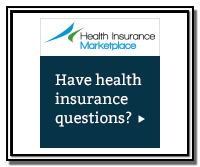 The Health Care website is up and running. November's federal enrollment number outpaced the October number by four times. More than a million Americans have selected a plan or received a Medicaid or Children's Health Insurance Program (CHIP) determination.
According to Health and Human Services, October and November saw nearly 365,000 Americans select plans in the Health Insurance Marketplace. Almost two million people have made it through the eligibility process by applying for and receiving a determination, but have not yet selected a plan. Another 803,000 Americans were found eligible for Medicaid or CHIP.
More impressive than the numbers are the individual stories that show how access to health care for everyone can really help. Take Deputy Cabinet Secretary Michael Robertson, a White House staffer who was diagnosed 16 months ago with stage four cancer at age 36. "A check-up with my family doctor only days before spawned a whirlwind of appointments, scans, and tests. I learned that I was now a stage four, metastatic colorectal cancer patient. A cancer that usually afflicts those 65 and older wasn't just inside my body, it was growing and making its way through my body, spreading from my colon to a tumor in my liver and possibly a lesion on my lungs."
Read how the Affordable Care Act helped, at the White House Blog. www.whitehouse.gov/blog/2013/12/04/it-shouldn-t-have-happened-me-it-did-0.
You can access the health care website next time you're at www.socialsecuritygov. Or go directly to www.healthcare.gov.
---
Agency Financial Report Now Available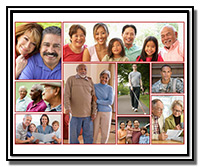 Social Security's Fiscal Year 2013 Agency Financial Report (AFR) is now available. The report provides information enabling Congress, the President, and the public to assess our stewardship over the financial resources entrusted to us, our performance as an organization, our achievements and our initiatives and challenges. It includes the annual audited financial statements required under the Chief Financial Officers Act.
This year marks the twenty-seventh year we have published audited financial statements and the twentieth straight year that we have received an unmodifed opinion on our financial statements. Read the report for yourself at www.socialsecurity.gov/finance.
---
Happy Holidays from Social Security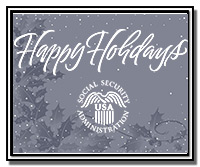 We at Social Security wish you and yours a happy holiday season. If you (or someone you know) need to do business with Social Security during the holiday season, be aware that our offices will be closed on December 25 and January 1 (Christmas Day and New Year's Day). In addition, anyone calling or visiting a Social Security office from December 26 through New Year's Eve might experience longer wait times than usual because of the holidays.
However, our online services are available every day — even on holidays. Visit www.socialsecurity.gov to complete a number of transactions, such as getting a Social Security Statement; obtaining proof of benefits, applying for retirement, disability or spouse's benefits; checking the status of pending applications; getting instant, personalized estimates of future benefits with the Retirement Estimator; requesting a replacement Medicare card; or applying for Extra Help with Medicare prescription drug plan costs.
Find a list of our online services and hours of operation at www.socialsecurity.gov/onlineservices.
---
Open Data--We need your help to deliver more high value data to the public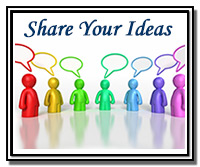 Over the past few years, this Administration released troves of valuable data that were previously hard to access in areas such as health, energy, education, public safety, and global development. Social Security has 69 datasets available as part of our open government program. Citizens, businesses, and other governmental and non-profit organizations need and use data and its related information for variety of purposes, including making decisions about their lives, businesses, and organizations.
Under President Obama's leadership we are working to enhance the accessibility and usefulness of our data while continuing to ensure privacy and security. Please visit our new Open Data web page at www.socialsecurity.gov/data and give us your ideas on: how you have used, or plan to use, our data; your ideas for prioritizing new data releases; and any recommendations to make our formats and metadata easier to use.
---