Social Security: What's in it for You?
Updated: June 7, 2013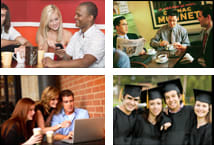 Today, we are proud to announce the newly revised version of this webinar for 2013! Social Security hosted a webinar for college students and young workers, called "Social Security 101: What's in it for me?" that originally aired on March 10th, 2011. Participants learned answers to questions like "what's that FICA tax that comes out of my paycheck?," "how can Social Security help me at my age?" and "why should I worry about planning for retirement now?" Following the presentation, the audience had an opportunity to pose additional questions during an interactive session.
Watch recording of the webinar
---
Social Security Announces "How Social Security Has Made a Difference in My Life" Video Contest Winner
Updated: September 17, 2010
Congratulations to Erica Solway, Lindsay Trapnell, Laura Hunt, Alex Butterwick, and Kate Schriver, whose video, "Social Security: Real Stories," has won our "How Social Security Has Made a Difference in My Life" video contest!
The deadline to submit videos has now passed. The purpose of the contest was to document stories of how Social Security makes a difference in the lives of Americans. As Social Security turned 75 this year, we encouraged you to help share your story with us and the world.
Thank you to all who participated and enjoy the winning video!
---