Open Government News
---
Social Security Releases Data Showing Popular Baby Names for 2018
Posted: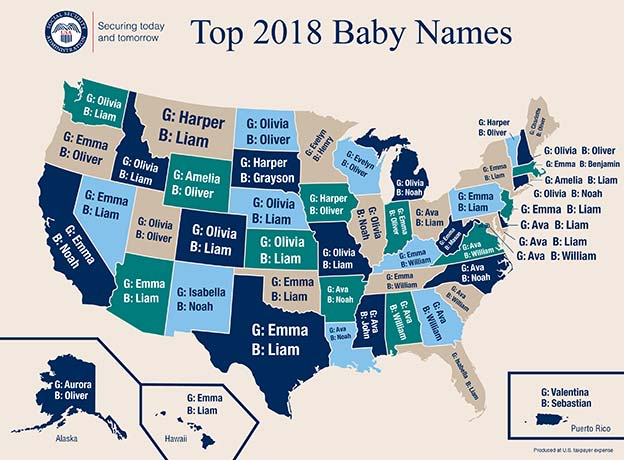 Social Security has released the 2018 Top Baby Names. The data shows the most popular baby names based on requests for Social Security numbers for newborns.
Download the latest data at: Popular Baby Names.
For more information about the data, go to: Background Information for Popular Names.
---
The 2019 OASDI Trustees Report
Posted:
The Social Security Board of Trustees released its annual report on the current and projected financial status of the Old-Age and Survivors Insurance and Disability Insurance (OASDI) Trust Funds. The 2019 Trustees Report is available at: 2019 OASDI Trustees Report. For readers requiring more detail, there are Supplemental Single-Year Tables in HTML and XLSX data formats. Reference the full report for context and an explanation of terminology.
---
SSA's 2018 Open Data Progress Update
Posted:
At the end of 2018, SSA had nearly 1900 assets in its enterprise data inventory of which over 1300 are publicly available. See the SSA Open Data Progress Chart for more information. The SSA continues its commitment to supporting Data.gov and open data in general.
Open Government News Archives
Other SSA News and Updates
Open Government

The Social Security Administration is committed to creating an open and transparent government through the following initiatives: