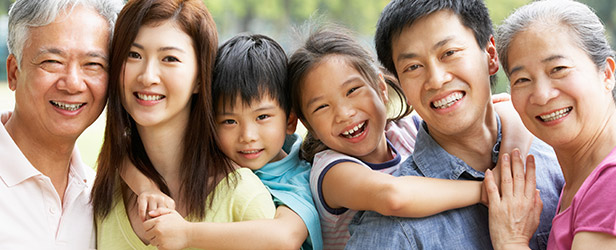 Social Security Is Important To Asian Americans and Pacific Islanders
Here you will learn how Asian Americans and Pacific Islanders benefit from the Social Security program. Social Security is neutral with respect to race or ethnicity- individuals with identical earnings histories are treated the same in terms of benefits.
Who Are We?
Asian Americans and Pacific Islanders (AAPIs) come from nearly 50 countries and ethnic groups, each with distinct cultures, traditions and histories. AAPIs speak over one hundred Asian and Pacific Islander languages and dialects. Today, there are approximately 21.8 million AAPIs living in the United States, or about 5.4% of the total population. The Census Bureau estimates that the AAPIs population will reach 50.4 million persons by the year 2060, or 9.7% of the U.S population. Asian Americans are persons having origins from East Asia, Southeast Asia, and the Indian subcontinent. Pacific Islanders are people having origins in Hawaii, Guam, Samoa, or other Pacific Islands. Some of the groups are listed below:
Asia
East Asia: Chinese, Japanese, Korean, Mongolian, Okinawan, Taiwanese
Southeast Asia: Bornean, Bruneian, Burmese, Cambodian, Celebesian, Filipino, Hmong, Javanese, Indonesian, Laotian, Malaysian, Montagnard, Singaporean, Thai, Vietnamese
South Asia: Afghan, Bangladeshi, Bhutanese, Indian, Maldivian, Nepalese, Pakistani, Sri Lankan, Tibetan
Pacific Islands
Polynesia: Cook Islander, Maori, Native Hawaiian, Niuean, Samoan, Tahitian, Tongan, Tokelauan, Tuvaluan
Micronesia: Carolinian, Chamorro, Chuukese, Guamanian, I-Kiribati, Kosraen, Mariana Islander, Marshallese, Nauruan, Palauan, Pohnpeian, Saipanese, Trukese, Yapese
Melanesia: New Caledonian, Ni-Vanuatu, Papua New Guinean, Solomon Islander

Information and Services
You can apply online for Social Security retirement, disability or spouse`s benefits. It`s quick and easy, and the information you give us will be secure.
The Supplemental Security Income (SSI) program pays benefits to disabled adults and children who have limited income and resources.  SSI benefits also are payable to people 65 and older without disabilities who meet the financial limits. This information is also available in Chinese, Korean, Tagalog and Vietnamese.
Need an interpreter? Ask us to find an interpreter to help you.
Check our Multilanguage Gateway for Social Security information in different languages including information in Chinese, Korean, Tagalog and Vietnamese.
Receiving Social Security or Supplemental Security Income benefits but thinking about returning to work? Find out how our Ticket-to-Work program can help you get started.
Find out about our "Special Benefits for Certain World War II Veterans." To be eligible, you must be a World War II veteran who served in the active military, naval or air services of the United States or a Filipino World War II veteran who served in the organized military forces of the Philippines while the forces were in the service of the U.S. Armed forces. We have information in both English and Tagalog.
Find out about Careers with Social Security.
Contacting Social Security
Our website is a valuable resource for information about all of Social Security's programs. There are a number of things you can do online.
In addition to using our website, you can call us toll-free at 1-800-772-1213. We treat all calls confidentially. We can answer specific questions from 7 a.m. to 7 p.m., Monday through Friday. Generally, you'll have a shorter wait time if you call during the week after Tuesday. We can provide information by automated phone service 24 hours a day. (You can use our automated response system to tell us a new address or request a replacement Medicare card.) If you are deaf or hard of hearing, you may call our TTY number, 1-800-325-0778.
We also want to make sure you receive accurate and courteous service. That is why we have a second Social Security representative monitor some telephone calls.