Our recent efforts to reduce our carbon footprint include the following:
Southeastern Program Service Center
The new Social Security Southeastern Program Service Center building in Birmingham, AL, celebrated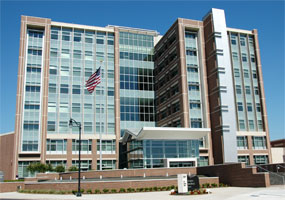 its one-year anniversary in January. Our service center moved into the eight-story facility in March 2008. It also houses the Social Security Teleservice Center, the Birmingham Social Security office and other government offices. The facility has received several honors for "green" design. The building boasts:
a green roof that reduces the building's carbon footprint through absorption of carbon dioxide by incorporating oxygen-producing plants and vegetables -- the largest green roof on any General Services Administration-leased building;

a raised floor system that provides better ventilation for improved air quality;

a "natural light harvesting" system designed to capture as much natural sunlight as possible; and

public transit accessibility that reduces carbon emissions and energy demands by encouraging employees to use public transportation.
Renovation of the Annex Building in Baltimore, MD
The Social Security Administration worked with GSA to renovate its 477,000 sq. ft. Annex Building using sustainable design practices, resulting in an environmentally-sensitive, LEED-certified facility. Rather than construct a new building, the project team reused the existing structure, saving $25 million in construction costs. Over 75% of building and construction materials were salvaged, saving an additional $310,000. Natural day lighting, high efficiency lighting, thermal ice storage, economizers, high performance windows, reflective roofing, energy-efficient HVAC equipment, and low-maintenance landscaping reduce energy use by 13% over a conventional building.
Harold Washington Social Security Center in Chicago, Illinois
The Harold Washington Social Security Center in Chicago, Illinois installed numerous energy conservation measures using direct financing, utility energy services contracts (UESCs), and energy savings performance contracts (ESPCs). These measures include: a 110-kilowatt, rooftop solar electric system; energy efficient lighting fixtures and controls; retro-commissioning and energy management control system upgrades; chilled water system improvements; HVAC improvements; and low-flow fixtures and waterless urinals. These projects reduce annual energy consumption by more than 20 percent—a total of more than 4 million kWh—and save 2 million gallons of water each year.
Mid-Atlantic Social Security Center in Philadelphia, PA
The Mid-Atlantic Social Security Center in Philadelphia recently installed a solar hot water heating system that pre-heats domestic hot water before it reaches the boiler. The 576 square-foot system includes insulated, evacuated tube collectors arrayed into two roof panels that provide 124,000 Btu of heating for 1,100 gallons of water per day. The system will save $5,000 per year, for a 15-year payback, and a reduction equivalent to 42, 000 barrels of oil and 37,000 cubic feet of natural gas. The Center is the first federal building in the Philadelphia region to use solar energy for heating.
The Joseph P. Addabbo Federal Building in Jamaica, NY
The Joseph P. Addabbo Federal Building in Jamaica, NY, replaced the entire building's chiller plant and is currently completing the final phase of related upgrades to its building control system. The new energy management control system is fully digital with an open protocol system. The HVAC system itself takes advantage of free cooling, uses variable speed drives, and operates in a fully automatic mode. The new system is expected to provide a more constant interior environment and save nearly 1.5M kwh, or approximately 12 percent in annual energy usage.
Frank Hagel Federal Building in Richmond, CA
Constructed in 1974, the Frank Hagel Federal Building in Richmond, CA sits atop an underground spring. For years, the building sump pumps have been dumping this spring water directly into the wastewater system. A new SSA project now diverts 67% of this water — over 16 million gallons a year — from the storm drain system so it can be used for a building irrigation system, gray water for bathrooms, and make-up water for cooling towers. This recycling effort not only makes good use of a natural resource, it also saves $41,000 annually in water bills alone.
Supply Building Solar Parking Lot Lights in Baltimore, MD
Free electricity from the sun is stored in batteries during the day and used for light at night.