Faces & Facts of Disability: Share Charlotte's Story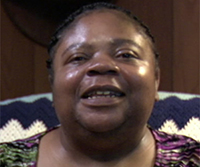 May is National Stroke Awareness Month. Stroke is one of the many serious afflictions that can attack unexpectedly and rob workers of their livelihood. No one knows this better than Charlotte, who suffered two debilitating strokes in 2007 that left her unable to work.
Before her strokes, Charlotte was working three jobs, going to college, and taking care of a family member with cancer. Now a relative looks after her, and many daily activities she once took for granted are beyond her current capability. Thankfully, she had earned Social Security insurance coverage by paying into the program throughout her working life. Without Social Security payments to replace a portion of her lost income, she's sure she would be homeless today.
We hope you will place this video on your organization's website, include it in your social media posts, and distribute it to your email lists. By sharing Charlotte's story, you can help us spread the word about our programs, which provide a critical safety net for working men and women, children, the disabled, and the elderly when they need it most.
Visit our Faces and Facts of Disability website for more personal stories, facts about the disability program, and ready-to-publish educational materials. Please take advantage of these materials to help the public understand how Social Security disability insurance protects workers and assists our most vulnerable citizens—those living with severe disabilities.