Location of PASS Cadres

This page provides specific contact information about Plan to Achieve Self-Support (PASS) "cadres" of SSA employees who are experts in handling PASS applications.
Please do not use this contact information for obtaining general information about Social Security or for claims-related inquiries. Instead, please call 1-800-772-1213 (TTY 1-800-325-0778). If you are looking for your nearest Social Security office, please use our Local Office Search.
For specific information about PASS, call your area's PASS cadre.
Click on the map below or use the regional list to determine the PASS Cadre for your area.
---
Regions:
Atlanta - Boston - Chicago - Dallas - Denver
Kansas City - New York - Philadelphia - San Francisco - Seattle
---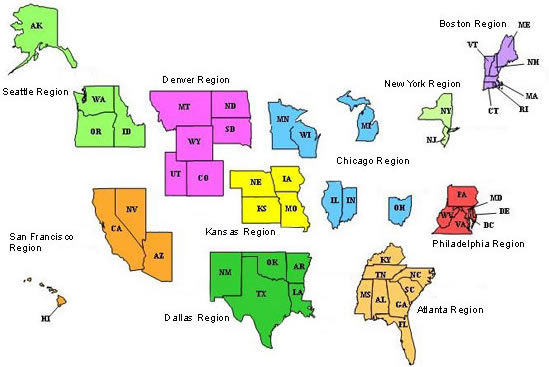 ---
Atlanta Region

PASS Cadre
Location
Jurisdiction
Toll-free Number
Local Number
Birmingham, AL

Alabama,
Florida,
Georgia,
Kentucky,
Mississippi,
North Carolina,
South Carolina,
Tennessee

800-254-9489

205-801-4444
205-801-3483
Boston Region

PASS Cadre
Location
Jurisdiction
Toll-free Number
Local Number
Lynn, MA
Connecticut,
Maine,
Massachusetts,
New Hampshire,
Rhode Island,
Vermont

866-467-9731,
ext. 11318
866-467-9731,
ext. 11318
Chicago Region

PASS Cadre
Location

Jurisdiction

Toll-free Number

Local Number

Chicago, IL

Chicago Metro,
Northern Indiana

877-479-9633,
ext. 16834

877-479-9633,
ext. 16834

Akron, OH

Northern Ohio
except Toledo

877-696-9399,
ext 14303

877-696-9399 ,
ext 14303

Saginaw, MI

Upper Peninsula, Michigan and Lower Peninsula, except Southeast Michigan

877-689-9230,
ext. 23134

877-689-9230,
ext. 23134

Columbus, IN

Central & Southern Ohio, Southeastern Indiana

866-755-0990,
ext. 24909

866-755-0990,
ext. 24909

Indianapolis, IN

Southern Illinois,
Central/Southern IN

866-931-7057,
ext. 32554

866-931-7057,
ext. 32554

Sheboygan, WI

Southern Wisconsin,
Central/Northern IL

866-807-5995,
ext. 26030

866-807-5995,
ext. 26030

Pontiac, MI

Southeast Michigan,
Toledo, Ohio

866-318-1858,
ext. 28449

866-318-1858,
ext. 28449
Dallas Region

PASS Cadre
Location

Jurisdiction

Toll-free Number

Local Number

Albuquerque, NM
Abilene, Brownwood, Albuquerque, El Paso, Farmington, Tuba City, Gallup, Chinle, Lubbock, Plainview, Odessa, Midland, Roswell, Carlsbad, Clovis, Hobbs, San Angelo, Big Spring, Santa Fe, Las Cruces, Las Vegas, Amarillo, Pampa, Laredo, Del Rio, Eagle Pass,
866-931-2876,
ext. 14671
866-931-2876,
ext. 14671

Dallas, TX

Dallas, Fort Worth, Sherman, Paris, Mt. Pleasant, Waxahachie, Greenville, Cleburne, McKinney, Denton, Wichita Falls, Durant, Lawton, McAlester, Poteau, Ada, Ardmore, Chickasha, Clinton, Texarkana

866-592-3688,
ext. 20626

866-592-3688,
ext. 20626

Lafayette, LA

Alexandria, Natchitoches, Baton Rouge, New Orleans, Hammond, Bogalusa, Houma, Morgan City, Lafayette, New Iberia, Opelousas, Lake Charles, DeRidder, Leesville, Monroe, Ruston, Shreveport, Minden, Kenner, Covington

888-619-4771,
ext. 15868

888-619-4771,
ext. 15868

Little Rock, AR
Fayetteville, Harrison, Mt. Home, Fort Smith, Russellville, Hot Springs, El Dorado, Camden, Jonesboro, Batesville, Blytheville, Little Rock, Pine Bluff, Forrest City, West Memphis, Sherwood, Searcy, Conway
866-758-1319,
ext. 11564
866-758-1319,
ext. 11564
Pasadena, TX
Beaumont, Port Arthur, Galveston, Houston, Lufkin, Pasadena, Conroe, Angleton, Victoria, Longview, Marshall, Palestine, Tyler
866-563-4603,
ext. 30902
866-563-4603,
ext. 30902

Pine Bluff, AR

Enid, Stillwater, Oklahoma City, Shawnee, Tulsa, Bartlesville, Miami, Moore, Muskogee, Okmulgee

866-563-9693,
ext. 30716


833-950-2704


San Marcos, TX

Austin, Georgetown, San Antonio, Corpus Christi, Alice, McAllen, Mission, Brownsville, Harlingen, Temple, Bryan, Brenham, Kerrville, Seguin, San Marcos, Waco, Corsicana

866-388-9134,
ext. 22208

833-950-2385
Denver Region

PASS Cadre
Location
Jurisdiction
Toll-free Number
Local Number

Littleton, CO

Colorado, Wyoming

888-824-4384,
ext. 29911

888-824-4384,
ext. 29911

Salt Lake City, UT

Montana, Utah, North Dakota, South Dakota

866-851-5275,
ext. 16310

866-851-5275,
ext. 16310
Kansas City Region

PASS Cadre
Location
Jurisdiction
Toll-free Number
Local Number
Lincoln, NE
Kansas,
Missouri,
Iowa,
Nebraska

866-592-1755,
ext. 23014


866-592-1755,
ext. 23014
New York Region

PASS Cadre
Location
Jurisdiction
Toll-free Number
Local Number
Rochester
Upstate NY (WNY, Central New York, Finger Lakes, Northern Counties, Mohawk Valley, Capital District and Southern Tier)
855-248-0232
866-331-6759
ext. 25811
New York, NY
New Jersey,
Downstate New York

PASS A-M
866-348-5403,
ext. 23648

PASS N-Z
866-348-5403,
ext. 23645

866-335-1089
Philadelphia Region
PASS Cadre
Location
Jurisdiction
Toll-free Number
Local Number
Petersburg, WV
Maryland,
Delaware
1-877-405-288,
ext. 21604
1-877-405-2885,
ext. 21604
DC Downtown
District of Columbia, Pennsylvania
1-866-752-0634<
ext. 17505
1-866-752-0634,
ext. 17505
Bristol, VA
Virginia,
West Virginia
1-866-687-8067,
ext. 13601
1-866-687-8067,
ext. 13601
San Francisco Region

PASS Cadre
Location

Jurisdiction

Toll-free Number

Local Number

Sierra West Area

Central California, Fresno, Hanford, Madera, Porterville, and Visalia

877-319-6862,
ext. 18616

888-256-3374,
ext. 27244

877-319-6862,
ext. 18600

855-207-4869,
ext. 13718

877-319-6862,
ext. 18616

888-256-3374,
ext. 27244

877-319-6862,
ext. 18600

855-207-4869,
ext. 13718
Sacramento, CA
Sacramento, Eureka, Crescent City, Ukiah, Santa Rosa, Lakeport, Napa, Redding, Yreka, Modesto, Roseville, Auburn, Placerville

916-229-9947


916-229-9947


South Sacramento, CA
Merced, Sonora, Stockton, Manteca, Chico, Yuba City, Oroville, Susanville, Sacramento, Lodi

866-708-3208,
ext. 20204

866-708-3208,
ext. 20204

San Bernardino, CA

Nevada, Inland CA (Riverside, Ontario, Hemet, San Bernardino, Pomona, Victorville, Fontana, Moreno Valley, Glendora)

866-964-0991,
ext. 12407

866-964-0991,
ext. 12407

San Diego, CA

California (San Diego, Anaheim, Brea, Chula Vista, El Cajon, Fountain Valley, Garden Grove, La Mesa, National City, Kearny Mesa, Mission Viejo, Oceanside,  Santa Ana, San Marcos), Guam, Hawaii, Samoa, Saipan

855-820-0097
PASS A-M
ext. 24059
PASS N-Z
ext. 24060

855-820-0097
PASS A-M
ext. 24059
PASS N-Z
ext. 24060

Oakland, CA

San Francisco, South and East Bay Counties, Marin, and Monterey Counties

888-527-9329,
ext. 26707

888-527-9329,
ext. 26707

Los Angeles Metro Area
Alhambra, Los Angeles, Burbank, Chatsworth, Compton, El Monte, Glendale, Hollywood, Huntington Park, Lancaster, Montebello, Norwalk, Panorama City, Pasadena, San Fernando, Valencia, and Whittier

877-803-6308,
ext. 24615

877-255-1508,
ext. 27943

877-803-6308,
ext. 24615

877-255-1508,
ext. 27943
Phoenix, AZ
Arizona, California (Needles, El Centro, Indio, Yucca Valley, and Palm Springs)
866-331-4359,
ext. 12887
866-331-4359,
ext. 12887
Seattle Region

PASS Cadre
Location
Jurisdiction
Toll-free Number
Local Number
Tri-Cities, WA
Washington, Alaska
(206) 615-3624
Albany, OR
Idaho, Oregon
(206) 615-3629