Arthur J. Altmeyer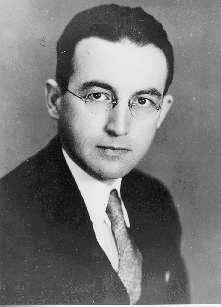 A young Arthur J. Altmeyer in the years before he joined Social Security.
SSA History Archives.
Arthur Altmeyer was one of the seminal figures of the Social Security program in America. He was part of the President's Committee on Economic Security that drafted the original legislative proposal in 1934. He was a member of the three-person Social Security Board created to run the new program, and he was either Chairman of the Board or Commissioner for Social Security from 1937-1953. Although he believed that public administration was a vitally important activity, he was also one of the principal conceptual and philosophical spokesmen for social insurance in America, and much of the policymaking during Social Security's founding decades was formulated by Altmeyer. Along with a mere handful of others, Arthur J. Altmeyer is responsible for the Social Security program as it exists in America today.

This collection of material consists of published articles and interviews and the text of speeches that Mr. Altmeyer delivered--primarily during his tenure with the Social Security Administration. Some of the speeches have never been published, and some of the articles have been out of print for 50 years.

These documents represent 30 years of Arthur Altmeyer's work. The are, in a limited sense, his legacy. But his true legacy lies elsewhere. The institution that is the Social Security Administration, and its proud 62-year history of service to generations of Americans, are Arthur Altmeyer's true legacy, for he, more than any other single person, shaped the institution that has administered Social Security over six decades. The character of SSA, its traditions of service and administration, reflect the values and aspirations that Arthur Altmeyer instilled into it from the earliest days of its existence. Although an important policy theorist--as is reflected in these documents--Altmeyer was first and foremost an administrator. He viewed efficient, fair and honest administration as a high calling. And it was to this calling that he gave the labor of his life. This is his true legacy.
Altmeyer's papers and records are in the archives of the State Historical Society of Wisconsin at Madison, Wisconsin. (Duplicates of many of Altmeyer's most important papers are also available in SSA's History Archives.)
ABOUT ALTYMEYER:
ALTMEYER'S WORKS:
Speech -- SOME ISSUES FACING SOCIAL WELFARE TODAY -- December 1951

In this speech Altmeyer discusses social welfare and its central role, in his view, in the establishment of democracy throughout the world.

Article -- SOCIAL WELFARE TODAY -- April 1952

In this article Altmeyer again returns to one of his most persistent themes--the failure of America to meet its social welfare needs.

Letter -- ALTMEYER'S FAREWELL MESSAGE TO SSA EMPLOYEES -- 4/10/53

A standard good-bye, yet it reveals Altmeyer's deeply felt commitment to the Social Security program.