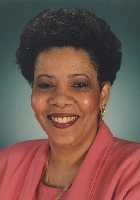 Yvette S. Jackson
On Sept. 2, 1997, Yvette Jackson was appointed the Administrator of the U.S. Department of Agriculture's Food and Consumer Service (FCS). FCS oversees federal nutrition assistance programs.

Jackson is the first African-American to head the Food and Consumer Service. Since 1994, she has served as the agency's Deputy Administrator in charge of the Food Stamp Program. As FCS Administrator, Jackson oversaw USDA's 15 nutrition assistance programs, including the School Lunch and School Breakfast Programs, the Special Supplemental Nutrition Program for Women, Infants, and Children -- the WIC program -- and the Food Stamp Program. As FCS Administrator, she managed an agency budget of $40 billion and a staff of 1,700.

Jackson began her career with the Pennsylvania Department of Public Welfare 26 years ago as a caseworker in the Philadelphia County Assistance Office. She assumed increasing management responsibilities, culminating in her appointment as Pennsylvania's Deputy Secretary of Income Maintenance in March, 1991. As deputy secretary, Jackson oversaw the administration of the state's income security and medical assistance eligibility programs--including the Food Stamp Program, Aid to Families with Dependent Children, State General Assistance, Child Support Enforcement, and Medicaid.

A native of Philadelphia, Jackson holds a bachelor's degree in social welfare from Temple University and a Masters of Social Work from Rutgers University.