Unpublished CES Studies
| | | |
| --- | --- | --- |
| | | Volume IX. Committee Publications |
Child Welfare in the Economic Security Program
by the Committee on Economic Security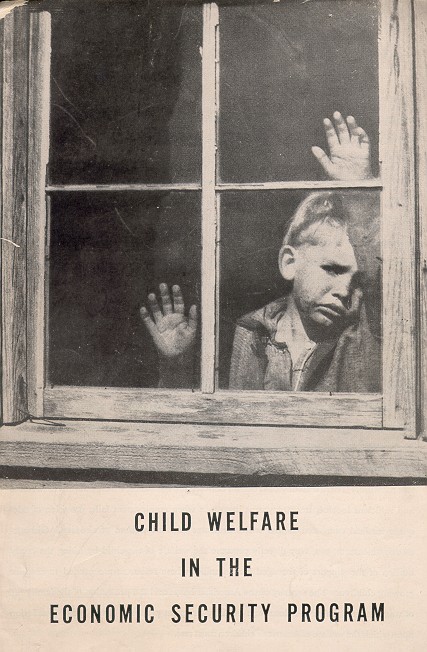 THE President's Committee on Economic Security in submitting recommendations for the "security of the men, women, and children of the Nation", on which the pending Economic Security Bill is based, stated, "It must not for a moment be forgotten that the core of any social plan must be the child. Every proposition we make must adhere to this core." Every measure embodied in the Federal program may truthfully be described as a child-wel. fare measure. There is an obvious relation between-job assurance, which will provide a stable and sufficient income, unemployment insurance when employment fails, provision of adequate medical care, and similar social measures and the welfare of children. Old-age security measures, too, very directly promote the welfare of the child by lifting the heavy burden of the support of the aged from families whose resources are needed to care for growing children. The security of the American home and the protection of the family life of wage earners which the Economic Security Program promotes is the broad foundation upon which the welfare of American children must rest.



SPECIAL CHILD-WELFARE MEASURES

IN ADDITION to general measures for social security, however, certain special measures designed to safeguard the normal growth and development of children are needed.

The forces of depression bore down more heavily upon the children of the land than upon any other group. Their health and welfare have been severely affected in many ways, not only through family distress resulting from unemployment and poverty, but also through drastic curtailment of the resources of agencies created to serve their needs. The effect of economic insecurity upon children has been brought to public attention most strikingly by the 7,400,000 children under 16 years of age in families now receiving Federal relief. These children represent about 40 percent of the total number of persons on relief. Figures and statistics are cold and colorless, but it takes little imagination to picture the distress and suffering which has come so intimately into the lives of these children, many of whom know no other living than the meager dole of public charity. Special kinds of care must be provided to save them from a future more tragic than their impaired childhood. Such measures form an integral part of the Federal Economic Security Program and constitute the most far-reaching child-welfare program ever considered in this country.


FOR FATHERLESS CHILDREN

AMONG the children most in need of special attention are those in families deprived of a father's support. These children need not also be deprived of a normal childhood. Their needs will not be met by a further return to a high level of prosperity nor by a program of reemployment because there is no person in the family able to work except the mother who is needed to care for her children. Nearly 800,000 such families are at present on emergency relief.

Mothers' pension laws, designed to bring security in their own homes under their mothers' care, have long been recognized as the best method of providing the long-time assistance which these children need. Although such assistance is authorized by the laws of 45 States, it is actually granted by less than half of the local government units responsible for providing it. Many States, for lack of funds, have been forced to grant amounts far too small to protect the children involved. Only about 109,000 families are receiving mothers' aid under State laws, in contrast with over three times this number of fatherless families receiving emergency relief. These families must be shifted from the insecurity of emergency relief to the regular and adequate care provided through mothers' pensions.

To meet the situation effectively the Federal Government must step in and aid the States in assuring the welfare of its children.

The Federal Economic Security Bill provides for an annual appropriation of $25,000,000 for allotments to States to meet one-third the total cost of mothers' aid; the other two-thirds to be met by State and local appropriations. Grants will be made only to States meeting certain general standards intended to make sure that aid is available throughout the State, and that adequate plans for administering the money are developed. In a number of States some broadening and strengthening of State mothers' pension laws will be necessary to enable States to benefit from Federal assistance.

Such grants-in-aid to the States will make it possible for the mothers'-aid-care method of rearing fatherless families to become nationally operative. It is less expensive than the aid now given to such families by the Federal Government through the emergency-relief method. What is more important, in assuring children a normal home life under their mothers' guardianship, it will protect them from social misfortune and give them a chance to develop into citizens capable of contributing to society.


FOR CHILD AND MATERNAL HEALTH

ECONOMIC security is most often thought of in terms of income, but we must not forget that good health is one of the chief factors in the security of the home, and that sickness and death greatly imperil that security.

Many mothers and children, particularly those in rural and isolated districts, are without medical and nursing care. Each year over 12,006 mothers die from causes connected with childbirth. At least half of these deaths are preventable. The maternal mortality rate in this country is higher than that of nearly all other progressive countries. The depression has had a grave effect upon child health. The infant mortality rate which had been dropping year by year, was stationary between 1932 and 1933, and preliminary estimates for the first half of 1934 indicate that it was beginning to rise. Rural children are now less favored than city children as regards child health, because the cities are more adequately supplied with health services. State funds for expansion of child health programs are not available in most States.

In discussing the Economic Security Program, the President stressed the great need for Federal participation in a Nation-wide maternal and child health program.

From 1922 to 1929 all but three States participated in the successful operation of such a program under the leadership of the Federal Children's Bureau. In 1929 Federal funds were withdrawn, State appropriations were reduced, and the program was greatly curtailed. Not until then was there a general realization of the great need of hundreds of thousands of mothers and children for the type of care which had been provided under this program.

The Federal Economic Security Bill provides that the Federal Government, through the agency of the Children's Bureau, shall again assume leadership in safeguarding the health of its mothers and children. It provides for an appropriation of $4,000,000 for maternal and child-health work and $3,000,000 for hospitalization and convalescent care of crippled children. The funds are to be granted to cooperating States chiefly on a matching basis for services to be developed mainly in rural areas, in accordance with plans making reasonable provision for the administration of funds. Such Federal aid will make possible a greatly expanded program of child and maternal health work, especially in the rural areas where the need is particularly acute.



FOR CHILD CARE SERVICES

SOCIAL services for the protection and care of homeless, dependent, neglected, and physically handicapped children and children in danger of becoming delinquent are also needed to make life really secure for children. Such services are generally available in large cities, but elsewhere they are so limited that many children are deprived of a normal development and a healthy adjustment to society. With the depression, of course, there has been much suffering among young children because the services they need have been curtailed and even stopped.

Many child-welfare agencies are working with inadequate equipment and staffs. Children in increasing numbers since the depression began are being cared for in poorhouses-a practice condemned a hundred years ago. More than 200,000 delinquent children come before the courts each year. Special treatment is needed to save them from permanent maladjustment. Last, but not least, there are from 3 to 5 million physically handicapped children. The parents of many of these must be assisted by social services as well as by medical agencies in making plans for the specialized care which they need.

The Federal Economic Security Bill provides for Federal grants-in-aid to the States, again chiefly on a matching basis, for the development of more adequate State and local child-welfare services, whose activities will be closely integrated with the general public welfare administration. The Federal Children's Bureau with its years of research and leadership in this field is to administer the $1,500,000 Federal appropriation for this purpose and aid the States in expanding and developing their child welfare facilities.
COMMITTEE ON ECONOMIC SECURITY

FRANCES PERKINS,
Secretary of Labor, Chairman.

HENRY MORGENTHAU, Jr.,
Secretary of the Treasury.

HOMER S. CUMMINGS,
Attorney General.

HENRY A. WALLACE,
Secretary of Agriculture.

HARRY L. HOPKINS,
Federal Emergency Relief Administrator.

EDWIN E. WITTE,
Executive Director.


1734 NEW YORK AVENUE, NW.
WASHINGTON, D. C.