The Top Ten Baby Names Are Here!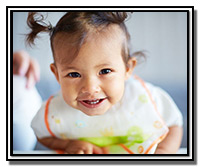 Just arrived! Social Security is happy to announce the top baby names for 2018. We're with you from day one, which makes us the source for the most popular baby names! For most people, Social Security starts at birth when they get their first Social Security card. We're able to determine the most popular baby names from the prior year based on requests for Social Security numbers for newborns.
What were the most popular names of 2018?
Coming in at number 10 are Logan and Evelyn, dropping down five spots and one spot, respectively, in comparison to the 2017 list. At number nine are Mason and Harper. Mason dropped from its number seven spot in 2017, and this is Harper's highest spot on the list so far! You can read about the rest of the top 10 on our baby names page!
Most parents apply for their child's Social Security number at birth, usually through the hospital. Your clients will need it throughout many important stages in their child's life, beginning when your client claims them on their tax return. It'll also be useful if they need to apply for benefits for the child. And, of course, the child will need it to begin their first job.
Social Security is with you through life's journey. To learn more about baby names, a newborn's Social Security number, benefits for children, and to see the full list of top names, visit www.socialsecurity.gov/babynames.