A New

my

Social Security

Feature Your Clients Can Access Today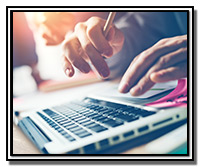 There's never been a better time to open or access your my Social Security account. my Social Security is your client's online gateway to Social Security and we've recently added a new feature.
The Message Center in all my Social Security accounts now allows you to opt out of getting agency notices by mail that are available online. This includes annual cost-of-living adjustments and the income-related monthly adjustment amount increases. The Message Center is a secure, convenient portal where your clients can receive sensitive communications we don't send through email or text. It is important to note that unless your clients opt out of receiving notices by mail that are available online, they will receive both mailed and online notices that are available in Message Center.
my Social Security account holders will still be able to request a replacement Social Security card, check the status of their Social Security application, set up or change direct deposit information, get a proof of income letter, change their address, and more.
Let your clients know they can plan for their future and manage their present with a my Social Security account today at www.socialsecurity.gov/myaccount.