New Online Reporting Form for Imposter Scam Calls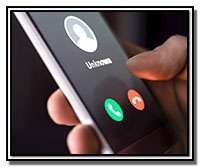 Recently, Commissioner Andrew Saul and Inspector General Gail S. Ennis announced the launch of an online form at oig.ssa.gov where the public can report Social Security-related phone scams. These scams — in which callers pretend to be government employees to trick victims into providing personal information or money in cash, wire transfers, or gift cards — skyrocketed over the past year to become the #1 type of fraud reported to the Federal Trade Commission and the Social Security Administration. The scammers often make threats including arrest.
Now, scammers have added a new twist. They may send your clients emails with fake letters or reports that appear to be from Social Security, the Office of the Inspector General (OIG), or other agencies. The letters may appear to use official letterhead and government jargon to look legitimate.
Encourage your clients to remain vigilant against scams. Real Social Security employees will never:
Tell you that your Social Security number has been suspended.
Contact you to demand an immediate payment.
Ask you for credit or debit card numbers over the phone.
Require a specific means of debt repayment, like a prepaid debit card, a retail gift card, or cash.
Demand that you pay a Social Security debt without the ability to appeal the amount you owe.
Promise a Social Security benefit approval, or increase, in exchange for information or money.
Email sensitive information.
Please ask your clients to use the online form at oig.ssa.gov to report Social Security-related phone and email scams. The information they provide — even if they do not fall for the scam — helps the OIG curb this fraud. People who submit the form can create a unique Personal Identification Number (PIN), so if OIG contacts them they will know the call is legitimate.
If you or your clients receive a suspicious call or email, hang up or do not respond, do not share any information or provide any form of money, and report it at oig.ssa.gov. Awareness and education are vital to protecting people. Please encourage your clients to read our FAQ and our blog post, Inspector General Warns Public about New Twist to Social Security Phone Scams, at blog.ssa.gov. Thank you for helping us get the word out.