Visit Social Security Online This Holiday Season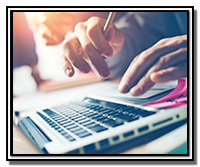 At Social Security, we understand that the holiday season may give some of us a break from daily routines and the time to rest and relax. We want your clients to know that our online services are available to help them do business with us in an easy, convenient, and secure way. This season, encourage your clients to sign up for a personal my Social Security account.
A free and secure my Social Security account is your clients' online gateway to our services. Creating an account allows your clients to check their Social Security Statement, get proof of benefits or proof that they do not receive benefits, verify their reported earnings, estimate their future benefits, and much more!
We are committed to protecting your clients' personal information and benefits. That's why we work with credential partners to securely verify their identity to create their personal my Social Security account. We do this to protect their information while making our online services easy to use.
When your clients create their personal my Social Security account, keep in mind:
They must be 18 years of age or older, have a Social Security number (SSN), and a U.S. mailing address.
They will be redirected to the partner's website when they select "Sign In with Login.gov" or "Sign in with ID.me."
They must provide a valid email address and some additional information.
Once they create the credential, they will return to the

my

Social Security

webpage for next steps.
Please have your clients visit www.ssa.gov/myaccount to see all they can do with a personal my Social Security account. We wish you and your clients a safe and happy holiday season.
Please share this information along to your clients.