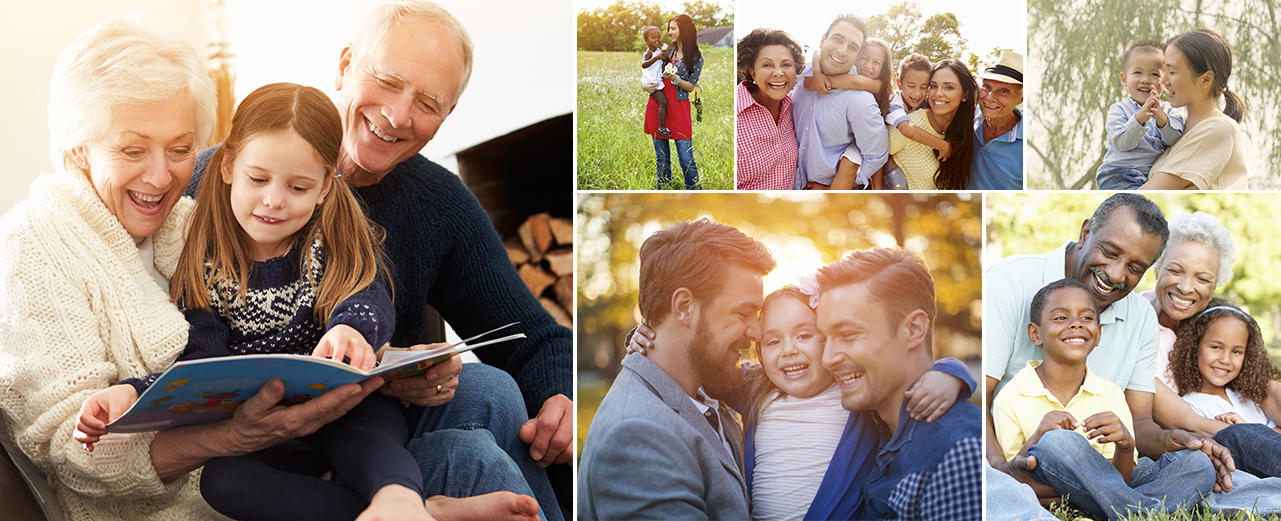 With you through life's journey...
The makeup of American families has changed in the last 20 to 30 years. Today, family units are diverse, rich in culture, and may include two parents, same-sex parents, only one parent, grandparents, and other relatives. Social Security knows that whether single parent, blended, diverse, small or large, every family is important.
For more than 80 years, Social Security has helped families secure today and tomorrow by providing financial benefits, tools, and programs that help support millions throughout life's journey. Our programs and services have evolved to meet your unique family needs and especially the children in your care.
We are there from day one
Getting your child a Social Security number should be near the top of the list of things you need to do as a new parent or guardian. Your child's Social Security number is the first step in ensuring valuable protection for any benefits they may be eligible for in the future.
You'll need your child's Social Security number to claim them as a dependent on your income tax return or open a bank account in the child's name and buy savings bonds. Your child's Social Security number is also necessary to obtain medical coverage or apply for any kind of government services for your child.
Most people apply for their child's Social Security number at birth, usually at the hospital. When the time comes for your child's first job, the number is already in place. For more information on getting your child a Social Security number and card, check out Social Security Numbers for Children.
A fun bonus of assigning Social Security numbers at birth is that we know the most popular baby names, which we announce each year. On our website, you can find the top baby names for the last 100 years.
We're there with support if you're raising a grandchild…
More and more grandparents are finding themselves raising their grandchildren. Social Security will pay benefits to grandchildren when the grandparent retires, becomes disabled, or dies, if certain conditions are met. Generally, the biological parents of the child must be deceased or disabled, or the grandparent must legally adopt the grandchild.
To receive this benefit, your grandchild must have begun living with you before age 18 and received at least one half of his or her support from you for the year before the month you became entitled to retirement or disability insurance benefits, or died. Also, the natural parent(s) of the child must not be making regular contributions to his or her support.
If your grandchild was born during the one-year period, you must have lived with and provided at least one-half of the child's support for substantially the entire period from the date of birth to the month you became entitled to benefits.
Your grandchild may qualify for benefits under these circumstances, even if he or she is a step-grandchild. However, if you and your spouse are already receiving benefits, you would need to adopt the child for them to qualify for benefits.
We're there when they get their first job
Once your child starts working and throughout their career, employers will verify their Social Security number to help reduce fraud and improve the accuracy of their earnings records.
Employers collect FICA, or Federal Insurance Contributions Act withholdings, and report earnings electronically. This is how we verify earnings and is how your child earns Social Security retirement, disability, and survivors coverage.
Once they turn 18, they can open a my Social Security account and watch their personal earnings and future benefits grow over time.
We're there to help if disability strikes…
As a working parent, your earnings can become a source of Social Security protection for your family. If you retire or become disabled and unable to work, your earnings would be partially replaced by your monthly Social Security benefit payments.
A child who is disabled may depend on your help for a lifetime. When you start receiving Social Security retirement or disability benefits, your family members also may be eligible for payments. If you are a parent, caregiver, or representative of a child younger than age 18 who has a disability, your child may be eligible for Supplemental Security Income (SSI) payments. More information is provided in the Benefits for Children with Disabilities booklet.
For children 18 years or older who have been disabled before the age of 22 and continue to be disabled, Social Security benefits may be paid to them if you retire, become disabled, or die. Social Security benefits for disabled children may continue as long as they are unable to work because of their disability.
Additionally, you can find information on the specific benefits and qualifications in the Disability Benefits publication.
We're there to provide comfort during difficult times…
The loss of a parent or guardian can be both emotionally and financially difficult. Social Security helps by providing benefits to help stabilize the family's financial future. Widows, widowers, and their dependent children may be eligible for Social Security survivors benefits.
In fact, 98 of every 100 children could get benefits if a working parent dies. And Social Security pays more benefits to children than any other federal program.
Providing protection for parents too…
Even if you have never worked in a job covered by Social Security, as a parent, there are two ways that you may still qualify for benefits.
If you are a parent and take care of your child who receives Social Security benefits and is under age 18, you can get benefits until your child reaches age 16. Your child's benefit will continue until he or she reaches age 18, or 19 if he or she is still in school full time. Your monthly payments stop with the child's 16th birthday, unless your child is disabled and stays in your care.
If you are a parent who receives most of your support from your adult child, and your child dies, Social Security also pays monthly benefits to you under the following conditions:
You must be at least 62 years old and must not have remarried since the worker (your child)'s death
You cannot be entitled to your own, higher Social Security benefit; and
You must be able to show that you received one-half of your financial support from the worker at the time of their death. You must submit this proof of support to Social Security within two years of the worker's death.
We are there for those who need it most…
The Supplemental Security Income (SSI) program helps children with qualifying disabilities by providing critical financial assistance. Children and youth with specific medical conditions—whose families meet certain income and resource limits—can receive SSI from birth until age 18.
If you think your child or someone you know could be eligible for SSI, visit our webpage SSI Eligibility for Children to learn more and apply.
Assisting Youths with Disabilities Transition to Adulthood
The transition to adulthood is one of the most important periods in life's journey. For foster children living with a disability, it can be even more challenging. Turning 18 triggers an important change in SSI benefits: Social Security must make a new determination on their SSI eligibility using the adult disability standards. About one-in-three such beneficiaries lose their SSI benefits.
For more information, please visit our spotlight page.