George Failla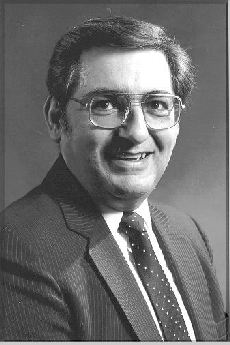 George Failla
| | |
| --- | --- |
| | Soundclip from Failla interview. (On the leadership skills of Dorcas Hardy.) [In RealAudio format] |
SSA CAREER

8/90-6/94
Director, Office of Information Resources Management, Office of the Commissioner
7/88-8/90
Director, Office of Planning and Operations Management, Office of the Deputy Commissioner for Operations
11/86-7/88
Deputy Associate Commissioner, Office of Central Operations
5/86-11/86
Acting Director, Office of Program Service Centers, Office of Central Operations (OCO)
7/85-5/86
Acting Director, Office of Operations Analysis and Support, OCO
3/84-7/85
Acting Deputy Director, Office of Program Service Centers, OCO
12/83-3/84
Acting Deputy Regional Commissioner, New York Regional Office
9/83-12/83
Acting Director, Division of Earnings Operations, Office of Central Records Operations
6/83-9/83
Special Assistant to the Director, Office of Financial Resources, Office of Management, Budget and Personnel
6/81-6/83
Executive Assistant to the Deputy Commissioner for Programs and Policy
6/79-6/81
Executive Officer and Acting Deputy Associate Commissioner for the Office of Governmental Affairs
2/79-6/79
Director, Division of Surveys, Office of Evaluation, Office of Assessment
5/76-2/79
Executive Officer, Office of Research and Statistics
2/75-5/76
Administrative Officer, Office of Research and Statistics
2/69-2/75
Senior Program Analyst, Office of the Director, Division of Health Insurance Studies, Office of Research and Statistics
7/66-2/69
Administrative Specialist, Office of the Associate Commissioner, Office of Research and Statistics
1/65-7/66
Operations Unit Supervisor, Brooklyn, New York District Office
6/62-1/65
Claims Representative, Brooklyn, New York District Office
George Failla--A Personal Remembrance-
When George Failla died suddenly, far too soon, in August 1996, he left unfinished his review of the transcript of his oral history interview. George had many endearing traits, one of which was that he was a terrible procrastinator, preferring to wait until the last possible minute when, in a rush of effort, he would get the job done. Since we shared this trait, we told each other that it was a matter of personal style rather than any kind of flaw in our characters.
George had the transcript for months, and I had several conversations with him in which I had a chance to gig him about it. Procrastinator to procrastinator. In the weeks before his death he enjoyed one last vacation with his family in California. His plan was to take the transcript with him and edit it during his leisure time. During his final weekend in California George called his long-time Executive Secretary, Pat Keiser, to get a recipe for beignets, so he could make them as a treat for his relatives. He asked Pat to tell me that he had forgotten to take the transcript with him, but that he promised to start work on it as soon as they returned. Two days after returning home to Baltimore, George suffered a fatal heart attack while sitting on the sofa in his living room. Many of us lost a dear friend.
I was lucky enough to work for George Failla for the last six years of his career with SSA. He was the best boss I ever had. As I began editing the transcript of his interview, I realized something important was missing. Nowhere in the pages of this interview could I find expressed what made George Failla such a special person. Nowhere did he reveal those traits of character and personality that made working for him such a joy. Nowhere did he express what it was about himself that created an environment in which we all could flourish and which felt more like a family than a business unit. But of course it could not be otherwise, because one of those core traits was that George was an authentically modest man. Too often, in our day-to-day work we encounter people who walk into a meeting room and plop their ego on the table and demand it be dealt with as the first order of business. George never did that. However excited he became about an issue, it was never about George. George was modest. Not shy, not quiet, not lacking in enthusiasm or opinion. Indeed, he approached life with a vitality that was almost boisterous. But he was modest in that he had respect for other people and an acceptance of their shortcomings. His mother, he once told me, had drilled into the young George the motto, SPS--Self Promotion Stinks. He was also one of the most straightforward people I ever met--there was no pretense about George.
George's last job at SSA was Director of the Office of Information Resources Management (OIRM). When OIRM was created George had the opportunity to hand-pick the staff--to create a new organization from scratch. We seemed, to ourselves, to be a motley crew, with nothing much in common. But George had a wisdom about people, a wisdom we didn't appreciate at first but which soon became very evident. We were very different, with different skills and ways of seeing the world. And that was just what George wanted. George truly believed that a diverse group of bright people could become an effective group if given the right environment. George created that environment. And he did it by creating space, by making room for each of us to express our creative energies. He created space for us by removing his own ego from center stage. But that did not mean that George was absent in any way. Quite the contrary! He was always an energetic, enthusiastic, excitable force in OIRM. A force more like a field of gravity. Because it really was the force of George's personality that held us all together and made us feel like a team. Even after George retired, OIRM was abolished, and some of us were scattered to the wind, that sense of community has not left us. We still feel like we are part of a group. A group somehow still defined by our relationship to George.
George was a consummate master at the art of managing people. He responded to each of us in a different way, depending upon our personality rather than his. Staff meetings in OIRM were a delight, rather than the drudgery they usually are. They were more like mini family reunions than business meetings. We would have wonderful discussions about everything from the most prosaic piece of Agency news to the grandest issues of national public policy. He gave free rein to spout off to those of us who always had a dozen opinions about everything, and he made a special effort to draw into the conversation those who were more hesitant in expressing their views. We could argue with him and he would argue back with nothing but good grace. Imagine: I could regularly tell the boss he was full of it, and that was okay--really okay. George always made us feel welcome around that table, like he valued our presence and our views. And he played us like an orchestra, giving each of us what we needed to shine. This is a skill that cannot be taught at Harvard Business School and no consultant can sell it, because it is created out of the alchemy of character. George shaped OIRM the way he did because of who he was.
George took early retirement from SSA. Along with being so open and honest he was, perhaps, a little too sensitive, and the stress of his work had begun to affect his health. So he left SSA, too soon. At his retirement luncheon I had the chance to say a few words on behalf of the OIRM group. I told George that with his departure from OIRM things would never be the same again. Now that he has left us, again too soon, the same sentiment occurs to me. George has left us and things will never be the same again.
Larry DeWitt- August, 1996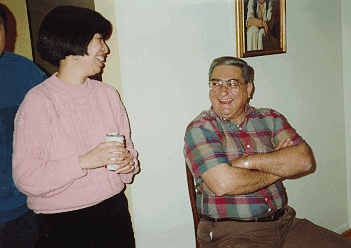 George at the OIRM Christmas party in December 1993, sharing a light moment with Gloria Tong. SSA History Archives.
---
George Failla Oral History Interview
This is an interview in the SSA Oral History Series. This interview is with George Failla. The interviewer was Larry DeWitt, SSA Historian. The interview took place on December 1, 1995 at Mr. Failla's Home in Timonium, Maryland. The interviewer's remarks and any editorial comments are shown in italics to distinguish them from Mr. Failla's comments. The interview was transcribed by Barbara McIntrye, Robert Adams and Gail Hooley of SSA's Braille Services Unit.
---
Q: George, what I want to do is basically walk you through your career and talk about the jobs you had and the people you worked with and the issues and events that were happening during that time. Let's start by having you tell us how and why you came to work for SSA, what your first job was and where you worked.
Failla: All right, I can remember the first time I saw SSA, believe it or not. I don't know why it made an impression on me, but I do remember applying for my Social Security card when I was 14 at 250 Livingston Street in Brooklyn. Maybe because it was my first job, it made an impression on me, but I always had a memory of that office. It's ironic because that office was called (I did not know it as a private person at the time) the Borough Hall District Office. Coincidentally, that is the first office, and the only office, where I worked in the field.
I was approached during a career day at college by a man who was then the Assistant Manager of the Downtown District Office (DO), and his name was Tony Parotti. Tony Parotti is still with the Agency as the manager of that same Borough Hall DO. He came to our school and he interviewed a number of people and he impressed me because of his energy. He was really interested and really very positive about discussing Social Security. There were a number of us that were interested and it was really very easy. He then came back and gave us the Federal Service Entrance Exam right at school. We didn't have to go anywhere. After identifying the ones who passed who were still interested in the job, they arranged to have three other assistant managers come to the school to conduct a panel interview with all of the participants. I guess it showed me two things: 1) the professionalism of the place; 2) their interest in recruiting people was sincere, and they really went out of their way to make it as easy as possible.
I know to this day that from that recruiting trip that he made, I know for sure there were four people who ended up with in excess of 30-year careers in SSA. Four of us I know who are in Baltimore, Phil Young, Bob Neubauer, Mike Esra and myself, and there were one or two others that were recruited at the same time--they may still be around, I don't know. To think that one little recruiting trip ended up with four 30-year employees, I guess that was an extremely cost-beneficial trip that he made.
After talking to him and listening to him, I really didn't know that I was going to come to work for Social Security. At the time we still had a draft and I was 1-A.
Q: This is 1962, right?
Failla: The late winter and spring of 1962. It was pretty difficult to get something in the private sector before your service obligation was handled. I say that because I don't know that I intentionally set out to have a career with SSA. In fact, I probably thought it would be a temporary thing until I got drafted.
As it turned out, I got a couple of other job offers, and to this day I don't understand how one of my economics professors knew about Social Security. I had a couple of offers and I was talking to him about which one might look interesting, I mentioned Social Security. His name was Maurice Benowitz, and he said to me: "Take the job at Social Security." He said "it is really a good organization. They have a very good reputation." He said: "It is probably a good place to start a career if you stay there because the first generation of people who are running that place are all going to be retiring in the next 10 years." Of course, he was right, and to this day I have no idea how he would know such an obscure thing about Social Security since his principal field of specialization in economics was labor economics not public policy or finance policy. We had one or two of those in the Department, and one or two friends of mine ended up staying in that field and specializing in Social Security and public finance. To this day, I still do not understand why he thought it was a good organization and how he knew that there was a period of growth ahead because the first generation of leaders were going to be retiring.
Q: And where were you going to school? Where was this school?
Failla: I went to the City College of New York. Dr. Benowitz was from Harvard. It was also interesting that later on in my career at SSA that one of my classmates ended up being my boss, and it was one of the more enjoyable work experiences I had at Social Security. In any event, I decided to take the job and I started training in the Borough Hall DO June 25, 1962.
Q: It was a Claims Rep job?
Failla: Claims Rep Trainee, grade 5. There were 13 people in my training class. It was an unusual class at the time because there were more men. I guess at that time there were probably more females being recruited for the job at a college than men, so our class was 50-50. I guess that was somewhat unusual.
The training instructor was Betty Wolinsky, and she was probably a few years older than us. Sam Cohen was the District Manager and Hy Siegel was the Assistant District Manager. It was a pretty large office. It was a class one office. It had about 110 employees, probably close to 30 Claims Reps, and that's where I started.
About two weeks later there was another class that was started in the same DO, also about 13 people in the class. So we had two classes running 2 weeks apart in 1962. I guess they were recruiting because the insured status rules had just changed, going from one to three to one to four. Disability was still relatively new and the workload in that area was growing. Because of the change in the insured status requirements, and the new start, application volumes were picking up. By the time I got out of training, we probably had about 70 to 80 claims pending for each Claims Rep.
I was immediately impressed by the intelligence, professionalism and care of the staff that worked in the office. It was pretty much a young staff. That was one of Sam Cohen's traits. He liked training pools because he would like to pick a couple of people from each class and he was not afraid to have young people who were learning. He thought that was a good healthy environment. In fact, we had an experiment in the office after I became a Claims Rep where we had a unit entirely manned by people who were just out of training, with a very good supervisor. Her name was Rita Harris. It worked as well as the other units in the office. We had five units at the time. There was a healthy competition among the people in the office. Everyone was young. Everyone was looking ahead, and there was competition in providing service.
We did keep a lot of in-house statistics on who did what and where. Each Claims Rep each month got a report card (that's what we used to call it) and it talked about your workload time, the number of 30-day cases you had pending and your error rate, which was the number of claims that were bounced back to you from the clearance unit. In those days we did not all sign the claim before it went to the Program Center. You would have somebody redo the final review of the claim before it left the office, and you would get a report card every month on what your accuracy was.
Although we had that kind of day-to-day feedback, we did not have appraisals as you have them today. We just had the traditional Satisfactory, Unsatisfactory, and Outstanding, and nobody, nobody got anything like an Outstanding. That was just the way it was, you were satisfactory or unsatisfactory. If you were unsatisfactory (this was before unions), they would just approach you and say: "We don't think this is the right job for you and you probably should be looking for something else. How's two weeks sound?" And people would go.
The staff was recruited in a slightly different manner. The Claims Rep position was exclusively manned by college graduates. In fact, it was impossible at the time that I joined the organization for someone to come in as a Claims Development Clerk and subsequently become a Claims Rep. There was a definite split, that had some good and some bad repercussions, I think. On the good side, you were coming in out of college feeling that you were a professional, that you were starting a career in an organization, and that made you different. It also affected the way you approached your job. People were there to learn about the program, talking about what was happening, why it was happening, and to approach problems in the office with much more of a managerial bent on what would be good, how do you make things work better, how do you make things run better. And it wasn't the kind of adversarial relationship that came about later on.
The down side was that there were some very, very talented Claims Development Clerks, that typically were high school graduates, who came in to work in the office who had nowhere to go. They were grade 5's and after a point in time, (I guess it was around 1964 or 1965) they developed what they called a Service Rep job which initially was simply a receptionist. It was supposedly intended to allow Service Reps to take some easy actions, particularly in the postentitlement area and the reception area. Basically these people worked as glorified receptionists; that went on for about a year, and that's one of my interesting experiences that I'll go into in a minute on the Service Reps functioning in a different way.
Clearly, coming to work at Social Security, the training of 13 grueling weeks, exams every week--it was very impressive to someone coming in from the outside. It was clear to us that here was an organization that was willing to make an investment of their time to make sure that at the point we were going on the job to serve the public, we knew what we were doing and we did it very well.
They also did something else in those days. Within one year from the time you came to work for Social Security as a CR, everyone came to Baltimore for two weeks, for two reasons: to let you see what headquarters was like and where things were coming from, and also to give you a good foundation not only in the organizational structure of Woodlawn, but also a solid foundation in the rationale of the program. I think that the sense of management at the time was that every single Claims Rep, in particular, was a representative of the Agency. Whether it be in day-to-day contact with friends and relatives, or whether they were going to be asked to go out to do some public information field work or making speeches, you should have a sound foundation in what the program is about, how it got to where it was, what it was intended to do, and to be able to discuss it intelligently in public. That was one of the things that was thrown away during one of the many budget crises, and I must admit, over 32 years, I think we had a budget crisis every other year. There's nothing new going on right now, and everything was always going to be tight coming into the fiscal year. Things didn't change all that much.
Clearly, that particular training effort of bringing everyone to Baltimore, getting to meet people from other parts of the organization (from the Payment Centers, from the Headquarters components, from Systems) was really a very good opportunity to know a little more about the organization and to know what made it tick. I was really sorry when they stopped that and I don't know it will ever come back. Although I think at this point in time there is probably more of a need for it where we recruit in a different way than we did before and we have many more people coming through the ranks from the clerical positions. I think there is a need to bring people along and what I used to call in my career "bridging the gap," developing a different mind set on how to approach a job and developing a confidence in that individual that they can do whatever they need to do and they can do it well. I think that where we're bringing more people in through the ranks, it is more important to give them the kind of programmatic rationale background and exposure and learning more about the organization and what makes it tick than it even was at the time we were doing it when I first joined SSA.
Q: Tell me a little about working as a Claims Rep, how you found that experience and how you found the day-to-day work.
Failla: I found the Claims Rep job to be extremely interesting. As I said before, there was a sense of responsibility. You were responsible for a specific piece of the alphabetic breakdown. Initially, you had everything. About a year after I started, they changed that a little bit in terms of disability and how disability was handled. I will go into that in a minute. Typically, you had about 60 to 80 cases pending at a given time. You took care of all initial claims and postentitlement activities for that portion of the alphabet. Everyone was a generalist in that sense, and I found it very interesting.
I found it very interesting for the first year or year-and-a-half. I say that because after a year-and-a-half interviewing can be a little tiresome, because it's a question of getting the same things over and over and over again. And while dealing with the public is nice and you get a good sense of satisfaction if you are helping someone and giving someone what they are entitled to, after a while just doing interviewing was not exactly as challenging. It was saying in the textbooks at the time that you get one year of experience 10 times or 10 years of experience. I think as a Claims Rep after about a year-and-a-half, you start to have the same year-and-a-half experience again and again. Fortunately at the time the program was growing. We were beginning to hear rumors and whispers about Medicare being passed, and there were opportunities to do the things in a different way or do different things in the office.
When you were initially a Claims Rep, one of the things you aspired to was to become a Clearance Unit Rep because you were one of four or five people (we had one in each unit) who did the final review of claims before they went to the Payment Center to be put into payment status. You aspired to be the Clearance Unit Rep because that was a step up and it was also one of the ways that you thought that at some point in time you had the potential to become a Field Rep and to get to a Field Rep panel. It means that you aren't being left behind.
In late 1963, maybe even in early 1964, they started another activity which was called a Disability Expediter. What they did was, they took all of the disability claims in a single unit and put them on one desk. The person who was the Disability Expediter was responsible for doing all of the development on those claims. They did not necessarily take the claim. In fact, most Disability Expediters and Clearance Unit Reps did not do any interviewing unless it was busy in the office. The Disability Expediter, to a degree, ended up acting as an assistant supervisor. Once the claim was taken by a CR, it came to that disability desk. You reviewed the claim. You started the request for medical evidence, the request for the earnings record, and did any other development that you needed to do in order to process the claim. It was really an interesting job.
Q: You were actually requesting medical evidence at this point?
Failla: That's right.
Q: In effect, you were doing part of what the Disability Determination Services (DDSs) would do later on?
Failla: Yes. We did develop the medical evidence. We sent requests to doctors, to hospitals. We sent requests for assistance to the local DOs when we had to get medical evidence from hospitals that were out of our service area. You also followed up on that medical evidence including calling the doctor, nudging the doctor to get that medical evidence in here because in the Disability Unit a 30-day case is still a 30-day case. The goal was not to have 30-day cases. The whole emphasis was on making sure you got that evidence in as quickly as possible, so you could get the case out to the State Agency. You cajoled doctors in doctors' offices, and nurses, and you cajoled the claimant. You would say to him: "Look, I can't do anything with your file because I don't have Dr. DeWitt's report, and unless that report comes in, we can't do anything with your claim. So you need to go down to the office and sit there until he fills out the paper." And they would do it.
Q: You would hold the file in the office until you got the medical evidence?
Failla: Yes, we held the file until we felt there was sufficient medical evidence for the DDS to make a determination. We weren't medical specialists, trust me, although we did have training for all the CRs on a regular basis on how to take disability claims. One month we would bring in somebody from the Heart Association. Another month we would bring in somebody from the Cancer Association. We would bring in local doctors. We would bring in somebody from a local hospital who would explain how to look at the classification of heart disease and what that meant, and to give us better information on how to do the original (form) 401 interview which I guess now is a (form) 3368 and (form) 3369, what kinds of questions to ask, what kinds of medications people were probably on if they had a given condition, and that was one of the ways you went through that interview.
In terms of developing a claim and getting the claim out to the state DDS, what you tried to get was evidence that was related to the principal condition that the person was complaining about and any other conditions that seemed significant, making sure that you had some medical record that covered the onset of the disability and also current information about his condition.
I must admit that there was one other thing that was a little bit different even though disability was a little bit harder. I would say that probably (we are only dealing with Title II, don't forget) about 60 to 70 percent (at least in my District Office) of the claims that were handled came in during the waiting period. We would get them around the 4th month, so you really did have some time to develop the claim. I thought we provided good service because generally the people did get a decision pretty soon after their waiting period was over. I thought that was good service. It was not as true on the RSI side. I don't think we got as many people to come in two to three months before. On the RSI side, most of the time claimants came in at the time they retired. Even though we did a lot of public information about coming in early, I don't think the percentage was as great of those who came in to file early for their benefits.
The Disability Expediter job was really interesting because you got to do other things and you took responsibility for that whole piece of the work for your unit, and I found it very interesting and gratifying.
Q: What was the morale and the esprit in the organization like at that time? It sounds like you enjoyed it and that people liked the job at SSA. Was it a good place to work?
Failla: Yes. Before I get to that, let me say a little bit more about disability.
There were concerns even in those days about disability. Even though the cash benefit program started with the 1956 Amendments, by 1963 they were already concerned (1964 for sure) about people being on the rolls who shouldn't be on the rolls, even though we had a regular series of Continuing Disability Reviews (CDRs)--and we did have a budget for CDRs in those days.
They did a special study in 1964 on CDRs where we went a little bit further than we did in our normal CDR development. You actually went out physically to visit the person, to observe him in his own home surroundings, not how he looked when he came into the office. It was a very good program in terms of looking at the person in a different way. You did it unannounced, and I don't know whether we uncovered a lot of fraud, per se, but you certainly uncovered people who looked like they might be getting better and I think they came off the rolls. It was somewhat labor-intensive, but it illustrated concern at that time, already, about the growth in the rolls and the fact that people got on the rolls and were staying on even though the definition was much more strictly interpreted at that time. I think people who were on our rolls were a lot sicker than the ones later on.
The morale in the office was excellent. Most people felt they were building a career. There was a tremendous amount of pride in the program. Everybody felt that it was a good program, that people were getting their money's worth from the program, and that people were being treated in a way that befitted someone who had an earned right to a benefit. Our job was to get them every penny that they were entitled to, not a penny more, but every penny that they were entitled to, and to assist them in any way we could because they had bought some insurance and were coming in to claim their benefit.
We treated the public with that kind of dignity, and I think they treated us the same way. There was a formal dress code. I'm sorry, maybe I'm old-fashioned, but I think, at least in the field offices, we should still have that dress code. When you walk into an office and the person who greets you is wearing a suit or suit coat and a tie and a woman is dressed appropriately, it adds professionalism to the office. And I think the public treats you in a different way, and I think it helps you treat the public in a better way. I am really very sorry that we lost that dress code in the field offices. I think it detracts from the professionalism or the appearance of the office. I think it also affects the way in which claimants interact with us. I know other things have happened and we will get into them later, but I really believe strongly that dress code and professionalism in an office really made a difference.
At the office we were very young, at the time I was there, on average our ages were in the 20s. There were 35 Claims Reps in my office. I would say 30 of us were less than 25 or 26 by the time I left. There was no we/they conflict with management. We did not always agree with managers and we had one Assistant Manager who drove us crazy. But you looked at it as being part of the solution to whatever problems existed in the office, and how do you fix it and go ahead and provide good service.
Service to the public was just pounded into you and was accepted by everyone. We would never think of letting people wait a long time to get interviewed. We would pull everybody out to interview, even though some people supposedly were off interviews, even getting some of the better Claims Development Clerks when things got very crowded. We pulled them off and had them do simple straight retirement claims. It was really an effort not to have people waiting in that reception area for a long period of time. It was really a good organization and I don't know how I can stress that enough.
Before moving on, let me say one more thing about the Claims Rep job and how times have changed. In the Title II area, the principle issues that came up repeatedly were proof of age and earnings issues. Even at that point in time, in the early 1960s, we still had some reporting problems where people--particularly domestic workers, but even some people who worked for small businesses--were not getting their earnings reported.
Very often during a claim you were developing earnings. We had some situations, especially after the change in insured status from one to two to one to three and one to four and the New Start, you had some bogus employment histories where people would put somebody on the books for a few years as they were getting close to 62 or 65 just so they can get insured status and then get a benefit for the rest of their lives. We did a good bit of development of what we called bogus employment, and the other area is in the self-employment area and capital gains area to make sure somebody actually retired when they were 65 and not continued to do their business. Those were the principal areas of work that we did as Claims Reps, and some of it was kind of interesting. Going through somebody's books to see how something was transferred and not hidden so they could get it off the books and collect their benefit, was a challenge at times.
In late 1964 the management of the office decided that rather than have these Service Reps, who were going to become grade 7s at some point, rather than just have them be glorified receptionists, what we would do is to set up a postentitlement unit and pull all the postentitlement workloads away from the regular Claims Reps and give them to Service Reps. I don't know whether this was a regional decision, whether it was tried anywhere else, because even though you were part of a region you didn't really see a whole lot of other district offices unless you moved around from one office to another.
So the Service Reps started operating in a different way. They had a desk, a breakdown, a clerical, and handled all the postentitlement work related to a specific part of the alphabet. Even though I was still a Claims Rep at the time, they asked me to start that unit up and to work with it. They gave me one Claims Rep (I won't comment on whether it was the best or the worst Claims Rep in the office but I remember him to this day) and they gave me all of these Service Reps and said: "Okay, go run a unit."
It was really an interesting challenge because while some of these Service Reps had been Claims Development Clerks before and knew what a breakdown was about, and some had done some minor interviewing, the challenge of it was getting these people to think and to act in a different way, and teaching them confidence. Even though some of them had done some interviewing before, they knew the Claims Manual, they knew what proofs you needed, they knew the forms that had to be used, when they were responsible for the desk, they would get cold feet. They would bounce something off me and say: "I'm going to do this, okay?" They needed some kind of assurance when they took over their own responsibility of the whole desk. The confidence and comfort in interviewing, especially interviewing difficult claimants. You always had some of those because we did postentitlement. You had to process nonreceipt of checks. You had other problems that would come up which stopped somebody's check, and brother, they could become irate pretty quickly. That was really a challenge to help work with these people in developing the confidence that we knew they should have in themselves to just carry out the work that we do. Showing them how to exude that confidence was one of the bigger challenges of that job; it was great fun.
When I was a Disability Expediter they said: "We need to have more expertise taking these claims." Rather than having any Claims Rep taking disability claims, the Disability Expediter did it now. Instead of being off interviews, the Disability Examiner was on interviews, and he took every single claim including the 401 interview. Some of those days, by the time you finished three or four or five 401 interviews, it was a long day. And doing the development, you did both, the whole thing.
(Ed. Note: The 401 was the form used to record the medical information.)
Q: You were doing in 1964, 1965 something like what we are talking about doing now with the Disability Claims Manager that's part of the disability reengineering?
Failla: That's correct. Everything comes around full circle. In part, we stopped it because of what happened with the implementation of Medicare. Soon after I left the DO, (I don't know exactly when it was) we stopped doing medical development.
Q: Tell me, since we are contemplating doing this again in the Agency, give us the benefit of your experience. Was that a successful experiment from your point of view? What were the problems with it? What were the good things about it?
Failla: The problem was taking all those interviews; after a while there was some burnout. There was also a tremendous amount of satisfaction; you were doing the whole thing from beginning to end. If you do the interview and you have that person across the desk from you, you develop a sensitivity for the claimant. A sense where you think he may be disabled, and you really believe it. I think you do a better job in developing that claim and doing a really good 401 interview. You get the background information you need because there is a human connection. I don't think just doing paper handling of disability claims without getting to know the claimant, you develop the same kind of connection to the claimant. I don't think you do as good a job. That's my personal opinion.
I was a little bit involved in the reengineering activity, of the Disability Claims Manager idea, and I clearly was very much in favor of it. I may be totally wrong. 1995 may be totally a different time than 1965, and this may not work. I think the basic foundation of meeting that claimant the first time in that office, going through his case with him and then developing it to a point of being able to make a decision (and now if we ever get some adjudicative authority in the deal), that would be even greater. I think that makes sense, and I think it can work. Time will tell.
Q: All right, you became an informal supervisor and then at some point you became formally a supervisor, is that right?
Failla: We had a freeze on in those days.
Q: Sounds familiar.
Failla: I'm sure people know about that. For a while it took you two-and-a- half years to become a full-fledged Claims Rep. You were a grade 5 CRT (Claims Rep Trainee) for 6 months. You were a grade 7 for another year-and-a-half, and then at grade 9 you took the T (trainee) off your signature line. Once you were a full-fledged CRT and you were in grade for a year, you were eligible to be selected to go for a panel interview to become a Field Rep. At that point in time the Field Reps and the Supervisors were the same grade. Most people became a Field Rep first. It happened during that timeframe where they both ended up being the same grade.
Q: Were the Claims Reps and Field Reps the same grade?
Failla: Originally, Claims Reps were an 8, Field Reps were a 9, and Supervisors were a 10. During the time of my early work there, while I was a CRT, they changed the Claims Rep job to 5, 7, 9. Then they had to make the Field Reps grade 10s. For a good period of time (into the 1970s) the Field Reps and supervisors were the same grade and they were grade 10s.
When I was eligible for a panel interview, there was a freeze on. It was almost a year where they did not conduct any panel interviews. While I thought this was a good organization to have a career in, (I also felt that way after I visited Baltimore and I knew I was going to end up in Baltimore one day) in the New York Region the only grade 11 jobs were something called Section Supervisors which were sort of an Operations Officer who was responsible for the internal duties. Assistant Managers usually worried about the Field Reps on the outside and the Section Supervisor coordinated and ran the claims operation inside the office. Obviously, you had to have a big office to have a Section Supervisor. You had to have at least four or five claims units, so they were pretty large offices. I don't think there were more than 10 or 15 grade 11 jobs in the region at the time I was a Claims Rep. It took a long time to get beyond a Field Rep or Supervisor because there weren't that many jobs open. It changed a little bit after Medicare, but basically it was tough to get above a grade 10 in those days.
Q: In 1965 and 1966 you were a supervisor, right?
Failla: Yes. I started being an acting supervisor even before I ever went to a field panel. Then I finally did go to the panel and I became a supervisor.
Q: You were never a Field Rep?
Failla: I was never a Field Rep. The only thing I did was fill-in in the field. I made a couple of speeches, filled in if somebody was on vacation, and the old timer Field Reps would save all of the disability claims because they hated to do them. They would save them for the Claims Reps who came out on a temporary basis.
Q: The field panel was a panel to become either a Field Rep or Supervisor?
Failla: It was to become a Field Rep or a supervisor.
The Field Reps we had in those days were career Field Reps. In my office we had seven Field Reps, and six of them probably were Field Reps in the 1940s. They had become Field Reps, they liked being out of the office, and it wasn't a bad job in New York City. They never came back. They never wanted to come back into the office. They said for one grade, it wasn't worth it. And then for a good time it was the same grade as the supervisor, with much less aggravation and the promotion line was not that great in those days, so they would just as soon stay out in the field. We had people as career Field Reps for 20 years, and they loved every minute of it.
After I did go to the panel, I had already been an Acting Supervisor. Then they wanted to send me to another office, and I'll never forget this because I did not want to go. I liked this office. This was the only office I knew, and it took some back and forth between the manager and the regional office to let me stay in the office. I guess the point was that they did not want you to stay in the same office as a Supervisor that you were a Claims Rep because of the friendships you had developed and how close you were to the staff on a personal level. They did not think it was a good idea, and they were probably right, in general. Because I already worked as an Acting Supervisor, they told the regional office: "It's not a problem, he's already done it, so let him stay here." Otherwise, I was on my way to East New York, and I will never forget it. I went to East New York and was interviewed by the manager, and I was ready to go. At the last minute they said: "No, you can stay." I stayed and that was an exciting year as well.
I thought the Service Rep experiment was kind of fun, but my year as a Supervisor from mid 1965 to June 26, 1966 was an exciting year because Medicare had passed, and Medicare covered a lot of people who were not entitled to Title II benefits. We had a massive enrollment to get all these people on the rolls, new account numbers for some, taking claims, developing proof of age, and people came in droves. We had worked stacked on our desks. Even with overtime, Saturday work, it was impossible to keep up with it. The reception areas were so crowded, and we weren't used to this. We tried to get people out of that office within an hour at worst. Here you had people overflowing, and we tried everything. One of the things I found very funny was taking 20 to 30 old-timers into one of the training rooms, sit them down with an application, and try to walk them through the application, getting them to fill out the information.
Q: It was a mass interview?
Failla: A mass interview. It was laughs. We were working every night, and Saturdays, just to try to keep up. Somehow we got everybody enrolled. I don't think there was a real big problem. In July 1966 people were enrolled, their Medicare cards got out to them, and it was really an exciting time.
It was a challenge for the Agency and one that we took a lot of pride in because we were able to do it and get it done on time. Baltimore was busting at the seams, too, not only in terms of getting people on the rolls, but also the providers certified and included. It was a massive effort, and it was a brute force effort that SSA took because the systems were antiquated. I think we just started to get, I guess what became the SSADARS system, at that point in time.
Q: Teletype?
Failla: Yes, the teletype machines, and it was still a very labor-intensive and paper-intensive process. There was a great amount of pride in getting everyone on the rolls at that point.
This ended my career in the field. I spent 4 years, almost to the day, all in the same DO, training, CR'ing, and supervising, which I guess is a little bit unique. It was really a good time. You left work every day with a sense of accomplishment and a sense of having done something useful. I would not have traded it for the world.
Q: Before we leave your career in the field, I want to go back to the two-week training period in Baltimore. Can you tell us a little bit about what happened there and what you did during that two weeks?
Failla: Yes. As I said, it was one of the highlights of the training program, and it was there that I clearly realized that I would end up in Baltimore one day because it seemed so exciting with some of the kinds of work that was going on.
They broke everyone down into classes of about 20. They taught you basic program philosophy, and also some basic analysis techniques and things that would help you on the job. The clear focus of the two-week period was to come out with an understanding of the organization, the interrelationships within the organization of SSA, and the program from the beginning until that point in time. What were the significant pieces of legislation over the years; what was the original intent of the program, how things evolved, how disability and health insurance were really intended to be part of the original Act, how through the 1940s it was introduced and reintroduced without success, and what had taken place during the 1950's before they could overcome some of the American Medical Association objections to the disability program. Because you have to understand that at that point in time there was a great fear that this was going to give the federal government a foot in the door to socializing medicine. That wasn't the intent, and it obviously did not happen, but that scare still comes up every so often. It came up with the health care reform efforts two years ago and will continue to come up.
We got a chance to meet with leaders of the program, and that included every one of the Bureau Directors. In 1965 the Bureau of Old Age and Survivors Insurance was abolished in a reorganization and the old components of BOASI began reporting directly to the Commissioner, so there was no longer a Director of BOASI, as such. We met each of the Bureau Directors, and they talked about their organization. We met with Vic Christgau who was originally Director of the Bureau of Old Age and Survivors Insurance (he was also a former Congressman) and Bob Ball, Art Hess, Jack Futterman, Hugh McKenna, Joe Fay who ran the Bureau of Data Processing and Accounts which was the systems organization at the time, Tom Parrot who was in charge of Claims Policy, Ida Merriam who ran Research and Statistics, and Bob Myers, who was the Actuary.
One of the things that really struck you as an employee was the scope and depth of the program, learning about the history of the program, how it evolved, what kinds of studies were done to get things moved from one spot to another, and developing a relationship with the leaders of the program who you could look at and say: "Hey look, they started just like I did." Bob Ball was a Claims Rep and a Field Rep in New Jersey, and came into headquarters in the training office, and then went to what was then called OPEP (Office of Program Evaluation and Planning) which was the legislative arm of SSA which did most of the things that OLCA (Office of Legislation and Congressional Affairs) does now. You can see all of these people had come from the field organization, and were able to come up through the ranks and become leaders of the program. Boy, if that didn't do something for your morale, looking at a career in the future, I don't know what could have.
It really was a striking experience, and I do not think I would have traded it for anything. The program knowledge you got was just so useful in doing your day-to-day job and talking about the program in general to the public. As I said before, and I'll say it again, I wish we could do something like that again.
Now, let's go back to 1965, 1966. I guess because of Medicare, because there was a need for additional people here in Baltimore, also some needs in the Office of Disability Operations where the Baltimore Payment Center was (as they called it at the time) because of the growth in the disability program, there was a good deal of recruitment going on. What that recruitment was, was recruiting people from the field to come into headquarters. That's the way we did most of our headquarters recruitment at the time. There were a couple of exams they gave. The Standards & Methods Test was one of them. We had our own internal intern program. We had a limited external intern program for people coming from outside of SSA. You would take the exams, people would look through these lists of potential people, come out and interview you, sometimes offer you a job, and that was the way I got to Baltimore. This is how I ended up in the Office of Research and Statistics.
The first person who came to interview me was a man from the Evaluation and Measurement Systems Staff. This was a relatively new organization. I don't think they started until 1963. It was soon after I had come on board. It was a somewhat unique function to the government, and it's something, after SSI, I think we got away from and got kind of confused. What this function was, was evaluation of the policies that the people in the field were working under. Now this was not quality control, not quality assurance as we typically know it. The quality assurance we had in those days was 100 percent review of every claim at the Payment Center before they effectuated payment. That was your quality control. This was a small sample to validate the policies that we told people to carry out.
One of the ones that we looked at very early was something called the C-2/C-3 Rule. If you got information from the husband about his marriage and you got information from the wife during her interview about the marriage and there were no discrepancies, we did not need a marriage certificate to process the claim. Similarly, unless someone was born in 1900, if the date of birth information was consistent between the SS-5 that the person filled out when they applied for a Social Security card and the claim for benefits, and enough time had elapsed between the two, you did not have to develop for proof of age. That was called the SS-5 Rule.
One of the responsibilities of the Evaluation and Measurement Staff (EMS) was to validate policies like that, not to see how well the Claims Rep out in the field was following the Claims Manual and the instruction, but rather, to go a step before that, and validate the policy that you had. It was an excellent program, and it was placed in the Office of Research and Statistics (ORS) where it would have support from the mathematical statisticians and the analytical type people on the staff there. At the same time it was well enough removed from the rest of SSA so that it was not tainted. They were looked at as being a very neutral body within the organization. It wasn't the Bureau of Retirement & Survivors Insurance (BRSI) worrying about how they would look or somebody else worrying about how they would look. It was a novel way of placing it in an organization, and also the fact that they were doing something like that then was a tribute to the thinking of the leadership at the time in terms of how do you make sure that we are doing the right thing for the public and for the program.
I was recruited to work on that staff. Although they interviewed me in the New York Regional Office, I would not take the job sight unseen. Myself and somebody else who also had been offered a job in Baltimore took a couple of days annual leave and drove down to Baltimore to look around. My manager knew a number of people in BHI (Bureau of Health Insurance) and set up some interviews in BHI. BHI was still part of SSA at the time, and I also had a job offer from the Baltimore Payment Center to work as a Claims Authorizer. A lot of people came in through that rank--Sandy Crank, Rhoda Davis, Nelson Sabatini. I think Lou Enoff was over there at one time. An awful lot of people who ended up at high levels of SSA came in from the field through the Baltimore Payment Center.
As I came and looked around, and since the EMS staff was part of the Office of Research and Statistics, by happenstance I ran into a man named Bert Van Engel who was the Administrative Officer of ORS. The man who was working for him at the time left to join the new Bureau of Health Insurance because there were promotions and there was a lot of growth there. Just by coincidence, the day I walked in he needed somebody, and he hired me. It was something that I will never regret. It was a fascinating job because I was able to learn more about the program and about SSA.
This just came to me and I have to say it. I remember getting my SS-5 when I was 14, getting a job, and I was an economics major in college. Ironically, for one of my economics courses I wrote a paper about Social Security and Social Security financing. I have no idea why I did that, but I did, and I had some knowledge of the place. It must have been preordained that I was going to end up at Social Security because I have no idea why as a college junior or senior I would write a paper about Social Security, but I did. I went to this organization and I knew something about them from what I had done in college.
Every District Office got a copy of the SOCIAL SECURITY BULLETIN which was the publication of ORS. It ran articles about the studies that were taking place and the results of those studies. It also had information about related social insurance programs and statistics on what was going on in the program. That came to every DO and went to every desk, so I knew about this organization a little bit.
When I joined them, it was kind of fun. It was an organization of only 250 people, and the woman who ran it (Ida Merriam) was on the staff of the original committee that put the Social Security Act together, as was Bob Myers, who was SSA's Actuary. She was an incredible woman--dynamic. In fact, she was still dynamic when I last saw her which was about eight or nine years ago when they were dedicating the Wilbur Cohen Building in Washington. I went over there, and she came bouncing around. She had to be 80 years old at that point. I said: "Ida, how are you doing?" She said: "Fine!" She had gotten there by using the Metro, and she was an incredible woman with energy like you could not believe. She ran an extremely professional organization, doing social surveys, both longitudinal surveys, sectional surveys, whole program studies--a first-class statistical organization in terms of collecting programmatic statistics about Social Security and what was going on at Social Security.
I refer to those years as my time in the University of ORS because it was more like a university than it was like a public agency or organization of bureaucrats. It worked very much like a university, doing research and publishing findings, not only inside SSA but outside as well.
It was critical and it was important because we were doing two things. We were trying not to do all of the research about Social Security in-house, but to do it well and to publicize it outside the organization to encourage academic research beyond the borders of SSA. We had to look into the program, have interest in the program because the feeling was that the more people who looked into the foundation of the program, the financing of the program and the purpose of the program, and the more work that was being done, more could get done than the government could fund by itself. It would generate interest and ideas about where the program should be going in the future.
The organization was very active in the American Economic Association, the Statistical Association, the gerontological societies, and it was a constant battle that we always had with the budgeteers at SSA. This is an interesting piece of information about the 13 years I spent at ORS. When I started in 1966, I said we had 257 people that grew to almost 400 after health insurance. Then when SSI came, we added new divisions to look at those programs. But at the time I came in, we had an administrative staff of four people, the administrative officer, myself and one other person, and a secretary. Our job was to do all of the administrative stuff for ORS. What that meant was you did the budget, you did all of the personnel work, you wrote new job descriptions, and you set up new organizational structures, and you went to the Civil Service Commission when we identified somebody at the university we wanted to pick up. It was our job to go figure out how to get them off the Register, and the right Register, and we were probably one of the few organizations in SSA that was hiring anybody above the entry level grades. We would hire up to grade 15 and the equivalent of SES at that time from outside.
My job in the administrative staff was to do whatever we could to get management the resources they needed when they needed them, and to not bother them with administrative detail which was great because we were in all of the meetings. We had to know what was going on because you can't write a budget for a component if you don't know what is going on in that component and where they are going. You can't do an organizational structure for them.
It was Ida's feeling that the people she hired to run the components of ORS were professionals and were experts in their field of study who she expected to be contributing people on the research side. Therefore, I don't want a Ph.D. economist who knows public financing to be worried about writing a job description for a grade 12 on his staff, or to write a budget request. The whole philosophy was that you have a support staff that truly supported the managers so they didn't have to get bogged down in administrative details. That was an interesting philosophy of management, and I learned a number of things from it.
Also, it was an organization that was run like a university where the boss wasn't the only smart guy. It was a bottom up, top down organization. We had a work planning process that was extremely rigorous where each year individual analysts at the grade 12 level, grade 13 level, grade 14 level, would propose projects and areas of study for the next 2 years. Their research proposal in effect went before their branch in their division. If it made it through those levels, it came to the Assistant Commissioner, which was the job title at that time. Ida and her immediate staff, who were the Executive Officer, her Deputy, and the Chief Mathematical Statistician, and often some of the Division Directors from other divisions, would look at each one of these proposals, have the person there explaining what they were trying to do, why they felt it was important, and then make a decision individually on each of these projects that we would commit some resources or not commit some resources. It was an incredibly rigorous process, but a good one. And it was a good management style because it was expected that people at the lower grade would be knowledgeable about where they should be going, what we should be doing. I think it affected the way I managed later on in my career. It's not important for me to have all the answers and give all the instructions, that people should be piping things up. If it's worth it, let them go and let them run with it, and I thought it was a very effective way to run that organization.
In some ways even though it was called the University of ORS, or worse things than that, it was different than the rest of SSA in the way it was run day-by-day. It was somewhat comparable to the Office of the Actuary to a degree, but I guess it didn't fit the SSA mold. The rest of the SSA organization, then and now, is to my mind much, much too top-down. We don't delegate responsibility, much less authority or vice versa. I think authority is easier than responsibility. We have top leadership working on and worrying about the wrong things. I think it does not help the Agency. We have a tremendous number of bright people in the organization. You don't want it to add to your chaos, but it seems to me we could do a better job than what we do now with the top-down focus and structure that we have where the most minute activity has to get up to a very high level in the organization.
Let me give you another little anecdote or tidbit. ORS came into difficulty in the 1970s when the first "lion" retired. Bob Ball would annually have a work plan meeting, not only with ORS, but with every component in SSA--what they were doing, where they were going for the next year or two and discuss what things they needed to be looking at. Bob Ball, and Art Hess when he was his deputy, did this, and he did it with every component. He did it with ORS. He would sit there and talk about what areas of research he thought might be useful. He understood the data. He understood research, and he would do that with all of the components. In the course of some of these work plan meetings you talk about a project: "I want to do a survey on the disabled." Bob Ball would say: "Okay, do you think we can do it? Do you have the wherewithal to do it? Is this what you are going to try to do?" He would say: "Yes, okay, you tell Ida," and Ida would get the money.
When I left ORS in 1979 (I would probably still be there if my job was not abolished) I went into the budget analyst who was handling the ORS budget at that point and I said to him: "Show me last year's special objects budget for ORS that went to the people in OMBP in the budget shop." He pulled out two or three two-inch looseleaf binders that had all of the documentation to justify the research budget. This is external research, extramural research, dollars that we needed to go outside with. I said: "How much money are we asking for?" It was somewhere between$10,000,000 and $15,000,000 for outside studies and research. I said to him: "Let me show you the budget for 1967." It was eight double-spaced typewritten pages asking for about $7,000,000 to $8,000,000, because we didn't have people second guessing the people who were in charge. Bob Ball had enough confidence in Ida Merriam to know how she ran that organization and how she looked at things that the things that should be done were being done, and that we had the money to do it. He would say: "Okay, go get it," without knowing how much it would cost. It's not to say we did not have some battles with the people in budget. "Bob Ball didn't really say that. He didn't really mean that." They handled it. In general, there was much more trust and confidence in people to say: "I need this many horses to do this job. I need this many dollars." There was enough confidence in their integrity and their ability to give them the money and give them the resource, and let them run.
We have gotten away from that. We just kill ourselves to death with detail after detail on every single little item. On paper it may look like it's efficient and we are safeguarding the dollar, but the final remark I made to that budget analyst was: "I'm going to tell you something -- the quality of the decision-making process to get that $8,000,000 of research money and the production of this eight-page document was better than the quality of the decision-making process that forces you to create three two-inch binders worth of documentation and cost benefit analyses to get something done."
When we get to the part of this interview where we talk about strategic planning, I will come back and use that analogy again because one of the things I think hurts strategic planning, that is otherwise necessary and critical to an organization, is bogging it down in paper. We will get to that in a little while.
Q: One thing about ORS that always has interested me is the fact that you had ORS in Washington and ORS in Baltimore, and to some degree they were two separate cultures. Tell me your perspective of the relationship between those two parts of the organization, how they worked and what that was all about.
Failla: That is a very interesting question, Mr. DeWitt. There was a foundation for the split between Baltimore and Washington. It goes back to the origins of the program. The Social Security Act in 1935 established not only the Social Security program as we know it, but I talked to you before about us being the Bureau of Old-Age and Survivors Insurance. We were one part of what was called the Social Security Board. The Social Security Board was housed in Washington and was not limited to Title II social insurance benefits. It included Aid to Families with Dependent Children. It included private pension activities. It included what became Family Assistance. In any event, there were other related programs within the Social Security Act that were created at the time, and the research function for those activities rested in Washington.
In Baltimore there was an organization called the Division of Program Analysis which worked very closely with the legislative people and with the Actuary's Office (the short-term Actuary people). They did some limited studies and did some basic statistics on what was happening in the program--generating program statistics from the Administrative Records System because nobody wanted to build a separate structure to do that. Most of the data on program statistics came from the Administrative Records System. That part of the organization was here in Baltimore and was reporting to the Bureau of Old Age and Survivors Insurance directly.
In the reorganization of 1963, that Division of Program Analysis went away, Ida Merriam was in Washington running the economic research, social surveys and interprogram studies activity, and an international staff that were involved with international organizations, and with the International Labor Organization (ILO). In the 1963 reorganization SSA came into being as we know it today. Ida was given this research function and they added to it the statistical activity that was going on in Baltimore and some of the program studies that were being done, principally to support current legislative activities. That's the reason why one started in Washington and one started in Baltimore, and it continued on that way.
Ida was very adamant about not leaving Washington. Not to be snobbish, us locals always know the difference between Baltimore and Washington and why we can never be Redskins fans. Washington is a much more cosmopolitan city, and there was a real belief that we could not attract the same staff to Baltimore that we could attract to Washington. People from a university environment who wanted to come in might come to Washington, but they wouldn't come to Baltimore. She always maintained that function in Washington and she always recruited that way. That is one of the reasons why it was physically split.
In fact, I must tell you that it was difficult in that you had to relate differently to the people in Washington than you did in Baltimore. When I was on the administrative staff, and later on I ran it, I remember that early on something happened that we had to explain to the managers. I don't know whether it was a change in the promotion plan or the first union agreement. I don't remember specifically what the subject was. My job was to do presentations to the staff who worked in Baltimore and explain what was going on and how it worked, and how it didn't work. The man who was Executive Officer of ORS at the time, a man named Hyman Cooper, sat in on my presentation. He said to me: "You are going to do this in Washington, now, right?" I said: "Yup!" He said: "Well, you can't do it the same way." I said: "What do you mean?" He said: "You can't talk to the people in Washington the same way." Sometimes the people in Washington would refer to "those people over in SSA." They had this identity with the Department and that community, and they couldn't care less about bureaucratic procedures that were going on within the building. You let them know about it to keep them out of trouble, but you didn't expect them to take notes and do it that way.
It was a very interesting environment and it was truly different. The kinds of people they attracted were different. How they saw things were different. When we created organizations after that reorganization, like when health insurance came on board, when SSI came on board later on, we had the same kind of split. The statistical and the program-statistical type functions remained in Baltimore, and the research-survey type function ended up in Washington. It paralleled the prior organization. I don't know what's going on now. I think it's pretty much all gone. That's the way it was done, and there were some benefits to it.
Q: Ida Merriam left around the time of the 1972 election, and Bob Ball left as well.
Failla: Yes.
Q: Who took over ORS after Ida Merriam? Tell me what happened after that?
Failla: I came on in 1966, and she was already planning her retirement. Talk about good management and foresight before the Harvard Business Reviews and others started doing succession planning, she knew that the person to replace her had to be an economist. It couldn't be a statistician. It couldn't be a social scientist. It could not be a survey researcher. It had to be an economist. She went about trying to find an economist. She also felt it would take at least five years for somebody to come in and to become a replacement; you just did not do this overnight.
She did not bring somebody in as a deputy to replace her. She went out and recruited Jack Carroll who was a Ph.D. economist--I think he was at St. Lawrence University and he was somewhere else as well-- whose reputation was public finance. He was well known in the field. I might add people knew about SSA. When I used to do recruiting, they would know about Ida Merriam. They would know about Jack. They would know about the people when you went out into an academic setting, and what kind of work was being done.
She recruited Jack and we brought him in as an equivalent of an SES. We brought him over and put him in charge of the Division of Economic Analysis, or whatever it was called. He was the economist doing long range research, conducting studies, and he came in as that Division Director. She did not want him as her deputy, but she wanted him to be down there running, contributing, doing something that was important, and learning about the inside part of ORS and the rest of SSA. Everyone knew that five years later he was going to become the boss. People on the immediate staff knew that he was going to become the next Assistant Commissioner for Research and Statistics. She did leave in the early 1970s and things changed then.
(Ed. Note: Ida Merriam retired in July 1972.)
I guess it's worth a moment of reflection. In 1968, to be honest, when Richard Nixon was elected, it was clear that he wanted to replace Bob Ball. Although Bob Ball was a bureaucrat like the rest of us and started in the ranks, he was really the consummate politician. He never really worked for any Secretary of Health, Education and Welfare, with the exception of maybe Wilbur Cohen, because Wilbur Cohen was part of the group. Wilbur Cohen was on the original staff of the Office of Research and Statistics, as was Isy Falk and some of the other names that we know from the beginning. Bob Ball worked directly with Capitol Hill and he was very powerful. He was almost like the J. Edgar Hoover of Social Security. He was bigger than the cabinet official. He had his contacts on the Hill. He and Wilbur Mills were very close (this was before Mills fell in the Tidal Basin), and there was a partnership between the people in SSA and the people on the Hill, not only in terms of funding and appropriations, but also in terms of the direction of the program. The people who are now in OLCA worked hand-in-hand with the people on the Hill in drafting and developing legislation. I know you interviewed Mary Ross at some point and she was there. We stayed out of a lot of trouble administratively because these people were working so closely on the Hill writing the legislation, what does it mean, how will we implement it, and I think we got better legislation as a result of that kind of activity.
In any event, I think Nixon did not want Bob Ball. He was here three months and Bob Ball had enrolled Bob Finch (Secretary of HEW). "Don't worry about it, you stay and run the Department and I'll take care of Social Security. If you need me, I'm here." Finch immediately took Bob Ball's word for any of it and Ball did what he wanted to do. I think it also came clear early on that given his following on the Hill, despite the fact that he got the normal resignation letter, Nixon could not get rid of Bob Ball without an enormous amount of political infighting; so Bob Ball continued on. After he won the election in 1972, he didn't care any more, and at that time he did accept Mr. Ball's resignation.
One of the ways I know this is that in 1969 (maybe 1970) I was in Washington one day, and I came back on the shuttle bus, and there was a man on the shuttle bus who was talking. The man was coming over to talk to Bob Ball and it was clear that he believed that he was going to be the next Commissioner of Social Security. He was probably the second or third (maybe fourth) political appointee in the organization's history. There was a guy named Hugh Johnson. Chris Guy, I guess, was a political appointee. Hugh Johnson who worked in the Commissioner's Office and a guy named Dave Williams came on during the Eisenhower years as a political appointee, not to SSA initially, but to another organization, and then came over to SSA. Up until that time we had three or four Schedule Cs ever in Social Security. This man came over and it was clear he was telling the bus driver that he was going to be Commissioner of Social Security, and that man's name was Sumner Whittier. That was my first encounter with Sumner Whittier. What actually happened, however, was during that first Nixon Administration the Family Assistance Plan project started in Washington, and we had people working over there. Whittier ended up coming over as the Bureau Director for the new Supplemental Security Income program. I'm sure you will get much history about that elsewhere.
Things were changing. During that time when Nixon came in, I think Ball realized he was not going to be around forever nor would the top staff. In 1968 or 1969 they started two programs, the Staff Development Program which is the equivalent of the Mid-Level Management Program today, and a Fellows program (I think it was called) that was for grade 14s and 15s that was supposed to develop the people who wanted to be leaders the next time around or for the next group. Both of those programs ultimately failed. The reason they failed is because the components looked at some of those programs and used them as a dumping ground for people they didn't feel they could promote within their organization, and to mollify some. There were some good people who were selected, Herb Doggette being one of them. I think Herb was in that program. But it also became a dumping ground and never really worked.
I thought that was one of the failures of the first generation of leaders. They were there from the inception of the program, and I think they thought they were going to go on forever. I don't know that they really created a second tier of people, other than Ida. They didn't create the people who were going to replace them because most of the people who were working with them and were close to them were contemporaries. In the late 1970s we saw a void in the organization. There were some people who were there who had come through, like Bob Bynum, who came to the fore at that point, but in general, I really think there was a gap and a void in the organization because I don't know that they paid enough attention to developing people to take over for them.
We are now in the early 1970s and Nixon does take Ball's resignation in 1973 and Bruce Cardwell came over to become Commissioner of Social Security. He was the Comptroller in the Department at the time. He was also a career person. He was a very good man with a different managerial style than Bob Ball. I think he was here to do two things: to get a handle on SSA, for the Department to have more influence and for the elected officials to have more influence, because we were running wild over here. Their view was that we would do whatever we wanted over at SSA. There was also a shift to the bean-counters, frankly, where everything became cost/benefit analysis, and it changed the way decisions were made. It changed the way projects were funded.
Cardwell also had a legislative agenda. He had the great task of undoing the problem that became known as the notch, which was a heck of a job he did in terms of getting that legislation through. The dynamics, the personality, and the focus of the agency, not to mention the difficulties that came out of SSI, changed the agency.
Q: In terms of the role of ORS, I have the impression that in the early years the research that you folks were doing to a considerable degree was driving policy in the Agency. Then somewhere down the road that became less the case, and the research became somehow more abstract and less connected to policy drivers. Is that correct?
Failla: That is correct.
Q: Is it part of the same change that you were just talking about? Or did it happen later?
Failla: I think that also started to happen in the 1970s and the telling blow was in the 1980s. Let me see how I can put this delicately. Part of the reason for the research was that there's more than one bill being considered in the Congress at any given time. We had a very close relationship with the Hill. A lot of the research was done to show where we should be going--studies about people who were above and below the poverty line, for example.
I can't forget Molly Orshansky. Ida, in her wisdom, early on had a woman who was working for her named Molly Orshansky. Oh, what a character--brilliant, and I loved her office. She had steel racks with computer printouts all over the place. Molly developed the poverty index. Now somebody would say: "What the hell does that have to do with Social Security? Why are we paying somebody on our staff to do this? Is that getting benefit checks out every month?" This was the mentality of some people in SSA. Ida thought this was important. We need to have some index, some way of knowing who the poor people in this country are. Who is affected by something. What happens when you introduce a program. How do you measure what improvement it had and what impact it had, and did it do what you intended it to do? I think that the driving focus behind the whole research activity is: who is the population out there? The original survey of the disabled. What is this disabled population. Who are they? What are they? I think some things came along in disability--health stuff. In any event, Molly developed a poverty index.
Q: One that's been used government-wide since its adoption.
Failla: The joke was there were a couple of people who did this, and it was the best thing in government; it became the standard, and it was used by everybody. It was used by Bob Ball in testimony. It was used on the Hill every time we had new pieces of legislation, how many people lived at the poverty level, etc., all came from this kind of an organization.
Sometimes findings were not popular. I think what happened in the 1970s is somebody felt that people were doing their own thing.
The original founding fathers of the program really had a design of where this program should be when it reached maturity. Obviously the political process doesn't work that way. Nobody buys the whole pie. You get pieces and I guess there was some sense that these people who were leading the research effort and doing these studies had a hidden agenda and they were doing things that would support or come up with findings that would support the direction that the program should be going.
The kinds of people we got from outside were generally supported, and the integrity of the work products themselves, and the validity of the techniques that were used, were not generally questioned. But some people thought the founding fathers, with their long association with the program, were just laying out the happy plan and getting there. And I think that in the late 1960s and early 1970s, that the other side was a little alarmed and nervous about it.
And I think that there was much more of an emphasis on looking at what studies were going to come up before they did it. Well, it's hard to do that, if you're doing real research, and clearly in the 1980s, there was a lot more attention on some of the activities that were going on in ORS and much nervousness about what the findings of the studies were, whereas initially, or early on when I was there, there was never any question about publishing our results. In the 1970s and the 1980s, there began to become some question about publishing results and also about embarking on studies for fear that we don't know what the answer was going to be.
So I think this sort of fit in with the politics of the times--this delineation between liberal and conservative thinking being that what these liberal policy wonks were coming up with is going to be not good in a conservative administration. Beginning in the 1970s--talking about the bean counters--that was one of the ways we did it, but there was much less emphasis, much less support for basic research and ultimately almost a breakup of ORS. What exists now is a mere shadow of what that organization was during its heyday.
Now I'm biased, because I was there, I saw it, I was impressed by what was going on and how it was being done. But clearly--and I'm not putting this on a political party, whether a Republican or a Democrat-- I think there's more concern about information that comes out and how it comes out and its effect and the effect with the media and how it makes people look, and maybe there's a little piece of honesty because of media attention that is lost in the process now.
Q: Now let's talk a little bit about the leadership of ORS from that period 1972 until you left in 1979. There was Jack Carroll. Was somebody after Jack before you left or was Jack there the whole time you were there?
Failla: Jack was there until I left, in fact he was there after that for a while. I spent a good number of years, 5 or 6 years, in health insurance, and that too was split the same way, the research and the survey branch being in Washington, and the statistical and the program studies and the current Medicare survey--that was the survey we tried to do ourselves--and that was housed in Baltimore because we needed the clerical work force to process all the information that was coming in.
That was an interesting experiment as well. When disability was formed, they had their own small program studies division and their own statistical organization which was headed up by a guy named Aaron Croup. And that's when Art Hess was the Director of the Bureau of Disability Insurance (BDI). And then when they were forming the Bureau of Health Insurance, the task force to create the new bureau and most of the people, or a good percentage of the people, came from the old BDI.
And it was kind of interesting that people--and Aaron Krute was one of them, he ran the program statistics function, workload and operating statistics function in the Bureau of Disability Insurance--felt they were at a disadvantage when they tried to recruit people, statisticians and economists or social scientists, because they were over there and they couldn't compete with Hess because professionals in that area like to be with other people like themselves. So when health insurance came along, he said he felt that the function that he had should be part of the new organization that was being created in ORS. And another unique thing is that the organizational structures mean nothing, it's people that count. So he was making input to that and he was being recruited to head up the Baltimore part of the Health Insurance Studies Division. And Hess knew Aaron and had a good relationship with him from the BDI days to the point where he said "Okay, I agree with you, we want this program statistics function--the workload and operating statistics activity--to be part of this Health Insurance Studies Division in the research organization, and you will be a part of my executive staff."
So even though Aaron was in ORS, Aaron went to all of the BHI executive staff meetings. And he was providing them with statistics on providers and intermediaries and carriers and how well they were performing, their processing time, and all workload and operating statistics for the new bureau, even though he was not part of that bureau. I can't think of people wanting to share like that these days; especially without trading for the FTE (full-time equivalent, i.e., the job slot) instead it would be: "Oh my God, I don't want them knowing my business, close my walls around me."
I spent a number of years there. I did spend about a year-and-a-half in the Workload and Operating Statistics Section on intermediary statistics. Thank God I got out of that job, because I was a lousy statistician. I was there about a year, and Aaron Krute and Howard West who ran the division from Washington, asked me to come up and work in the front office because we were having some organization problems, budget problems and things, and asked if I could come and be something like a staff assistant, which I did and I thoroughly enjoyed the work--they were two great people to work for. And we had Dorothy Rice who ran the Health Insurance Research Branch in Washington, and who later went on to become the director of the National Center for Health Statistics. That is another anecdote I could throw in here too.
Around this time (1975-1976), Dorothy left to become the director of the National Center for Health Statistics. And she had been there for three or four months and the Associate Director for Program Support, which included all of management activities and functions, retired, and she recruited me to go over to the National Center for Health Statistics in Rockville. And I did that, and I lasted six months. I left SSA and I lasted six months. The job was good, the people were good. It was like being in the Office of Research and Statistics, that's the kind of function it was. They're responsible for vital statistics, marriage and divorce statistics, birth and death surveys, health interview surveys that they do keeping track of people over time and illnesses. And it was a research organization--the same kinds of people. And I went over there, and I was lost. I didn't think the transition would be difficult, because it was a similar kind of organization with similar kinds of problem solving there that I had experienced in SSA. And the job was pretty good, except that I was lost. I could not embrace it the same way I could embrace ORS because of my attachment to the program. The National Center was strictly a research organization; it wasn't around a program. And I also did not realize how important the SSA people were to me, after 14 years. The extended family which was SSA is one of the beauties of SSA as an organization. (Although there is a negative side in being home grown and all from within, we sometimes get tunnel vision.) But the other side of it is the people part, that interaction becomes very important and affects the way you do your work and how you do your job. And I really did not know how much that extended family meant. So at the first opportunity, I came back to SSA and I knew then that I would die in SSA; I would never ever leave because I didn't want to. Because the identification and the association with the program and the association with the people over the years was something that was very important to me. And that's how I came back and how I spent the rest of my time here and that's why I don't work anywhere else. If I wanted to work, I would work at Social Security.
Q: During that time that you were in ORS, in addition to Medicare, SSI also came in. Am I correct in assuming that those were the two hot areas of research during that period we are talking about from 1966 to 1979.
Failla: There was a considerable amount of work done about the poor before SSI, and we did keep track of those programs. We had this Interprogram Studies Branch because it was important to see how the whole population fit in the country. And the people who were getting those welfare benefits from the States--the blind and disabled--were something that we always tracked. So we had a core of people who worked in that area and knew something about it. And obviously with the new program coming on, there was a need to set up a similar kind of structure to look at the SSI program, like we looked at the other programs. And again program statistics--what's going on, what's happening, who are the people getting benefits, where are they, how much are they getting, who are the people coming on the rolls, who's not on the rolls, are there still gaps of people not covered for certain things--that's the whole basis of ORS type activity and we did the same thing with SSI.
I'd like to talk about a little bit about SSI, but in a different context.
SSI, and health insurance to a degree, certainly disability to a degree, changed SSA--and some people will not like what I'm going to say.
We had some difficulties in the disability program. We do to this day. We had difficulties in the health insurance program before it was shifted to Health Care Financing Administration (HCFA), but still a lot of those people are the same SSA people. And clearly, we've had some difficulty with SSI.
SSA built its reputation on the Title II OASI program. We were invincible; we could do anything. Give it to them, they'll handle it. And we did handle what was given to us and we did implement disability; even though we had some problems, we did implement health insurance. But these programs were much different.
What we were good at in SSA was creating an assembly line for what was essentially a straightforward clerical function. Give them a card, give them a number, get their earnings, track their earnings, compute a benefit, put the check in the mail. Very simple program. Not that much interpretation. Not too many fuzzy lines--either you had insured status or you didn't have insured status. The computation--which you could do by hand in the old days when I started as a CR, you could actually compute by hand. Disability was different. Policy couldn't be written in the same way; it's not insured status or not. What's the degree of disability? And I think the people out there were uncomfortable with it.
Health insurance had less direct impact on us even though we did enroll that population; we did handle complaints, we did try to help people when they ran into difficulty with the carrier. That service is still needed out there, I don't know who's doing it but I still think there's a role there because they identify us--Social Security--with that health insurance. But basically, it was a contractor program, it was contractor administration, it wasn't running something day-to-day and paying the benefit, and I think we had a lot of trouble. We didn't know what we were getting into in terms of how we set up "reasonable charges." I don't think we knew or could anticipate that the way in which we set up that mechanism for establishing reasonable charges would lead to incredible inflation, because even though we weren't paying a given provider in a given year--and doctors in particular--all they had to do was start billing us at the higher rate. And the next time around, we increased their reasonable charge--it was crazy.
On the hospital side, we didn't know how to do real good auditing and cost accounting, and I don't think we did all that well. I think some of the problems that we have in the Medicare program come from our lack of expertise. And in general, we did bring some people in from the outside who had some knowledge of the health industry but this pride--almost false pride that we have in SSA--that we can do it and we know how to do it our way, I think hurt us. I think we should have been much more open in terms of the kinds of people that we brought in when we were starting to run those programs.
SSI, I think there too, we made some mistakes about chemistry, about how it would impact our offices, and we totally misread how that program would evolve. The aged part, which is what we thought was the big piece at the time, seemed easy, after all, this is just helping people that didn't get Social Security or didn't get enough Social Security to get above the poverty line, and what's the difference between that and taking a claim for retirement benefits? As it turned out, it was quite different. Because of the policy areas, especially the whole postentitlement process, it was much different.
In Social Security, the postentitlement operation is basically a few things. Change of address, coming of age and coming off the rolls, doing a recomp on benefits, and figuring out the retirement test; that was the big thing, the retirement test. The earnings record comes in on an earnings statement, you compute the benefit amount, and you give out a benefit. Now with SSI we had a program, even for the aged, of all the "ism's"--like in-kind support and maintenance--what does that mean and how do you do that? And I don't think that we anticipated that well how we would do that in a structured way, in a mass-production way.
I don't know, I may be wrong here. I know we recruited people in the field that worked for the States. I know we had people in the regional office that worked for the States, and I wasn't that close to SSI, but I'm not sure we hired a lot of people from the outside with experience who were in there at the formulation of policy and procedure on how we would do the job.
Q: How about preparing the agency for the culture shock that SSI was going to become for the people in the field offices because of the different clientele and the different nature of the interviews? Did we do anything that you are aware of to train people for that culture shock? Did we expect it or did it just hit us?
Failla: Again, I was far removed from operations at the time and far removed from the field. I cannot believe that we didn't do something. But I do know the anecdotal stories that I heard. Even if we did some, we didn't do enough or the right job.
Clearly, to me, what I heard from the people I knew was that they didn't want any part of it in the field office. That's where we had the separation between Title II and Title XVI; some say it was because of complexity and there was too much to learn, but in fact we had a significant portion of our staff who did not want to go near an SSI beneficiary claim. And part of that was because of the culture of the organization. "You're here because its an earned right. I'm here to serve you because you paid for this personally." With SSI it became, "You're coming to get something for nothing."
We never got that message across--that's number 1. Number 2, I don't think anybody anticipated the volume and what that did--and I certainly believe it hurt morale, even though at the height of the Medicare enrollment period, we had a lot of people. Certainly we didn't have to hire buses (to hold people awaiting interviews). I think it's a function of society a little bit. It was a have/have-not look, and I don't think anyone wanted to be associated with the have-nots. So I don't know how you could have done it better. I think, given the closeness of the activities, the network of offices that we had out there, that it was perfectly logical that a program like SSI be incorporated as part of Social Security. We don't want a Railroad Retirement Board situation--which doesn't serve their clientele very well because they're centralized and there's no real field network. But I don't know how we could have better prepared the field for what was to happen. The up-side was that it created tremendous growth in the organization and opportunities for people, we did an awful lot of recruiting; but even there, I don't know if we changed what kind of recruiting we did.
Should we have had a different kind of person with a different kind of background that we recruited into those positions? Should we have had more of a focus on going out and specifically looking for people with a social work background? We just went and got liberal arts people like we did before--any size fits. And I wish I could say in hindsight I could pinpoint what we did wrong and how we would do it differently. I don't know but I still believe that this ego that we sold ourselves on how good and smart we were because we were able to run a very simple program very well--and we could do it our way and we approached it the same way--backfired a little bit and maybe we needed different kinds of input from people who had more experience than we did.
And I don't remember--Sumner Whittier was there, but Sumner really didn't have experience in welfare. Cotton was there--I didn't know him that well, I think he came from the State side. Danny Bidmar, I think, but I don't know that we had enough people in the leadership positions --they were just SSA retreads. I don't mean that we took the dregs and put them over there, because there were some really good people over there--Renny DiPentima, Lou Enoff, Nelson Sabatini--but we took people with SSA experience and put them in the major leadership roles and policy-making roles. And I don't know if that was the right thing to do, but again, our attitude was we know better than anybody else and we could do it.
Q: In the middle of 1979, you took a new job in the Office of Governmental Affairs. Tell us about that, what was that? That sounds like a dramatic change in your career.
Failla: It certainly was. It was part of the 1979 reorganization of SSA. After Cardwell got the 1977 legislation through, he retired and Stan Ross became Commissioner, and within six months, Ross reorganized SSA. It was the first massive reorganization of the agency since 1962-1963 and it changed the way organizations would function and operate. It was an effort to get rid of "support staffs" because they were overhead, and my job was abolished.
So that ended my career in ORS. And for a short period of time I went to work as the Director of the Division of Surveys and Audits in what was then part of the Office of Finance, Assessment and Management, under Frank DeGeorge. I was there for a few months in a temporary position; there was still a lot of flux in the agency--there were a lot of people at a number of different grade levels who were in temporary jobs as a result of the reorganization. And then there was a "draft" held, and the draft was of all of these people, high-level people who were not permanently placed, and the Associate Commissioners and Bureau Directors drafted people. And I got drafted into the Office of Governmental Affairs.
Leo Corbett was in charge of the Office of Governmental Affairs, and Janice Warden was the deputy there. And I guess one of the reasons I got drafted was because even though I didn't work there, I helped them set up their organization. I had known Janice Warden from her days in the district office in Brooklyn--she also worked in Borough Hall--and when she came up from Atlanta to work in OGA, she was having difficulty setting up the organization and needed some help with setting up a structure and setting up an administrative office and function, and she asked me did I have anybody who could help her? And since my staff was being abolished, I said yes, and I detailed a few people over to her who started working in their organization and setting up the whole function. And maybe that's how I ended up on their draft-day list--I don't know. But I'm sure that the fact that I had known Janice and I had met Corbett once or twice helped. I got interviewed by Corbett and Paula Petkin, who was the chief recruiter for Stan Ross and was interviewing most of the grade 13s, 14s, and 15s in SSA--deciding their careers for the rest of their time on a half-hour interview. Which I thought was amazing in itself. But that's how I ended up in the Office of Governmental Affairs. Needless to say, it was different.
Q: Let me just ask you, before we go on, about the draft pool. Was that a formal event in which people sat down and traded lists, or are you using that as a metaphor?
Failla: It was literally a draft. They had a list of people in the Office of Human Resources--I think Lou Enoff was down there at that point. And they had all the people that were not in permanent jobs and they listed them. There was a logical placement for some because their old component sort of continued, just with a different name and place. But there were a number of people who did not have permanent placement and they actually sat down around the table and picked people. Now the reason I know, we had a similar process later on because after I was in OGA, there were still people at the mid-management level, grade 12s, 13s, a couple of 14s, that were still not placed. And I remember going to a meeting in the 917 conference room with representatives from the different components and that one was part draft, part placement.
There's an anecdote: I wanted to hire a guy and Janice wouldn't let me hire him because she had already hired his wife. And she said, "this wouldn't look good if we had the husband and wife in the same office." But I had him working for me on detail. And when I went to this second placement meeting, Enoff said, "Oh, Failla, he's already working on detail in OGA?" I said "Yes." So Enoff said "he's yours." But there was partially a draft and partially an ultimate placement-- "okay, you get this one, you get that one."
Q: What was OGA like? What did you do there--was it a big change?
Failla: It was a very big change because it was areas I had not been involved in and it was also part of that reorganization, they created sort of an artificial split. Before, they used to have an office called External Affairs--I think it was. Tom Parrott headed it up and Sarah Judy was there, and it combined the public information function and activity-- all the PI stuff that goes out to the field offices and the advertisement stuff, and that public affairs information function was part of it--it also included the Office of Public Inquiries and included some State and local relationship functions and there were some other pretty decent-sized activities in that office.
But in the 1979 reorganization, they split these two organizations apart. And public information, or the Office of Public Affairs, was separate and distinct and that was basically the whole public information activity of SSA--putting out the monthly information stuff, the packages that went out, the local spots, publishing the OASIS, and that kind of activity was one office, which was reasonably small, and the rest of the organization--the Office of Public Inquiries--became part of OGA.
One of the things that was supposed to be a big part of that OGA mission was the beginning of consumer input. And we were supposed to have an office of consumer affairs, in effect, that went out and got input from the public about the program and about where we should be going. And the other big thing that was part of that early effort was the first book which talked about the crisis in the financing of the program. It was a study that was put out that talked about the demographics and how they were going to be changing, and it was the first time you saw stuff about "some day, we're going to run out of money." And part of that organization's charge was to go out and do town meetings all over the country to explain what was in the report and to prepare people that we needed to make some changes down the road in the basic Social Security program. I don't know whether that came out of the original Congressional Commission on Social Security which predated the Presidential Commission on Social Security which ended up coming up with the 1983 Amendments. So that was a big effort and also going out and trying to get input from outside groups and that we were going to do something different in SSA.
The organizational placement was not that good because it wasn't part of the operating organization, and I don't think that the components who would have to use some of the information that we got from outsiders really would have implemented that information in their own structures.
We also started to get a lot of heat on the disability side--this was after the GAO had come out with some reports about the wrong number of people on the rolls. And there was a professional liaison staff which was supposed to be specifically working with all the major organizations: AARP, the National Federation of the Blind, and all the social services agencies the lobbyist types--I don't remember the names of all of the organizations. There were some plaintiff groups also dealing with most of the players who were very active in disability. And one of the purposes of the office was to set up a relationship and a function with these organizations to get input and to help us with changes that we knew were going to come down the road in disability and in the program itself as far as financing of the program.
So it was different, and while it was still not a line activity, it got me a chance to meet people and to work with more people in SSA that I didn't have a chance to work with when I was in ORS. So it was sort of a reintroduction back to the main function or process of SSA. And I was there from June of 1979, or thereabouts, and I was there through the election in 1980. And in 1981, we had to vacate some of our space-- we were located on the 9th floor, the 960 end of the 9th floor--and we had to make room for Dave Swope, Jack Svahn, Paul Simmons, Nelson Sabatini who was working with them, and a few people were coming in as part of the transition after the Reagan election. And at that point, nobody knew who was going to become Commissioner.
Q: Herb Doggette was Acting Commissioner for a while there?
Failla: Herb Doggette was Acting for a very short while, he was Acting Commissioner during that time. Anyway, I knew Nelson Sabatini from a couple of work contacts. . .
Q: So at this point that you're talking about now, Svahn has not been confirmed as Commissioner, is that correct? This is a transition team.
Failla: It was a transition team. In fact, we didn't know he was going to be Commissioner, the scuttlebutt was that one of them would be Undersecretary (Dave Swope or Jack Svahn) and one of them would be Commissioner; but nobody knew at that point which way it was going to end up. And eventually what happened was that Swope became the Undersecretary and Svahn became the Commissioner.
I knew Nelson from his days when he worked with Tom Parrott in the field office, I had a couple of projects that would involve the regions, and that was in the days before the Regional Commissioner was the line manager of the whole regional operation. They reported to Tom Parrott and didn't have line authority over the bureau representatives that were out in the regions. A weird time. But we had stuff that had to deal with the regions when I was in health insurance and I got to know Nelson a little bit and he got to know me. And after they came on, Svahn became Commissioner, Nelson became the Senior Executive Officer, Simmons became the Deputy for Policy and External Affairs and then the other deputy, Herb Doggette was Operations. So basically, we had two deputies at this time; that later changed as you know. They asked me if I would become the Executive Assistant for Paul Simmons, and I did. And I was there with them through the whole two years that they were there. It was a very interesting educational experience for me, because things were really hopping.
We had the whole disability mess where we had started to do CDRs in response to the GAO report, I guess at the beginning of the Administration, that was one of the focuses of the Administration. And we were starting to get hit with the horror stories that were all over the place--the strike that almost went on by the DDSs who refused to do the studies, and I know you will get this from a number of other people. It was a wild and hectic time, what was going to happen, what we were going to do with disability, finally ending up with the moratorium where we virtually stopped everything. And then we got the legislation in 1984 and the medical improvement standards which I think changed the program dramatically forever.
The other thing that was going on was systems. During the 1970s our systems deteriorated--for a number of reasons, including the influence of Jack Brooks (former Democratic Representative from Texas and Chairman of the House Government Operations Committee). When I came to SSA in the mid-1960s, we were the place that IBM would bring visitors from all over the world to show them what a model data-processing operation was. And, in fact, we did work very closely with IBM and they developed stuff directly for us. We were a showplace--the forefront of the field--and within 10 years, we couldn't buy a piece of equipment and we were still running batch operations. We still had the same teletype operation in terms of communication with the field, and we were on the brink of disaster.
And the other big thing that was going on at that point in time was Jack Svahn hiring a few people to put together a plan-- in fact, to create a crisis. It wasn't about going hat in hand and begging. It was really going up to the Hill and creating supporting stories in the media before he went and delivered the plan to make everybody scared, literally, that the system was going to collapse and the checks weren't going to go out. It was a masterful job, the way he scripted it. And I'm sure this was their intent from the beginning--to create a crisis, because problems can't get solved in Washington unless you're at the end and it's a crisis. And he in fact created that crisis, and I think we owe Svahn a debt for that because I don't think we would have started the whole systems modernization--and you can argue about some of the things and how it went--but I think he was brilliant in the strategy that he developed to sell it to the Hill to get the money that we needed. So it was very interesting to be sitting there and watching some of that from the outside, even though I'm not a systems person and I wasn't involved in the development of the SMP (System Modernization Plan), it was interesting to watch.
And of course the third thing that was going on at that time was the negotiations on the Hill coming from that report that I spoke about earlier, where the demographics were changing, and the number of workers supporting the beneficiaries was changing. They were working very closely with the Greenspan Commission in getting that agreement--the famous nonpartisan (after the election) agreement worked out to shift the financing of the program. So it was kind of fun watching. To say I was intimately involved, I wasn't. I was more an outsider than an insider, but it was not a bad place to watch from. I can't say that I earned my salary the whole time I was there, I was just watching what was going on.
Q: Tell us a little bit about Jack Svahn and his management style and what you observed about how the Agency was run during this period and what sort of a change Svahn and those folks introduced into the organization.
Failla: I think they came in with a very specific agenda on a couple of things which, I guess, is a good way to come into a new organization; don't use a shotgun, pick out one or two or three things to concentrate on, and try to get that accomplished. And I think he had a clear focus about two or three areas--the systems area being one, financing legislation being another, and what to do about the disability mess. And that's all he concentrated on.
He did not like meetings, he did not like big staff meetings. I don't think during the time that he was here as the Commissioner he ever used room 917 (the largest conference room). He would meet with the deputies and one or two other people on a fairly regular basis and they would meet at the conference table in his office.
He was a very bright man, and I think he had good managerial skills, but I don't know that we saw them, because he was only here for two years. And I think he did not get terribly involved in day-to-day activities because he was so focused on those three things that he wanted to accomplish and thought he had to accomplish right away.
He also saw the damage that was caused by the 1979 reorganization, which virtually turned SSA upside down in terms of the way they split functions, and in particular, the way it handled the systems function. And while I know he wanted to reorganize SSA, because he did not like the way it was put together and how it worked, he did feel that we could not withstand the trauma of another reorganization so he tinkered around a little bit at the edges. He moved the Office of Systems Requirements (OSR) out of the policy function, moved it back into the systems umbrella. To my own mind, that should have never happened in the first place, OSR should have never been in the policy component; they should have had what they did in the old days, the people who did the requirements being part of the programmatic organization. BDI, BRSI, all had something called Systems and Methods Staff who wrote the procedures for their staff out there and also did the systems requirements--they were closer to the user. By pulling them out of those components in 1979 in that reorganization and putting them with policy and then subsequently putting them back with systems, which was the worst alternative, I think created more distance from the user to the systems type and created the development of another shadow staff--the Office of Automation Support, in Operations. And most of the other components had to set up a similar shadow organization; so you were three or four steps removed from the guy who was supposed to be helping you. I think that was a mistake and I still think it is a mistake--that function should be part of the user component, not part of the systems family. I feel that to this day, I feel that their voice is not heard as loudly, I think there is less accountability because of that being part of the systems organization. Just think of it by the name--"user requirements," that's what it was originally called--user requirements should be with the user. Svahn didn't like the organizational structure. I think he wanted to do something about it but didn't feel he could, so he just tinkered.
I think had he stayed on as Commissioner, he would have started to devote more time to internal day-to-day activities. But he was here barely two years, when he became the Undersecretary, which was not a good experience for him in terms of politics and how people make judgments and decisions sometimes, and how it doesn't work when you're dealing with political animals; that was a case study. After Schweiker left as Secretary of HHS, Margaret Heckler, who had just lost her Congressional seat, was appointed as Secretary. And I guess Dave Swope left right around that time because he wanted to be Secretary. I think Heckler was there, but nobody felt a lot of confidence in her as the Secretary. So that the game plan from the White House was "Oh, we'll take Svahn from SSA and make him Undersecretary, and Secretary Heckler will do the ceremonial functions and the public functions, and Svahn will run the place." When you get people at that level, particularly politicians, they tend to develop an ego, and while she may have agreed to such an arrangement before she got the job, it was clear from Day 1 when Svahn went over to the Department that she was running the show, and that whatever agreement there was, she didn't know anything about it, and that he was not there to run the day-to-day. And I think he lasted over there maybe a year or two and then left because it was a very difficult time.
I turned down a job once as a deputy for that very reason, that somebody did not have confidence in the principle and said, "I'd like you to go over there and be a deputy and you can report to me directly." And I said, "No, I cannot do that, I do not think it works." And I really don't think that works most of the time, somebody's in the chair, they're going to want to run the show and be responsible and this kind of an arrangement doesn't work. It's been tried before, I'm sure it will be tried again. But that didn't work out too well.
Q: Let me take you back to what you were talking about--Svahn's dissatisfaction with the organizational structure that Stan Ross had created in 1979. Did he not like the functional organization, just as a general observation, or were there specific kinds of things he didn't like -- you gave us the example of the placement of OSR. Did he want to go back to a bureau arrangement? Is that what he had in mind as his alternative?
Failla: I think what frustrated him, in the way he used to phrase it, he said, "There's only one thing that happened out of that functional organization, no matter what the issue or the problem was, everybody had a piece of it but nobody was responsible for anything." And I think that was the biggest flaw of that organization. And I think he would have gone back to more like a programmatic bureau structure, down the road.
Q: Let's connect back with the story. We were talking about the Office of Research and Statistics. One of the other things that Svahn did was reorganize and dramatically downsize the Office of Research and Statistics. The person who was in charge of that function when he came in--Larry Thompson--was sort of eased out of that function and eventually left SSA. So he made a big change in ORS. How did you see that all happening?
Failla: He split up the studies portion of ORS and he tried to strengthen what was left after the reorganization. What was left in that component, they took the small policy piece of what was BDI, and created an office of Disability (or it wasn't even called an office at the time--I don't know what it was called) and they did the same thing with SSI and the same thing with BRSI. Jack tried to pull some of the functions out of the ORS studies division to bolster and supplement those programmatic activities and in a sense created Associate Commissioners for each of those activities and I think tried to bring some of the more specific bureau-type leadership back. But he didn't go far enough because he was afraid because of the disruption that it would cause.
Thompson came on with Stan Ross, to be the Associate Commissioner of Policy, which included the ORS function. I don't recall whether Thompson was still there when Svahn got there or not.
Q: I believe the sequence was that Thompson was moved out of the Office of Policy job and became the Director of ORS itself; he was downgraded organizationally for a while and after that he went back to GAO.
Failla: You're correct.
Q: And also, ORS was dramatically reduced in size--I think it had something like 400 people at that time and it was cut in half or something. Is that what happened?
Failla: That is exactly what happened. Thompson was considered a Democrat. He came over with a Democratic administration with Stan Ross and company, and he had been at the Department before that. They had a policy function in the Department--we had a lot of relationships with him over the years between ORS and the Department and Thompson. So he clearly was looked on as being a Democrat.
The whole intent of moving those programmatic components out of ORS and into the policy function (the Sandy Crank function) was, in no uncertain terms, an effort to stop research.
Q: You talked about this earlier. He perceived the research had a liberal bias?
Failla: Had a liberal bias, did not support the Administration's agenda, and you couldn't control the outcome. And there were one or two reports that were ready to be issued after that Administration changed that were never issued because of what they said. And Thompson was put into this reduced version of ORS, which obviously has never come back. But Svahn accomplished what he set out to accomplish.
And there was no way in the world when you put the research functions under people who were running an internal organization--they're not interested in it either and I think that some of them tried to use these people as operations analysts to do internal kind of stuff, which is not the way they work.
My friend, Aaron Krute, who was by that time running the Disability Studies Division in ORS, ended up being moved over to what became the Office of Disability. He left fairly soon after that; he retired and took a job in South Carolina. Because you can't function this way; it's not the same mind set--you know, operational study is one thing, and research study is another thing, and you don't do studies that have results in two months. It's just not the nature of the beast. A lot of people left, and I think that activity is essentially dried up. And I think we're the worse for it as an organization; but I don't know that it will ever come back in the current budget environment.
Q: Let me ask you about your immediate boss there, Paul Simmons. He seemed to be a fairly colorful character in some ways. Could you tell us a little bit about Simmons and working for Simmons and anything during that time?
Failla: All right, you want to talk about Paul Simmons--a very interesting guy, the quintessential political-hack type. But he and Jack had a unique relationship. I think they talked to each other in a way that was much different than anyone else could have talked and related. Paul had a specific role.
They first got to know each other when Simmons was working for New York State in Albany, and Svahn was working in California in Sacramento, because they were both responsible for welfare programs. And they collaborated greatly. I used to hear stories about the conversion to SSI and how they would come to meetings and get involved in how they were going to do the rolls and how they were going to shift them over. The impression I got was that people were being switched off the old General Assistance rolls onto the aged, blind and disabled rolls wholesale; because they knew that was going to the Feds, and here was an opportunity to save money in the States.
After that happened, they then ended up working in the Department in the Nixon Administration--I forget the specific name--but they were both there.
In those days, we used to have one Social Security person who was working in the Department, in the Executive Secretariat. And Nelson Sabatini was the person at that time who was "on loan" from SSA. And that's how he got to know Svahn and Simmons (and Dave Swope, I guess, was over there too at the time.) After the Carter Administration came in, obviously they were not there anymore; Jack went into consulting and Simmons ended up in Illinois doing flak work and PI (public information) stuff and PR (public relations) stuff for Governor Thompson.
So he's clearly a political animal and came in with Jack to help run SSA. And while it was very interesting being his Executive Assistant, it was also somewhat frustrating. Because while he trusted me, he didn't always believe me. And he came in with the attitude that as a political appointee, he could do anything he wanted. And I told him that it didn't work that way; that there were some basic rules and things that you had to follow, particularly when it came to people, and I also tried, being an inside person, to explain to him the culture of the organization and what things could fly and what things couldn't fly and what things would add or subtract credibility to the Commissioner's office. And I'm not sure he cared.
I remember vividly within weeks after I came to work for him. The Public Affairs Office had the Regional External Affairs Offices--I guess they were called--come into Baltimore to have meetings maybe once or twice a year. There were probably people who liked being Field Reps and wanted to do PI and public affairs stuff and ended up in the regional office. And he talked to them in a manner that was very abrasive, turned them off, and caused some problems--in effect telling them, "Look, you guys, you're just hacks. We put words in your mouth, you say them. You don't have to agree with them, and if you don't like this, find yourself another job." And that was basically the kind of approach he took. And I would afterwards tell him, "They'll be there long after you; trust me. And if you want cooperation from these people and you want to work with these people, I don't know that this is the right way to do it." So we had some flare-ups like that.
He would involve me from time to time on some of the things in Washington and on the Hill. I was, for example, one of the people with him and Jack when they delivered the first SMP to a couple of influential Congressmen--I didn't go back when they talked about the details of it but it was interesting to watch.
He was a very bright guy, he had a way with words. In fact, he credited himself with the Reagan slogan in 1980, "Are you better off now than you were four years ago?" That's the kind of mind he had--he was a brilliant guy. But he was a menace. He was not a manager, he was not an administrator. In fact, he couldn't care less about day-to-day business.
During the time he was there, we brought back Bob Myers. And then we split off because the external affairs had everything and they created another deputy for Bob Myers in the policy function and put Lou Enoff as Myer's deputy. Myers was not a manager but he knew the program and that was a pretty large organization. But Simmons didn't manage it either. Hearings and Appeals, which was part of that organization, was given to Lou Hayes and Lou ran that totally by himself.
Simmons didn't like administrative detail. He was there as Jack's sounding board. He had a lot of contacts on the Hill, he had some contacts in the White House, certainly in the States, and he was Svahn's political guy and helped him with that end of the business and was not really an internal manager.
Q: So who was running the business on a day-to-day basis? We didn't have the number of deputies we have now. You had two deputies and then three after Bob Myers was brought in. But it sounds like the deputies, with the exception of Herb Doggette, were not interested in running the business. What was the purpose of that?
Failla: The purpose of putting Lou Enoff in Programs was to run a day-to-day operation. Once that was done, Marshall Mandell, who was one of the principal architects in developing and writing the SMP, then became the deputy for systems. In any event, the person who was in charge of Office of Management, Budget & Personnel left and Jack put Nelson Sabatini into that job as the deputy, because he trusted him. And Nelson played a critical role during these years, in part because of Jack being focused on those three programmatic areas. Nelson was the gatekeeper. Nelson was the inside person. Everybody knew Nelson; they would come to Nelson with problems.
Q: He started off as the Executive Officer?
Failla: Senior Executive Officer--he was the first one to be given that title. And he knew the inside and outside of SSA. And I think people, when they had problems, or if there was a block and nobody was making a decision, would come to Nelson and say, "Look, we need to get something done." And Nelson did it, and I think he did it effectively.
Q: So to a considerable degree, he was the one running the business on a day-to-day basis?
Failla: And Nelson saved a lot of jobs, a lot of people. There were some people whom they wanted to get rid of, and Nelson saved them.
Nelson was also the person who acted as the liaison or, if something was bothering Jack (I don't think Jack liked confrontation particularly in that kind of a management setting), Nelson would be the guy to go and say, "Hey, Larry, I don't think this is going over too well this way, I think we need a little shift." So he played a critically important role when he was there. And I must admit that I think when he left to go to OMBP--I don't know how long that was before Jack left--but his replacement was from the field, who didn't know the inner workings of headquarters and could not perform that role, but tried, and did more damage than good in terms of dealing with some of the executive staffs in SSA.
But Simmons was clearly his political guy--his confidant in that sense. They were the Schedule Cs; we didn't have too many of them; we got a few during the Carter Administration, but it wasn't until the Reagan Administration that we really started to add numbers of political appointees throughout the organization. And I'm not sure that's wrong in terms of some of the policy functions. Because you need to have someone representing you like an official and making shifts--I mean it shouldn't be an organization and a program that's strictly owned by the bureaucrats.
I had the opportunity to work with two or three political appointees directly, and I found it fascinating. And I found that party affiliation doesn't mean anything if you work with them the right way. And when I worked with Leo Corbett, obviously Svahn, Gwen King, Shirley Chater, and a woman who was also head of Governmental Affairs after Leo Corbett left. The way I approached working with a political appointee was to say, "Okay, I'm here; I've been around this place a long time, I know background, I know some things, how they fly, how they don't fly. I'm here to give you that kind of information if you want it. I'm here, if you tell me if you want to do something, I can hopefully help you get it accomplished because I know how the place works a little bit. And that's the kind of assistance I can provide." Some would ask, some wouldn't.
You have a sense of the program, and you don't want to see things destroyed, so one role that I thought was very important to me, especially earlier on, was that when they wanted to do something, I'd say, "I'm here to hopefully tell you some of the results that are going to happen from this."
Q: You're talking about Svahn and Simmons now?
Failla: Svahn, and even with Gwen King; not as much with Shirley Chater--I didn't work with Shirley that long--but with Leo Corbett and his replacement in Governmental Affairs. And it's to say, "Did you think of this, did you think of that; this might have this effect," more as a staff person. And that's why I felt, if I was going to make a contribution, it was to let them know the impact of their actions. Never to try to talk them out of an action they want to take, but to try to provide them with information to know that this might be some of the fallout, some of the consequences, some of the difficulties that might result from it so that they knew walking in, "I'm taking this action, and I know what some of the flack is."
And I think that's one of the roles of the career person interfacing with a political appointee. The other one is knowing the mechanics inside: "How do you get things done? This is what I want to accomplish, how do I get there?" It's great if you agree philosophically where you want to get to, but even if you don't it's irrelevant. As a career person, you have to help them; that's what they're there for and supposedly they are more directly related to the electorate than we are.
Q: So two years as an executive officer?
Failla: Two years. And a very fortuitous thing happened--and the timing couldn't have been better, given the fact that they were going to Washington, back to the Department. Simmons asked me if I wanted to come and I said, "No thank you, I'm an SSA person and I want to stay here in SSA."
Q: You learned your lesson from your time at the Center for Health Statistics?
Failla: Yes. I learned my lesson. But as it happened, I had never applied for an executive development program. I didn't apply because I didn't want to be rejected. And I didn't want to go through the process, which I thought was not very good and/or scientific, in terms of how they made selections. However, right around the time they were leaving, SSA had announced that we were going to have the second SES candidate program (the first one I guess was selected at the end of the Carter Administration) which was very interesting, they made all these people SESs, put them in the program, selected them all just before the switch in administrations, which is kind of interesting.
Being in the Commissioner's office, I'd seen what happened to people before me, some very good and talented people, when there was a change in administrations, got sent to the broom closet on the third floor of the Operations Building. And I saw the program being announced, right at the time when I knew they were going to be going. I applied for it, and I really did it for two reasons: I did it to buy time, because up until then I'd taken any job I wanted and I never was forced into a job I didn't like. I was pretty selective about where I worked and who my boss was, which was very important to me. And I thought that if I got into the program--I was hoping I would get into the program--that it would give me some time to look around and to find that there would be something I wanted to do.
I never lost my feeling from the district office--20-odd years earlier. And when I was selected for the program and had to do my plan, I said I wanted to end up in Operations. I didn't know where, but I knew that's what I wanted to do. So I got into the candidate program, and you'll notice I took a couple of assignments--all in Operations. I did a stint in Metro West and Central Records Operations; I went up to the Regional Office in New York while the Deputy Regional Commissioner was in Dallas filling in for Martha McSteen, I sat in her chair just to get another feel. I also spent time out with Area Directors up in Buffalo and Long Island just to get myself back into knowing about what was going on in the DOs and what it was like because it was a very different place--I had been away from that for 15 years.
And then a very fortuitous thing happened, when it was time for my next assignment. I took it as the Deputy in the Office of Program Service Centers, which is responsible for the six domestic, and one international, Processing Centers. And I got to work with Harry Overs. And when I went there, Harry didn't know me from a wall; and I didn't know Harry--I think I had been in a meeting once with him but I didn't know him. And I went to him--and I already had two assignments, and I don't know how good you can be when you're just coming somewhere and you know you're going to be there for four months or six months--and I went to Harry and I said, "Let's see how this works, and let's not say it's four months or six months, let's just see if it works. And if you like it and I like it, it'll be more than four months or six months." And that's the way I started with Harry.
It was a very good experience. My knowledge of the Processing Centers was a one-day orientation trip to the New York Payment Center when I was in CRT training class. That was my whole exposure to a Payment Center or Processing Center. I had no idea how they worked, and that was 20-odd years ago.
And the first day I went to Harry--it was an experience--I was scared. I didn't know anything. And in the first hour, he filled my brain with more information that I was afraid I wasn't going to remember, but Harry was very matter-of-fact and very methodical--he was really a good man to work for. He had a tremendous amount of integrity. When he retired, I said if I was ever in private business and I owned my own business and I needed somebody to be in charge of something, I would love to have Harry because I wouldn't have to worry about him doing the best he could for the organization.
And it worked out. Despite a total difference in personalities and everything else, it seemed to work, and it was a real job. The first thing, we had a review program with the PSCs where we would do an intensive one-week operational review of the whole Processing Center. We would bring out a team of 10 or 12 people to go out and conduct one of these reviews. And I started with Harry in March, and the first review was the end of July. And the reason I know that so well is because my wife was expecting a baby in mid-July. And Harry knew that and he said, "Okay, I'll put this down on the calendar--your wife's having a baby. We can put it off, instead of July, we'll do it the first week in August." The kid was on time; I had a three week old baby and I left to go to Kansas City for my first review.
Boy was I petrified. Because I still didn't feel that comfortable with the organization. I don't think I could have told you all the different job titles that existed in the PSC. I certainly didn't know all the acronyms. But I had a good team who kind of helped me through it, and it was a baptism of fire. But I knew then that I liked Operations and I wanted to stay in Operations. Harry and I kept going, and there was no end date for my assignment there.
I really enjoyed the people in the Program Service Centers--what they were doing and how they did it was a little different, different orientation, very different from the field. The Processing Centers are large, and everybody's under the same roof, and by its nature, and especially given unions, you got to do everything consistently across the place. I think the kind of managers you get in the PSCs are different than the managers you get in the field. Because even though you have a structure and you have a union, a field office is still an island by itself. And if you're a District Manager, you can try things and experiment with things like my manager did when I was in the DO and see if they work. And the Processing Center couldn't do that, because if I'm in this unit, the guy next door, he better be doing the same thing or otherwise somebody's going to complain and you'll get in trouble. I don't mean this in a derogatory way at all. But I think field office people are allowed to be a little more flamboyant and imaginative and experimental.
At the PSC level, you had some of that same stuff, and one of the things I liked about the PSCs is that each of them would compete with each other on who was going to do the best and who had the best numbers. And each of them would try innovations out and would be very careful about letting that information out to the other ones because they didn't want to lose their edge. But that's true throughout SSA; there's a lot of competition, and I guess that's healthy. I always thought that it's a more fun job to be a District Manager, at a grade 13 or 14 level, than it would be to be a grade 15 in a PSC because it's so large and you have to be consistent; it's mass production.
I was there for a year. Ruth Pierce had come in as the Associate Commissioner because Art Simmermeyer, who was there, went to be the head of Systems and Ruth came in. And I guess in June and July of the following year, Jerry Boyd, who was one of the Office Directors in Central Operations, retired. And Ruth asked me to go down and sit over there for a while, which I did; I did that for almost a year. And then Harry retired, and I went back to Harry's job in the Office of Program Service Centers.
And Dorcas Hardy when she came on board, interviewed all the people who were in the candidate program, in fact, she interviewed all of us and every single SESer in SSA, which I thought was a very good thing to do, and interviewed everyone and wanted to know what their interests were and where did they want to be and what they wanted to do. And I had that interview with her and she said to me, "What do you want to do? What do you think about policy, what do you think about systems?" And I said, "I don't know anything about systems, and I'm not too hot on policy; I really like operations." So she let me stay in Operations. She made a number of personnel moves and changes, but I'll never forget the phone call; she said, "You want to be in Operations, you're staying in Operations." And we did away with the OPSC as an organization and had them instead of reporting to me report to Ruth, and I was Ruth's deputy.
I take pride in the fact that my job has been abolished a number of times. And the reason I take pride in it is that either it evolved into something else, or it wasn't making a good enough contribution. I never ever played bureaucratic games to keep something in existence indefinitely. And I take pride in that. I never wanted to build the biggest toy store; that was never my goal working in SSA. It was to try to figure out how to do the best I could wherever I was, but the amount of staff and the amount of budget I had was never a principal motivator for me; it was more about what I was doing and whether I liked it or not. And that was about the second or third time I guess I was abolished, when OPSC went.
Q: Let's talk a little about the mission of the PSCs. During this four-year period that you were there in the Office of Program Service Centers (1984-1988), a lot was changing about the mission of the PSCs, and a lot has changed over the years, up to and including today, about the mission of the PSCs and a lot of questions have been raised about the future mission of the PSCs. Just give me your assessment of how that developed and how you see that and how you see the future of the PSCs.
Failla: The PSCs originally served two functions: we were a clerical assembly-line organization, and given technology at the time, there was no way in the world you could have people all around the country effectuating payments (at the time I joined SSA, there were 600 offices around the country). So all that paper went to the Payment Centers, as they were called in those days. And it served a dual function. You had 100 percent review of all the cases that came in; maybe that's a luxury in terms of cost/benefit analysis and in terms of what an error rate might be, but it was a wonderful check and balance on what was happening. And at the time I started, there was virtually no communication, and intentionally so, between the District Office and the Program Center. And I think that helped the integrity of the program; it was virtually impossible for a field office employee to create a fraudulent claim and effectuate payment.
And the PSCs could do volume jobs. I'm always amused. If you go to a PSC they say "the people in the District Office don't know anything about procedure, policy, and they don't know anything out there." And you go to a District Office and they say, "I don't know what the hell a PSC does. What do they do over there? They don't do anything; we don't need them; we do everything, we know everything." It was very interesting, and that goes on to this day.
The PSCs were the first ones to experience the effects of automation; in part because they got computers first. When things got too big for Baltimore, we ended up putting mainframes there (not nearly 1/5 of the personal computer that's on your desk now), but they did have a mainframe. And they did do a lot of stuff. And they did start to automate a lot of functions in the PSCs. While that happened and that started, they always felt that they were the second line and they were important and they had to be there. They were shocked in the mid-1970s when the Office of Advanced Systems came up with the blue book or the green book or whatever color the book was and said, "Hey, we're entering a new age; communications and technology are such that we don't need these people anymore." To this day, when you mention the name Renny DiPentima in the PSC, they make faces, because he was the one who was going to do away with the people. Well, as it turns out, Renny was right, that was the way we should be going and that's the way we have to go.
Obviously, these are institutions that were there and it was felt that they need to continue. It's one of the things wrong with SSA, which is wrong with any large organization. If I were the Commissioner, the challenge before us right now is change and change management--how do you do it? How do you move from one place to the other? How do you not make it look like it's never your goal to have the most toys?
We equate, at SSA, competence and success and power with numbers--a big organization. I have to protect this organization because if I don't, it means it's me. But it's not you. Things change; things should change. You shouldn't do it the same way, and they had a problem with that in the PSCs.
In the short time I was there, I used to go out there, and I was a nut about work sampling; they thought I was crazy. They said, "Why are you interested in this?" I said, "Because I want an accurate count of what the work is; because I cannot predict, and you cannot predict, what changes are going to happen in automation. I cannot predict what changes are going to happen in a policy change like District Office Final Authorization (DOFA). So if you guys don't report accurately, when that decision is made and when that function shifts, how do I know I'm not losing more or less than I should be? And I can't predict it."
And around the time when I was out there, we went to virtually 100 percent DOFA. And I would be in meetings in the PSC and the bell would ring, and when I would do work sampling I'd stop the meeting and I'd run out on the floor. And I'd listen to what they were doing. And I went around the floor, and half of the time, these authorizers would say "120" which was the code for authorizing a claim. I said "It can't be. You aren't doing anything. What are you doing reporting numbers?" If I get rid of an exception from the system and I don't have them process it anymore, well, that count is gone. And in the short time I was there, I said, "What we need to be doing in the PSC is to be a little bit more entrepreneurial. What can we do? Can we do more with direct contact?" This started before I got there but they had to be dragged kicking and screaming--they didn't want that direct contact; they just don't do that. And I said, "If this place is going to be viable, down the road we need to do all kinds of work here." They never touched SSI or what their estimate of SSI was. When I was in the PSCs, we were just getting going with the debt-management branches. There was a lot of resistance to that as well; it involved direct contact, it was a different kind of business. And I don't know how you keep an organization moving forward and knowing that.
Sometimes change is hard. But it's not always necessarily bad. And how do you keep people ready to do it and not counting wins and losses the same way we always did? And I'll give Ruth credit. During the short time I worked with her, she tried--she saw some of this shift happening. And one of the things Ruth did was to break down that wall between the Processing Centers and the Regional Offices. And her motives were clear; she wanted it to be one functioning unit, one team off-loading work to another as need be to get the job done, and not have this separation and this battle over turf: "No, that's a PSC function, you cannot do that in the DO," and vice versa. There are some DO functions that can be done better in a centralized setting.
I don't know that she had enough time to fully effectuate that merger, but Ruth, being the personality that she is, would have made it happen. I think now that you have a couple of people who have been on both sides of the fence, the Regional Office and the PSC--a little more I know in Chicago, to a degree in New York--I think there's more looking at the whole workload and how it can get things done, no matter what the organization title is. But we're not there yet.
Anyway, why I still think that there is a need for more central function is that automation, typically, automates the easiest things first, the biggest things first and then as an incremental process over time. And sometimes things never get finished. I think we'll see that with the SMP. Even the Claims Modernization Project--whenever they finish post-entitlement--there will be some things that don't ever get done. If you have those work loads centralized you can develop some expertise and accuracy. That can't exist if you give me a work load that has 20,000 cases a year, and, some little quirky things that pop up out of the system. If I spread them over 1,300 offices, over the course of a year may be one or two people get to do one once a year. How do they know what they're doing? And I think there are some workloads like that.
It still makes sense to have some centralized capability where you have enough volume, enough critical mass to make it worth while. I mean so you have some expertise and accuracy. So, I think, there is always a role for some to work like that.
Aside from that I don't know that you need to have them in one place or another to work because we have telephones, we have FAX machines, we have other tools available. So that you don't have to do everything face to face. There should always be an option. There should always be the person's option. When I retired, I didn't see anybody face to face at the Office of Personnel Management. I had somebody at SSA that took my work, but I didn't see anybody there. I don't like to deal with them. I don't like to deal in person if I can possibly avoid it now. And I think the general public is the same way. So you don't need to have, I don't think, 1,300 offices. At the same time you can't do it all in six processing centers, either. It should be a function of what makes the most sense for getting work done, in a central location or a more out-lying location. That should drive where the work gets done. Not being at one place or another.
But I think there will always be some stuff in systems that work better centralized--and training becomes a problem as you spread things out. Ensuring the consistency of what gets taught is much more difficult. Quite frankly I don't see how regional offices know exactly what is being done on ongoing training in a DO. They may know what they put out as the quarterly agenda but they don't know what happens.
In general, I think we should be decentralized and let people make decisions more on the spot. I think we're moving a little towards that.
Q: You mentioned earlier the coming of Dorcas Hardy and the reorganization that produced and the change in your job. Lets go to that next. So Dorcas Hardy came in and...
Failla: She interviewed everybody and she developed some judgements and I think the thing that was puzzling her was Systems. I think that was the principal problem, the financing issue had pretty well been straightened out. We were beginning to work with the effects of the disability legislation. But she saw that Systems was a real problem, and that her tenure and the future of the Agency was going to be a function of how well the Systems organization served everyone.
I guess when she first got here, Art Simmermeyer was in charge of Systems. And Art, I worked for him, I respect him, and he's a good manager, but he's not a systems technician. And while I don't believe you have to out-expertise everybody who works for you, you've got to have enough to survive. And know what you don't know and know when you're getting in trouble.
And she then had someone else in charge of the organization who was neither an SSA person, who knew the inside of the place and how it worked, nor was he a systems person. And I think there was a lot of in-fighting going on. There was a lot of frustration going on, and I think she saw that the primary beneficiary of the improved system was the Operations components. And to make sure that things were being done that should be done to serve that customer, if you will, she merged Operations and Systems.
I think the other reason had to do with the individual. There is no question in my mind that Herb Doggette, at this point in time, had a reputation in the Agency that was unsurpassed. He was almost a first among equals, and he had managerial talent, leadership ability, and charisma. I remember someone once saying that when making a speech if Herb got up there--like they used to talk about Frank Sinatra and Ella Fitzgerald--if he just repeated the telephone directory people would say it was a great speech. He just had that presence about him. The Colin Powell of SSA. That allowed him to pull this off and to bring these diverging interests together. He also had the confidence to do it. He had ability, a brain, and he didn't think there was anything he couldn't learn enough of to make it work. He asked good questions, he made sense, he had common sense and it was a perfect fit. I don't know, if there was no Herb Doggette or Herb Doggette type person around, that she would have done that. Because in effect she was giving 80% or 85% of the whole Agency and it's resources to one individual to manage, which is kind of heavy when you are a Commissioner, but she was brave enough to do it. Dorcas was a very talented manager as well and maybe later we'll get to her as well.
So Herb was given this task and, obviously, he restructured. He placed the Processing Centers, with the exception of ODIO, and the whole field structure under one manager, Ruth Pierce. He took the remaining centralized headquarters type operation--meaning ODIO, the Office of Systems Operations, and the Office of Telecommumications which ran the network and ran the system, --under another manager, a strong manager, Huldah Lieberman. And the remainder of the systems activity, the development of new software, the implementation of new software, the validation of new software, in the third manager, who was also from within the organization and was a techy-type. He gave them the where-with-all to do everything.
But Doggette felt that there was a need for a staff that reported directly to him, that would be a staff to his office, and from that came the Office of Planning and Operations Management, to which I was appointed. Since we reorganized to that degree, there was literally a draft of all the staff of the components that existed before. And that was truly like an NFL draft. We each had a chance apiece, then we'd argue over who got who. It was a wild beginning, because everybody had to be placed.
This staff that I ended up with was larger than it needed to be, larger than the function called for, and had some responsibilities that weren't real. It was a very frustrating time of my career. Because I didn't think it was necessary. So I went about getting abolished, ultimately. I didn't think that some of the functions they had there were really necessary, they were redundant, but not totally useless. There were a couple of things that were started there that ended up being carried on in other places. Some policy things, some activities that were looked at over and over again in SSA's history but never went anywhere. Something called payment cycling started again there.
But, more important--and this is a function I thought that staff could start with--was that we were in a dilemma with Congress, even though Jack Svahn had sold the systems modernization plan and got the initial money. We went out and bought a whole bunch of hardware and we were promising to deliver the software and since that is much more difficult to do, it was not proceeding at the same pace. There was some uneasiness on the Hill, uneasiness at GAO, despite the fact that they were holding monthly and quarterly meetings with GAO, OMB, and every higher monitor authority, GSA, the department, and the world, giving progress reports. There was a concern that we weren't making the best use of the money, that we weren't doing it fast enough, that all we were going to do was to buy more machines so we could run things faster but we weren't going to systematically change anything. We were threatened almost every year in the budget cycle about where we were going, and "where's your plan." And nothing happened and it came to our staff to start to work on the beginnings of what we then called "operations planning," which included systems and operations, and also developing sort of an interim plan. In other words, we finally said "Look. We're going to lay out the future plan, but in the interim we are going to tell you what we need to accomplish, what we can accomplish in the next few years and develop an interim systems plan."
During Dorcas' time we did have a strategic planning effort and we did produce a document that talked about the future, and scenarios, and whatever. But there wasn't sufficient follow through to the process, nor was it really built from the bottom up. It was a sales document, I think, which pictured how things could be different down the road. But I don't think you had the mechanics in it to get you there. And I think that there was a tremendous amount of resistance with that document and with the plan. Again for the same reasons that we had any time that we tried any thing like this before--the green book during the Advanced System times--you couldn't tell the truth. So we had weird looking diagrams. We always said that you're not going to close this, and you're not going to close that, and not going to change this. Because you needed to put it out in public. You couldn't be specific about where you wanted to end up because the outcry that would come, the Republicans would stop everything right in its tracks.
Q: Let me see if I understand the point you're making. For example, if we saw that down the road we might have to close a Data Operations Center, or reduce the number of PSCs, we couldn't, for political reasons, come right out and say that in the plan. Is that what you're saying?
Failla: Or close a District Office. Because, ironically, closing a 20-person, or a 10-person District Office causes as much grief as closing a 2,000 person or 1,500 person PSC. It is a location being closed and it gets the same amount of political attention. It is a very tough thing to deal with.
Because I think what you really need is a combination of change. I think you need fewer District Offices, simply from the point of view of economy of scale and overhead. Some of these small places just are not efficient. I don't think they even provide the level of service that we think it does. So, I think that's a problem.
Again, everybody went along and everybody signed off on that document. There was an awful lot of input of all the top staff of SSA in developing these scenarios and what people would like to say. I don't think anybody really believed that it was a real document in terms of getting from one place to another. It was a scenario, it gave an overall picture, but it lacked some intervening steps. During this time, when the strategic plan had already been issued, Herb decided that we needed to do some planning within Operations and Systems--we didn't call it a strategic plan, we just called it Operations Planning. We started a process of involving each of the components, with the Associate Deputy Commissioners intimately involved, and their staff intimately involved, and we started to put together a package that looked like where we're going.
Q: This ultimately became a Service Delivery Plan? Or is this something different from that?
Failla: We started this effort, and until we could agree on the basic objectives and what we were trying accomplish, there was meeting after meeting and back and forth and change. And it was principally a central office function. We had a product that Herb was fairly satisfied with. We had an off-site meeting that included all the Program Service Center Directors and all the Regional Commissioners and other people and their top staff. All the top staff in Systems.
And, at this off-site, we were going to explain what we had done. And it was one of the toughest meetings I ever attended and, unfortunately, I had to lead a good part of the discussion. And, I learned something. You have to involve people from the front if you ever want to get something accomplished because they won't buy it otherwise. Because it's not their idea, they didn't have a piece of it. They're not in on the ownership of it, and they're very reluctant to accept it. And Herb knew this. While we had a lot of input from the various components in Baltimore, we didn't have a lot of real input, no progress reports. There wasn't a lot of information that went out to the field about what we were doing and how we were going to do it. So when we had this off-site meeting Herb gave me some good advice. But he also knew what the session was going to be like more than I did. He said "when we start the session George, what I want you to do is to get up there and tell a story. And the story you're going to tell is about everything we have done, for the last six or eight months, in getting to where we are. So they can understand how we evolved into this document that we're going to give them, and to get their reaction."
And I started out just like that, trying to tell a story. And then we got into talking about what were the basic objectives that we were trying to accomplish, and how do we get there. At first there was very little conversation, which is deadly when you're leading this kind of meeting. I don't know who it was that started something going. What ended up happening was that we had to get the people in the field to try to go through the same thought process and same logic process that we had gone through for eight months. In order to do that we almost had to start from scratch in that room. And do over the course of a day, or a day-and-a-half, the whole process in a smaller way.
I didn't know how we were going to do it but somehow by the time we finished we had accomplished that goal. We ended up with all the basic pieces of the program under some umbrella objectives. I think we had some program objectives and some service objectives--I don't remember specifically now, but it ended up being a decent document and a good starting point for what I would call the second round of strategic planning. At around the same time this going on we had a change in administration,Dorcas Hardy left and Gwen came onboard.
Q: Before we move on to Gwen King let's talk a little bit about Dorcas Hardy, her era at SSA and your perceptions of her leadership during that period and other things in that regard.
Failla: I can't say that I did see Bob Ball up close, but a few times, so I don't know how he really managed and interfaced with his executive staff, because I wasn't there. I'd say the same thing for Cardwell. But I was able to watch Dorcas Hardy when she came in.
The day after she reported, she had a meeting with all the SESs and all the SES candidates at SSA in a room. And she dispelled some myths about herself and how she was going to manage, and what it was going to be like. Just being in the candidate program we ran the program in conjunction with the department and she came from SRS (Social and Rehabilitation Service). I knew a couple of my colleagues, classmates if you will, who had worked in SRS and who talked about Dorcas. And they said that she was tough and she was hard but she was fair, and after the initial shock they really came to respect her and like her.
I can honestly tell you that day when she started off with the executive staff she scared the hell out of everybody. She really did. But she then followed up on that and had a one-on-one interview with every single person. Got them to tell--it was somewhat structured--what they saw as the major problems. What major issues she needed to address herself to. Where people had an interest, where they would like to be working. I thought it was a very effective way of getting to know people, and to find out pretty quickly where some of the factions are and what was behind some of the feelings.
I remember telling her she had two organizations. She had the field and she had headquarters. And they were always distrustful of each other and one (the field) would always go out and try to do the job and get it done, and headquarters would be more political, much more game-playing. The key was, to support that organization out there that got the job done and met the public, and Systems. That was the major thing, and I think I talked about disability as well. I remember the interview and I really felt that it was good that she would sit down with 75 or 85 people, one-on-one like this, before she started to make any moves in the organization.
She clearly felt that we needed to have a direction and a mission, an understanding of where we were going to end up, where we were going to be. She introduced strategic planning in a way that was never done in SSA. I thought of everyone I knew that she was the best manager as Commissioner. I say that for few reasons. She had a uncanny knack of knowing how far to push the bureaucrat, when to let-up, and when to push.
The perfect example of how she did this was in implementing the 800 telephone number. Everybody told her "you can't do this, it's crazy, it ain't going to work, it doesn't make any sense." It was a different way of doing business. But she knew there was a problem out there. There was a GAO report, from New York I think, that showed that the phones weren't getting answered, that people were getting busy signals. Most of us, in our own personal life who had friends that knew that we worked for Social Security, they would ask us "could you get me a local number. I can't get through to this Teleservice Center. I can't reach them." What was going on out there was that when people got to know the local DO's phone number they changed the number. Because they didn't want people to call. So we had a vast problem in terms of service to the public, and here's her management telling her "you can't do that", "we won't do that," "you can't put, no don't..." They only worried about taking claims across the desk. "Don't tell me about telephones." She had the instinct and the knowledge to know that while she generally listened to advice, in this instance, she'd have to forge ahead no matter what happened.
She put a team together to get this TSC thing off the ground. We were in a meeting in Denver, big operations staff meeting, she was on Good Morning America and gave out the 800 number and brought the whole system down. I think brought the whole phone company down. Immediately we had to send a couple of people off from the executive staff meeting to go back home and try to handle this damn telephone problem. And it's been a problem, but it was a good decision that she made, and she had the fortitude to stick with it and push on even when people didn't want to have it done.
One of the qualities of a good manager, I think, is to know when to backup, listen to the negative advice, and back off a little bit because it makes sense. And know when it's just resistance to change. You're sure that this is the right way and you just have to forge ahead and push ahead and make sure they follow you. I think she was very good at that. The way decisions were made when she was there, I think, was pretty well organized. She did a good job, I think she got at the central issues that were there. Basically, I thought, she made some good decisions. So I think she was the probably the finest day-to-day manager that we had. She knew the outside stuff, and the public relations stuff, and the ceremonial stuff. But she was hands-on, day-to-day, come-to-Baltimore--she did not stay in Washington. Really, I think a lot of people were sorry to see her go when she left. I was one of them.
Q: After Dorcas Hardy left, Gwen King came, and that caused another organizational change in which you got abolished again. Right?
Failla: Another interesting time. I hate to catalogue it, but maybe the best time in my whole career.
When Gwen King came--and it's ironic because I started with Herb with this planning business, and some of that continued after Gwen King got here, and I hate planning. I am the biggest procrastinator in the world, and planning is not something that fits with my personality. However, shortly after Gwen King came on board, she decided that there was a need to update the strategic plan. And she needed to have that process begin with an intercomponent work group where each Deputy Commissioner appointed someone to represent him in the development of this new strategic plan, or updated strategic plan. She also felt--and Dick Eisinger who was her Senior Executive Officer and who was technically in charge of the planning function felt--that what was missing from the last plan were the nuts and bolts to carry it out, to get us from one place to another. The way they chose to rectify that and to show that the planning was really meaningful, the slogan became "planning drives the budget process." For this to be real we have to show that the planning function, and the decisions that are made from that function, are really causing the Agency to put resources on those things that are moving down the road to where we want to go.
I was part of this effort. I reported back to Operations that the way they were going to do this--after we developed the overall priorities, service goals, whatever--was a device call the "key change initiatives." So that anything that required budget money, that needed to be funded, had to be put through this Key Change Initiative process. If they weren't approved as part of that process, then you wouldn't get any funding. I came back to my superiors and colleagues in Operations and told them that this Key Change Initiative within the framework of the Strategic Plan is the way budgeting is going to be done in the Agency. We need to take it seriously. Nobody believed me. They felt that this was going to be another paper exercise, that we would continue to budget the way we had always budgeted in SSA. And that we were Operations and we had a direct workload-related budget and this didn't really mean anything. That was not Herb, by himself. I think it was the general consensus within Operations/ Systems. That we didn't need this. Consequently, I think just to show some responsiveness we proposed for all of Systems and Operations somewhere in the vicinity of, if my memory serves me correctly, probably 20 proposals as Key Change Initiatives. The other components--in particular Lou Enoff who was then the Deputy Commissioner for Programs--saw this as a new avenue, a new game, this is the way we are going to get resources, and submitted some 600 Key Change Initiatives. Some of the other components proportionately submitted a considerable number, a lot of pet projects that hadn't been going anywhere, that people wanted to have done.
I went through this process and at the same time this was going on they were also trying to update the Strategic Plan. I got somewhat frustrated. Because we were developing a system that would almost drown of its own weight in paper. While you did need to have a budget that was driven by the Plan and where you were trying to go, to my mind you should have some cut-off point as to what needed to be in an initiative, in terms of size and scope and you couldn't treat everything equally. What we ended up doing was creating a paper-work maze, by asking for cost/benefits, timetables, dollars in out-years--on projects that were not stand-alone projects. That really could not be done in a vacuum, that shouldn't be done in a vacuum, and therefore became meaningless. The numbers were made up, we drove the budget staff crazy coming up with estimates of things, and I don't know if they meant anything. We developed volumes and volumes of these Key Change Initiatives and in order for the money to be appropriated it had to come through this vehicle. It broke it down into such detail that I didn't think there was any focus or thrust to where we were going. To my thinking we should have had some high-level plans on doing something, but not doing all this cost/benefit analysis because
I don't think it's worth the paper it's printed on.
It was a very frustrating time. I lost contact with my staff for about a year, I think, because I was always going to these meetings day and night. But we did have something that someone could say was a budget that was driven by planning. By the second year of this process people started to get the message, that this was a new budget game. And it got worse. We had even more. I say this only because planning and change is so difficult to do I don't know if there is a right way, a textbook way to do it. But I do know that the worst way to do it is to have professional planners who get so caught up in the process of planning, that what you're trying to accomplish takes a back seat and I don't know where you go.
Anyway, this happened, this took the first year or thereabouts, of Gwen King's tenure. We also had Presidential objectives. We had objectives and initiatives all over the place. It was kind of chaotic.
After about a year, Gwen King decided that she needed to reorganize. In part I think she thought there was too much of the organization's resources in one place, and she decided that we needed to split Systems and Operations again. And I don't remember, Herb Doggette retired but I'm not sure he retired before, during, or after that decision was made. It was close together in time.
(Ed. Note: Herb Doggette retired in March 1990.)
I had gotten to know the Commissioner through the course of this process because she definitely took it seriously. She was involved and we actually sat down with her and went over every one of those Initiatives that had come in and gave recommendations to her on whether or not they should be adopted, and funded.
But we were reorganizing, and Systems and Operations were going to be split apart. Since my staff was only in existence as support to this joint organization, I knew the staff wouldn't survive. I talked to her about my staff, and she also asked me where I wanted to work, to be honest. And I said wherever she wanted. She said "don't worry about your staff they will be taken care of." As it evolved, she said would I be interested in having a staff of analysts who could work directly in the Commissioner's Office, and help them with whatever came up. That is literally the way she said it "Whatever came up." She told me I could pick staff from anywhere in SSA, from my own staff, from other staffs, wherever I wanted. And I wasn't sure what the function was. When we got to talking about budget and a couple of the activities that we were going to be involved in, I just said to her " I have no idea how many people I need. I don't know how this is going to work out and what's going to develop." We agreed that I could have 12 people to start. I wanted 12 people because what she wanted on this staff was some knowledge or expertise of virtually every part of SSA. So I needed a group of generalists, and if not specialists, at least people who understood one or another parts of SSA in more detail. I said "let me start with 12 and I'll come back to you when I need more."
Thus began the Office of Information Resources Management (OIRM). I don't know how we came up with that name. I think it was in part external pressure to show that Systems and information resource activity was being driven from the Commissioner's Office. In most organizations somebody with that kind of a title would be the equivalent of the Deputy Commissioner of the Systems. We didn't want to do it that way in SSA. But we created that staff with that name. I picked 12 people and I took a couple people from the staff that I had working for me before, that I knew were very civil and intelligent and who could fill in and be flexible. And a couple that had some knowledge of Systems and had some knowledge of planning, because I knew we were going to get into some planning activities. I recruited a couple other people from different parts of the organization.
It was great, and initially frustrating. Everybody in their lifetime should have the opportunity to handpick a staff, because it's fun. It's also dangerous, because if you don't do it right you have nobody to blame. You can't say "Oh boy these people that I inherited, what do you expect me to do with these people." But in this instance I was very fortunately associated with good people--in terms of their intelligence, ability to work, and work hard, their ability to charge into any area, and to turn out a quality product.
I can't say enough about this activity. Working directly for her, we were able to get into anything in SSA. We saw all the mail, we saw all the issue papers, everything that was coming up, everything that was coming-up for a decision. In fact we had a blank check to interfere--to tell them "hold up let's look at this a little different, or a little further" --anytime we wanted to. We also got a lot of things from her where she and Dick Eisinger thought that there was something not right somewhere. Or they'd get a big decision paper or policy paper and send it down to us to get our opinion. It was just a golden time.
In a way Gwen was a good manager too, but she had different talents than Dorcas. But one thing was clear, she needed to have some people near her that she trusted, who would give her straight and honest advice and information. She also wanted to get a handle on what was going on in the organization and we started to develop a series of basic strategic measures of what was happening and where we were. It was a very rewarding experience.
The staff that we had--that included Mr. DeWitt--was able to start things and get into things that I think will have a long-lasting effect on the Agency. For example I mentioned payment cycling and that's one kind of thing that gets considered and reconsidered and never goes anywhere. This time we developed the paper, we sent it out, we got comments, it got serious. It started to get some serious consideration to be something that we needed to do in the Agency to even-out workloads, postentitlement work in particular, in the future. There was opposition, just like any other change. Some of the field managers didn't want to see this change because they had gotten used to managing the flux of work that came in the first week of each month. They were used to it, they knew how to handle it, and they didn't want to change. But I think the proof of the pudding was that ultimately this payment cycling idea became one of the President's service objectives. It's gone on beyond the Agency now and I think it has enough publicity and attention that it may get done finally.
The other thing that we did was tied up with the strategic planning process. As part of the planning process again we ended up coming up with five strategic priorities, or areas. Each one was assigned to one of the Deputy Commissioners and would have intercomponent workgroups to work out all the bells and whistles and whatever. Our little staff was assigned the one on "becoming a paperless agency." I cannot think of anything broader. What ended up happening was a kind of interesting experience. We started it, we had an intercomponent workgroup. In fact, we had my small staff represented on everyone one of the strategic priorities so we had a feel for everything that was going on and the Commissioner would know how things were working. Also, this would give us the ability to look at the five separate pieces and have a sense of how they fit together or didn't fit together.
One of the surprises of my career--after they got finished all of this process and made presentations to the Executive Staff and everybody agreed on what these five priorities were and what should be the makeup of the priorities and they were ready to update the Strategic Plan--everybody pointed a finger at my little staff and said "This is the central focus of the whole game, paperless is the foundation on which everything else is built." Which was kind of interesting to see how that process evolved.
Once again, however, the next step of the process--the high-level priorities were staffed out and described very well--but what ended up happening after that was we got bogged down with the bean counters and tried to support it with 4,000 sub-projects that lead to one of the overall objectives and it became a repeat of the same budget game that happened the first time around. Components would be trying to put any pet project under these umbrellas, because we were trying to serve two masters, one to show that planning was driving the budget process, and one by using this as a game to allocate resources and everybody wanted to be in on that game.
I don't know what's happening now--it's two years now, and Gwen is long gone. I thought we could have been on the road to developing these strategic priorities and running with each one of them. I think each one of them was good.
Q: Can you tell us your impressions of Gwen King and her management style?
Failla: She had a sense of where she was going with the Agency and I think she enjoyed the job as Commissioner. I thought she was a good leader for the Agency. I think she learned the program. I think she was fairly articulate about the program. She tried to use the strategic planning process and some staff papers we had done to manage the Agency. And I'm not sure that she did enough directly, one-on-one, with the Deputy Commissioners, and getting into the guts of their organizations and what they were doing. Let me give you one example. I don't know that she had more than one round of meetings with the Operations executives to learn about the status of the main workloads, where we were and what could be expected in the next six to nine months, in terms of service levels. And I don't know that she had a detailed work planning system, apart from the Strategic Planning process and all the paper that generated. I don't know how much hands-on, day-to-day involvement there was with the individual Deputy Commissioner components and their staffs and what was happening in their organizations.
So she wasn't quite as strong, I think, as Dorcas Hardy. She did have good instincts and knew pretty much how to keep out of trouble. She was fairly successful in protecting the Agency's resources and not letting staff cuts go beyond the baseline level. I mean she was able to sell that to the Hill, that the 65,000 FTE level was the max they could get out of us and they couldn't really go farther without destroying the service we were providing to the public. So she was good in that way. She was very good politically.
I certainly enjoyed working with her. She was very open. She welcomed input. And she didn't have a closed mind. I don't think we ever got an assignment from her with a predetermined outcome, where she wanted a result and she just wanted somebody to do a paper to justify what she wanted to do. So that was a great time and a wonderful environment to work in.
She did move some of the Service Delivery Plan activities, and she started us on the road of how to get the rest of our resources from OMB so we could complete the systems projects--as far as I know, that's still going on, it's not completed yet.
But overall it was a good experience. I think she was good for the morale of the Agency in general. She was seen as caring and she made it a priority to talk about the quality of life for the employees. And I think, as a whole, the employees really liked her and thought that her caring was sincere.
Q: Then following the 1992 election we had another change of leadership. And after a fairly long period where we had Lou Enoff as Acting Commissioner, we finally had Shirley Chater come in as Commissioner. So let's talk a little bit about that period when Lou Enoff was Acting Commissioner.
Failla: That went on for about a year, I guess, because Gwen actually left before the 1992 election. Lou Enoff was a career SSAer, he knew everybody--all the skeletons in all the closets. He tried to get into some nuts and bolts activities to move the Agency. I think it was not good for the Agency to have him as Acting Commissioner for a year, for one very, very good reason. Everybody knew he was the Acting Commissioner and knew he wasn't going to be the Commissioner, and as an Acting Commissioner I think we lost some valuable time getting some attention from the Department, and getting our share of resources because they do not treat an Acting person the way they do someone who is brought in as part of the Administration. I think he suffered because of that. And pretty early on, and I think right after the election, it became pretty clear that he probably also wouldn't be the Principal Deputy, that there was a desire to have a political appointee as the Principal Deputy, thinking that we needed to have more involvement from Schedule C types in the organization.
So I think his hands were tied. I think he did a good job, given the problems that he was faced with. His knowledge of the organization and the people allowed him, sometimes, to push people when they needed to be pushed. At other times, he couldn't move people or replace people, or take any really tough actions that he might have wanted to do, if he had been in a different environment. So I think it was a difficult time.
Larry Thompson came in as his replacement, and was Acting Commissioner, and he has a broad, broad knowledge and foundation in the program, he clearly is interested in the program and its direction and policy. But he has not had the day-to-day knowledge that Lou Enoff had and that Lou could bring to the table, in terms of looking at what things meant and carrying them out administratively-- operational problems that might be caused or not caused, and the like. And I think we are missing some of that at the top.
I also think that during this time, because of the Acting status, from my own view, each Deputy Commissioner kind of ran their own business and ran their own show, from their own vantage point, and I don't know that we integrated things in the way they needed to be integrated during this time. Although I must say that I think it happened more while Lou was Acting than it has since his departure, from what I know, but I haven't been in the building in almost a year-and-a-half now. But I don't know that a lot of that isn't still going on now, that each Deputy is still kind of running their own show and we are missing a lot of the integration we need to go forward.
Q: How about Shirley Chater? Eventually, Shirley Chater came in around October 1993 and OIRM continued to be part of the Commissioner's Office, reporting to Shirley Chater for awhile, until you left basically. So there was another year when you were there, or not quite a year?
Failla: Actually, from the time I went on leave before I retired, it was probably more like five or six months.
Obviously, she comes with credentials. I met with her any number of times, talking with her about what the staff could do for her, if she needed it. I think she had a great learning curve, in more ways than one. One, she didn't know the program, she had to try to learn the program, some of its acronyms, and what-have-you. She was also new to the federal bureaucratic environment. And while I am sure that running a university is a very bureacratic institution as well, it is a different kind of bureaucracy. I think what the leader of a university has to do, and the skills it takes, are different that what is required in running a large day-to-day operation.
From my own observation, she did not get in the middle of a lot of programmatic or operational decisionmaking. I think things were left more to the Deputies, and the Principal Deputy. I think she saw herself more as a spokesperson and a leader of the program as a whole. Her focus has been on rebuilding public confidence in the program, which a good focus, but I don't think that the day-to-day hands-on activities that existed with Gwen King and Dorcas Hardy are there today. I am concerned if that goes on indefinitely. Because when you are running an organization of this size, with the kind of problems that we run into, it is critical to have someone with their finger on the pulse of what is happening in 1,300 offices.
Q: After Gwen King left, it seemed that the role of OIRM changed when Enoff was Acting and at the beginning of Shirley Chater's tenure.
Failla: Yes. There is no question that's correct. Lou continued to use us to do some staff papers and analysis, but it was more on an assignment basis when he specifically wanted something looked at. There were a couple of projects, that I wish I hadn't gotten, like the Modular Disability Folder.
Q: Which was implemented at the beginning of last month!
Failla: How 'bout that. But it was a horrible project.
Let me be perfectly frank and honest. It couldn't be the same. When Gwen King was there she utilized all of us as her personal staff, who did work for her. And the work, inevitably, would step on some toes. We were allowed to step on toes, but she was fully behind the staff. Nobody would mess with us because they knew the Commissioner backed us up and that we were doing her work. As soon as she left, the Deputies could voice more disapproval. And Lou, being an Acting Commissioner, didn't view us in the same way. He had another little staff of his own when he was Principal Deputy Commissioner. So there was a little bit of a conflict, if you will. While I think he respected the talents and abilities of the staff, some things are just a function of the person who put them in place, and I think the OIRM staff was just that with Gwen King. And I don't know that it could have survived when someone else came in. We fit in with her management style. She created it, and obviously supported it. And I don't know that everybody has the same need for that kind of staff to work for them. I can't blame anybody for that.
All I know is that it was a very fulfilling time for myself, and I think for all the people on the staff. We felt we made a contribution--we certainly earned our salary. And I don't know that you could have expected it to go on from one Commissioner to another--it just doesn't work that way.
Q: Last question. You worked for SSA for 32 years, give me your assessment of your career.
Failla: A lot of people go through life and they look back and say, "Oh, I wish I had done this differently, or I wish I had done that differently." The problem is that you can't change one piece of it. It is most gratifying, however, when you can look back on one of the two most important decisions you can make in life, and that is to choose a career and a place to work, and to make the right choice.
There are some ups and downs over the years, sometimes you're in and sometimes you're out, but I can honestly say that I have never ever regretted or questioned the decision I made to join Social Security. When I got here, I didn't know how long I would stay. But once on the scene, I became infected with the program and infected with the people. Not only the people we served, but the people who worked for Social Security. The intelligence, the dedication, of the people who work in SSA is unsurpassed. The friends I have gotten over the years--the extended family--I wouldn't trade it. If I had it to do over again, I would have done the same thing. I don't know if you can recreate that time today, because it's probably not the same Agency that I joined--it was a different time, a different world, you can't repeat that. But, if I had it to do over again in 1962, I would have come to the Borrough Hall District Office, and I would be here now.