Our Initiative
What is Health IT at Social Security?
Health IT at the Social Security Administration is a revolutionary program which brings the speed and power of electronic medical records to the disability determination process. When a person applies for disability benefits, Social Security must obtain and review a complete medical record in order to make an accurate determination. It can take months for health care organizations to provide records for the claimant's case. With electronic records transmission, Social Security can obtain medical records in a matter of seconds to minutes. The result? Social Security is able to obtain a claimant's medical record, review it, and make a determination quicker than ever before. For claimants who are found to be disabled, this means they get the help they need faster. Social Security's health care organization partners also realize a benefit through reduction in costs, streamlining of operations, and positioning themselves as leaders in the use of health IT.
Why Get Involved?
Approximately 11,000,000 Americans currently receive some form of disability benefits from Social Security. Millions more have applied and await a determination. Social Security's health IT program helps adjudicators make quicker determinations.
It's Good for Our Partners.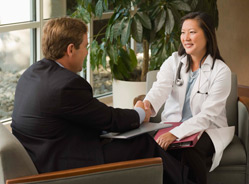 Partnering with us offers health care organizations the potential to reduce costs related to the uncompensated care they provide. Electronic records transmission can result in more timely disability determinations. This means claimants who are found to be disabled may realize quicker access to public health benefits. Further, by streamlining the medical request process, partners can re-direct resources away from the time-intensive process of responding to requests for information toward improving patient care. In addition, partners will save on printing, paper, and postage expenses as well as health information management labor costs.
Is My Organization Eligible?
Right now, Social Security is interested in partnering with health information exchanges (HIEs), hospitals, and other qualified health care organizations. If your organization considers health IT to be one of its key priorities and is experienced with electronic medical records exchange, we are interested in talking with you about partnering with us.
What's Next?
Check out our Partners page to see what organizations are working with us.
To learn more about SSA's experience in health IT, review Our Expertise.
Ready to move forward? Visit Getting Started.