Six More States for Our Online Replacement Card Service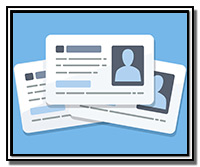 Alaska, Hawaii, Kansas, North Carolina, South Carolina, and Tennessee have been added to the list of states able to use the online Social Security card replacement service. If your clients live in one of the 40 participating states or the District of Columbia, they can log in to their personal my Social Security account and easily request a replacement card. So far, 2.3 million people have received their replacement card by going online instead of visiting an office.
Losing a Social Security card can be frustrating, but our online replacement card service is quick, secure, and free. Keep in mind that, even if someone has lost their card, they may not need a replacement. In most cases, simply knowing their Social Security number is enough.
Tell your clients to visit www.ssa.gov/myaccount/replacement-card.html to see if they qualify.