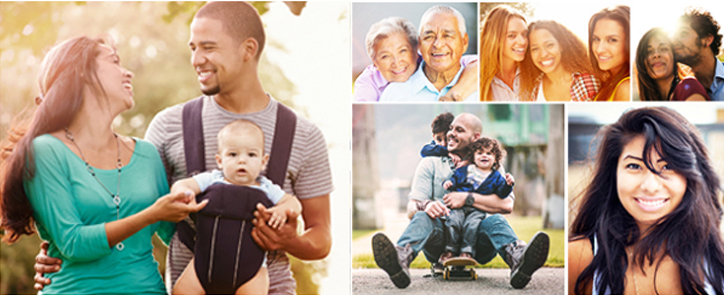 Social Security is important to Hispanics
Social Security is neutral with respect to race or ethnicity – individuals with identical earnings histories are treated the same in terms of benefits.  This page highlights how Hispanics may benefit from Social Security's services and programs and how certain demographic characteristics of Hispanics compare with the entire population.
Hispanics have a longer life expectancy
Hispanics benefit from the guaranteed benefit that is annually adjusted for inflation. With longer life expectancies, elderly Hispanics will live more years in retirement and benefit from Social Security's cost-of-living protections.
Hispanics tend to have higher life expectancies at age 65 than the majority of the population.
Hispanic men who are age 65 in 2012 can expect to live to age 85, compared to age 82 for all men.
Hispanic women who are age 65 in 2012 can expect to live to age 89, compared to age 85 for all women.
A secure, comfortable retirement is every worker's dream. And because we're living longer, healthier lives now, we can expect to spend more time in retirement than our parents and "abuelos" did. Achieving that dream is much easier when you plan your finances. To learn more about planning for retirement, visit our Retirement Planner.
Hispanics have Lower median earnings
Social Security benefits are based on earnings averaged over most of a worker's lifetime.
In 2013, the median earnings of working-age Hispanics who worked full-time, year-round were about $30,000 compared to $43,000 for all working-age people.
The benefit computation is complex and there is no simple method or table to tell how much each individual may receive. However, according to data compiled by the Social Security Administration:
In 2013, the average annual Social Security income received by Hispanic men 65 years and older was $14,148, and for women it was $10,931.
In 2013, among Hispanics receiving Social Security, 37 percent of elderly married couples and 62 percent of elderly unmarried persons relied on Social Security for 90 percent or more of their income.
To get an estimate of your future retirement benefits, visit our Retirement Estimator. The Estimator gives estimates based on your actual Social Security earnings record.
Hispanic population is expected to grow
According to the Census Bureau, as of July 1, 2013, the Hispanic population of the United States was 53 million – making people of Hispanic origin the nation's largest ethnic minority group. In addition, there are 3.7 million residents of Puerto Rico, a U.S. territory.
The Hispanic population in the U.S. is expected to grow. Today, 17.1 percent of the population is of Hispanic or Latino origin. This proportion is expected to grow to 26.5 percent by 2050.
Online Social Security Services in Spanish
In January 2011, the Census Bureau reported that 37.6 million people in the United States speak Spanish at home. The Social Security Administration has taken many steps to better serve those members of the public who prefer to do business with us in Spanish. Our most popular online services are now available in Spanish at our page, Solicite beneficios por Internet en español.