A Message from the Chicago Regional Commissioner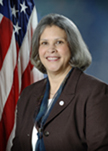 Regional Commissioner
Phyllis Smith
Welcome to the Chicago Region of the Social Security Administration! The Region encompasses the midwestern states of Illinois, Indiana, Michigan, Minnesota, Ohio, and Wisconsin.
Within this 6 state region, we maintain 219 local Field Offices, 6 Disability Determination Service units, 3 Teleservice Centers and the Twin Cities Social Security Card Center.
Our Chicago region staff are a highly dedicated group of Federal employees, available to explain the rights and responsibilities which each beneficiary, or potential beneficiary, has under the programs we administer.
Our region processes nearly 1.5 million new Social Security claims each year. Each month, we service over 10 million beneficiaries of Social Security checks, and over 1.1 million recipients of Supplemental Security Income checks.
We look forward to serving you.
Phyllis Smith
Ms. Smith's address:
Social Security Administration
PO Box 8280
Chicago, IL 60680-8280.

(
Do not send Social Security card or claims applications, or related material, to this address - instead call 1-800-772-1213 or contact your local office.)