The National American Indians and Alaska Natives (AIAN) Map
Geospatial Map Tutorial
Last updated on
Thank you for exploring our AIAN geospatial map. The Questions and Answers (Q+As) found below are based on feedback from our employees and the public!
For an optimal user experience, use Google Chrome or Mozilla Firefox. If you are using Internet Explorer (IE) 11, please refer to the instructions below to set up your browser for the best user experience.
Please feel free to email any additional questions or comments regarding the map to: open.government@ssa.gov.
To open the map, click anywhere on the image that says "CLICK HERE". Some browsers may need additional configuration.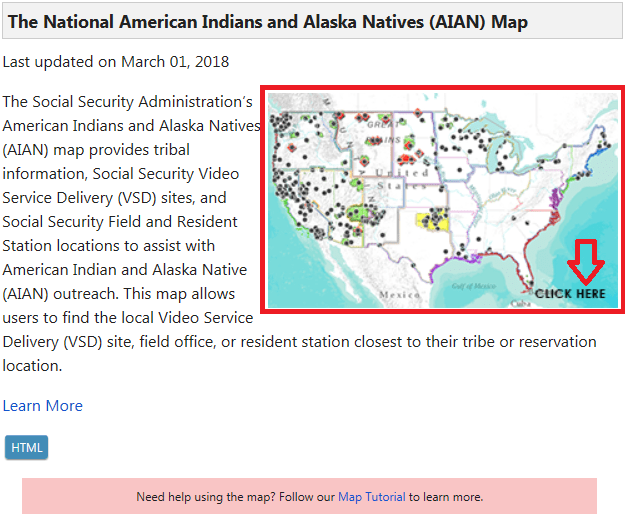 You can begin exploring the map using the navigation tools, located at the top of the map. You will find the (+), (home), (-), and (search) buttons:
Use the (+) or (-) navigation keys to zoom in, or zoom out on the map.
Use the (home) button to return the map back to its original size.
Note: If you click and hold the left button on your mouse, you can move the map. Also, you can use your mouse wheel to zoom-in and zoom-out.
To locate your nearest Video Service Delivery (VSD) site use the Search Button located under the zoom and home buttons.
Click on the magnifying glass to open the search box.
Type in the desired zipcode or city and state. Press ENTER or click the magnifing glass button again to automatically recenter the map and zoom to the submitted location.
Refer to the map legend for the symbols used on each map. (e.g. AIAN map legend below)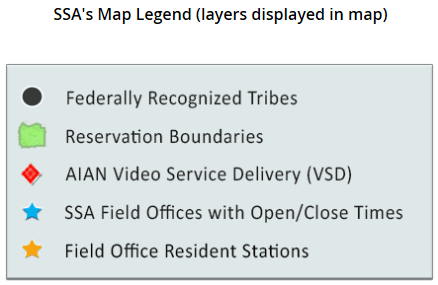 Note: If no symbols are visible on the map, you may need to zoom in or out.
Click on any symbol on the map to reveal a pop-up box with additional information regarding that feature.
Internet Explorer (IE) 11 users may need to perform the following steps to access the navigation on our AIAN map. Verify that you have administrator rights to your computer before beginning.
Open the TOOLS menu from the IE 11 menu bar.

Click on INTERNET OPTIONS.

Select the SECURITY tab, make sure that TRUSTED SITES is highlighted, and click on the SITES button.

Enter https://socialsecurity.maps.arcgis.com/home/index.html in the box and click the ADD button.

Once the website has been added to the Trusted Sites list, Click the CLOSE button.

Use the REFRESH button on the map webpage to reload the page, or click Open Government Map Gallery to begin