Are You A Social Security Beneficiary? Learn about Ticket to Work!
The Ticket To Work Program can help Social Security beneficiaries go to work, get a good job that may lead to a career, save more money, and become financially independent, all while they keep their health coverage. Ticket to Work is a free and voluntary program that gives beneficiaries real choices that can help them create and lead better lives. Individuals who receive Social Security benefits because of a disability probably already qualify for the program. Learn more about how to get started making these choices.
Events and News
Wednesday, July 19, 2017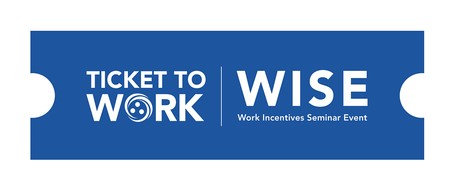 National Work Incentives Seminar Event (WISE) Webinar
Ticket to Work and Reasonable Accommodations
Wednesday, July 19, 2017
3 - 4:30 p.m. ET
If you are age 18-64, receive Social Security disability benefits (SSI or SSDI), and want to make more money through work, Ticket to Work can provide the support you need!
Join us on July 19, 2017, for the next WISE webinar. We will present information on Social Security programs and rules that may apply to you! Join the webinar to learn about Ticket to Work and Work Incentives, frequently asked questions and where to find more information. We will be joined by our guest, the Job Accommodation Network, who will discuss:
Reasonable accommodations and how to ask for them;
Disclosing your disability; and
Ticket to Work and Work Incentives.
Register online at www.choosework.net/wise or call 1-866-968-7842 or 1-866-833-2967 (TTY).
You will receive a registration confirmation message with instructions on how to log in to the webinar. Please be sure to check your spam folder.
Questions?
Email us at support@choosework.net or call 1-866-968-7842 or 1-866-833-2967 (TTY).
Watch Ticket to Work Success Stories on YouTube!

Get events and news updates
---
Choose An Option Below That Best Represents Your Interests: