Information About Requesting Review of an Administrative Law Judge's Hearing Decision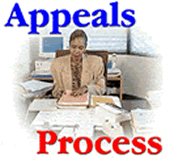 The Appeals Council is headquartered in Falls Church, Virginia with additional offices in Baltimore, Maryland and Crystal City, Virginia. We want to provide you with useful information about the Appeals Council and requesting review of an administrative law judge's hearing decision.
The Appeals Council review process generally begins after an application for benefits has been denied at the hearing level or a request for hearing has been dismissed.
Learn more about the Appeals Council.
You must ask for an Appeals Council (AC) review within 60-days of receiving your hearing decision. We provide three ways to request an AC review as described below:
iAppeal Online Appeals Application

The AC Request for Review link below will take you to our Getting Ready Webpage that provides helpful information before you start your online appeal.

Download Request for Hearing Review/Order

Prior to completing the appeal form, you should look over our instructions at Request for Review of Hearing Decision/Order. You can then fill-in the HA-520, Request for Review of Hearing Decision/Order Form; print/save the file and return it to us. You should send it directly to:

Social Security Administration
Office of Appellate Operations
6401 Security Blvd.
Baltimore, MD 21235-6401

Instructions: Request for Review of Hearing Decision/Order
Download Fillable Form: HA-520

Contact Us

You can also file an appeal by contacting your local Social Security office, local hearing office, or by calling our toll-free telephone number (1-800-772-1213) (TTY 1-800-325-0778) and filling out a request for review form.
Generally, you have
60 days
after you receive the notice of our decision to ask for any type of appeal.
In counting the 60 days, we assume that you receive the notice five days after we mail it unless you can show that you received it later.


If you do not appeal on time, the Appeals Council may dismiss your appeal. This means that you may not be eligible for the next step in the appeal process and that you may also lose your right to any further review.


You must have a good reason if you wait more than 60 days to request an appeal. If you file an appeal after the deadline, you must explain the reason you are late and ask us to extend the time limit. The people in the Social Security office can explain further and help you file a written request to extend the time limit. The Appeals Council will consider your request and decide whether to extend the time limit.


The Appeals Council looks at all requests for review, but it may deny a request if it believes the hearing decision was correct. If the Appeals Council decides to review your case, it will either decide your case itself or return it to an administrative law judge for further review. When the Appeals Council reviews your case it may consider any of the issues considered by the administrative law judge, including those issues that were favorably decided in your case. You will receive a copy of the Appeals Council's final action on your case.
Make sure you request review within 60 days after you receive the hearing decision. If you are unable to meet this deadline, explain your reasons for missing it in your request.


Give us or tell us about any additional evidence when you file your request for review. Also, provide any comments you have with your request for review, if possible.


You and your representative, if any, should request copies of hearing recordings and exhibits only if you really need them for your appeal.


We ask that you not make automatic or multiple requests for the status of your request for review. You can verify that the Appeals Council has received the request through your local Social Security office, local hearing office, or by calling our Claimant and Public Assistance Branch at 703-605-8000 and toll free at 1-877-670-2722.
You may want a lawyer, friend, or other qualified person to represent you. The people at the Social Security office can help you if you have trouble finding a representative or if you cannot afford one. If you decide to have a representative, you need to tell us by filling out a special form, available at any Social Security office. You can also get this form by following the link below.
Form SSA-1696, Appointment of Representative
If you have a representative, you may have to pay his or her fees. For more information about representation and about the fees a representative may charge, refer to "Information About Representation."

If you disagree with the Appeals Council's decision, or if the Appeals Council decides not to review your case, your next step is to file a civil suit in a Federal district court. If you bring a civil suit seeking judicial review of the Social Security Administration's (SSA) final decision, our staff will prepare the record of the claim for filing with the court. This includes all the documents and evidence SSA relied on in making the decision or determination. There is a fee for filing a civil suit in Federal court.