ERE for Experts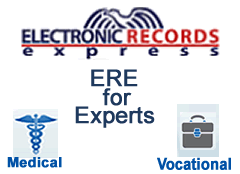 Welcome to the Electronic Records Express (ERE) for Experts resource webpage. Here you will find information to help guide you through the Registration and Access processes.
Signing into ERE for Experts
Sign into your ERE for Experts account using this link
Announcements
*** SPECIAL ALERT ***
ERE for Experts Outage: ERE Suite of Applications will be Down the following dates below:
"ERE Suite of applications will not be available on Saturday 1/15/22, 11:00pm to Sunday 1/16/22 Eastern Standard Time (approximately) due to scheduled server maintenance"
Registration Information
Choose the appropriate registration guide (individual or company) below:
Registration FAQs
Access Information
Below are user guides to provide you with specific instructions:
Access FAQs
Help Assistance