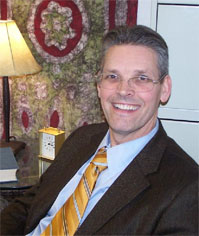 David J. Schretlen, Ph.D.
David J. Schretlen, Ph.D. is as an Associate Professor of Psychiatry and Behavioral Sciences, as well as an Associate Professor of Radiology at the Johns Hopkins University School of Medicine. He is board-certified in clinical neuropsychology, and works at the Johns Hopkins Hospital, where he sees patients, teaches, and conducts research.
Dr. Schretlen completed his doctorate in clinical psychology at the University of Arizona in 1986, an internship at McLean Hospital, Harvard Medical School, and a post-doctoral residency in neuropsychology and rehabilitation at the UCLA Neuropsychiatric Institute. While at UCLA, Dr. Schretlen was awarded a Mary E. Switzer fellowship by the National Institute of Disability and Rehabilitation Research.
Dr. Schretlen has served as a grant reviewer for the National Institutes of Health and the Veterans Administration Medical Center. He serves on the editorial boards of several scientific journals. A prolific researcher, he has authored over 175 articles, monographs, book chapters, and abstracts. His research interests include the use of quantitative brain imaging to investigate cognitive and emotional aspects of human behavior. He has received federal and private research funding to study determinants of work disability in traumatic brain injury and bipolar disorder. He currently is analyzing predictors of functional disability in schizophrenia and bipolar disorder. Related to this is another program of research in which Dr. Schretlen is investigating strategies to increase the diagnostic sensitivity and specificity of neurocognitive measures for persons of diverse socioeconomic background.
In addition to research and teaching, Dr. Schretlen is actively engaged in clinical work that primarily involves neuropsychological assessment. He consults to physicians about treatment planning and attorneys about matters involving such matters as vocational aptitude and work disability resulting from brain injuries.