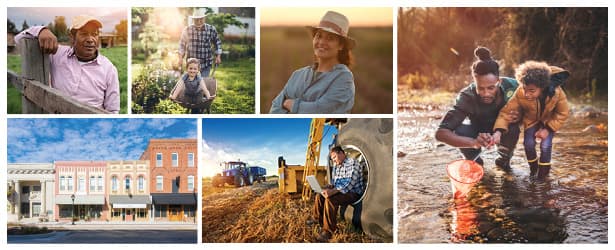 Social Security touches the lives of nearly all Americans. We provide financial protection to help older Americans, wounded warriors, workers who become disabled, and families in which a spouse or parent dies. We are committed to administering our programs in a way that promotes equity and fairness to everyone who interacts with us. Our commitment extends to all people covered by Social Security's programs and services.
As members of the Rural Partners Network, we want to highlight our programs to members of rural communities. Social Security and Medicare afford people consistent sources of income and healthcare coverage essential to daily living, especially in remote or rural communities. Some people in remote and rural communities may not be able to access our services in person. We offer you the option of applying for benefits and reporting changes online or by phone.
The best way to begin engaging with Social Security is to sign up for a personal my Social Security account. Having a personal my Social Security account gives you online access to request a replacement Social Security card, verify your earnings, get future benefit estimates, and obtain benefit verification letters.  It's also the easiest way to gain access to our online applications for benefits.  
If you cannot use our online services, we may be able to help by phone. If you need to speak with someone, call us toll-free at 1-800-772-1213 or at our TTY number, 1-800-325-0778, if you're deaf or hard of hearing. A member of our staff can answer your call from 8 a.m. to 7 p.m., Monday through Friday. We provide free interpreter services upon request. For quicker access to a representative, try calling early in the day (between 8 a.m. and 10 a.m. local time) or later in the day. We are less busy later in the week (Wednesday to Friday) and later in the month.
If you must visit one of our offices, we strongly encourage you to make an appointment using our toll-free number to reduce the time you spend in the office waiting for assistance. This is especially important for those in rural communities who may make long journeys to reach one of our offices.
We have many programs and services to help. Browse the links on the right for more information.