Social Security Administration's
Philadelphia Region
Welcome to the Philadelphia Region of the Social Security Administration.
Pennsylvania, Delaware, Maryland, Virginia, West Virginia, and our nation's capital, Washington D.C., comprise our geographically-diverse region. Together, we advance the economic security of the nation's people. We provide monthly retirement, survivor, and disability cash benefits to nearly 6 million Social Security beneficiaries and over 760,000 Supplemental Security Income recipients. I am proud of the more than 4,000 employees who are committed to quality and creativity in public service. Every single day, our employees demonstrate their dedication to the American public in 133 field offices, three telephone service centers, one Social Security card center, and the Mid-Atlantic Social Security Center in Philadelphia. Over 69 million people benefit from the Social Security Administration's programs. We are proud to contribute to an agency that positively impacts the lives of millions of people. We appreciate your trust in our agency and the opportunity to serve you.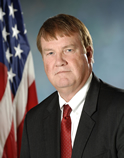 Terry M. Stradtman
Regional Commissioner
This is the official web page of the Philadelphia Region, U.S. Social Security Administration. If you have comments about the design or function of this web page, you may contact the Webmaster. Because the Internet is not secure, please do not send any personal information, especially social security numbers, in your feedback.