Tax Year 2021 wage reports must be filed with the Social Security Administration by January 31, 2022.
The Taxpayer First Act allows for increased electronic filing of IRS forms including W-2s


In 2022* if you send 100 or more W-2s to SSA, you have to file them electronically
In 2023* that limit is lowered to 10
See the Taxpayer First Act page for more information including options to file for free
*Pending IRS issuing final regulations. The threshold for electronic filing is currently 250 or more W-2s.
We now offer a new way to upload your W-2 file if it meets our specifications (EFW2)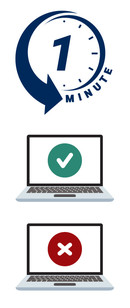 Wage File Upload, available through our Business Services Online (BSO), will process your file and provide results in real-time. You will receive a receipt right away indicating Success or Errors.
If your file is rejected, we will provide you the errors right on the screen.

You will not receive a Wage File Identifier (WFID) until you have fixed the errors, uploaded all the reports, and your file passes all edits.
If you don't get a WFID, print the error page for your records to show the date you initially tried to file your W-2s.
You may be subject to IRS penalties if you do not file timely and without errors.
View the tutorial for more information about fixing your errors.
For more information...
---
For smaller businesses, we also have a FREE service called W-2 Online

Looks just like a paper W-2, but it's on our website
Key up to 50 W-2s per report (You may key multiple reports)
There is a W-2c Online too!
Just register for Business Services Online
We include a Checklist for W-2/W-3 Online Filing on our webpage
---
Does your software create a W-2 file in the EFW2 format?
If your software creates a EFW2 format, consider Wage File Upload instead of keying the individual W-2s
You can upload your file to us to proceed for FREE
Saves time and reduce errors
Just register for Business Services Online
---
How to Report Deferred Payroll Tax to SSA
If you deferred payroll tax for your employees in 2020, and if you collected this tax in 2021, then you need to send in a W-2c to correct Tax Year 2020 Social Security taxes.
---
Truncated Social Security Numbers (SSNs)
You may truncate the SSN on W-2s, except on Copy A
We will not accept truncated SSNs that only show the last four digits (XXX-XX-1234) on Copy A Form W-2 or in the SSN field when using the EFW2
Please remember to show all nine digits of the SSN on Copy A for proper processing
---
---
Find Helpful Information Online
Go to our employer page for videos, tutorials, and other useful information and links.